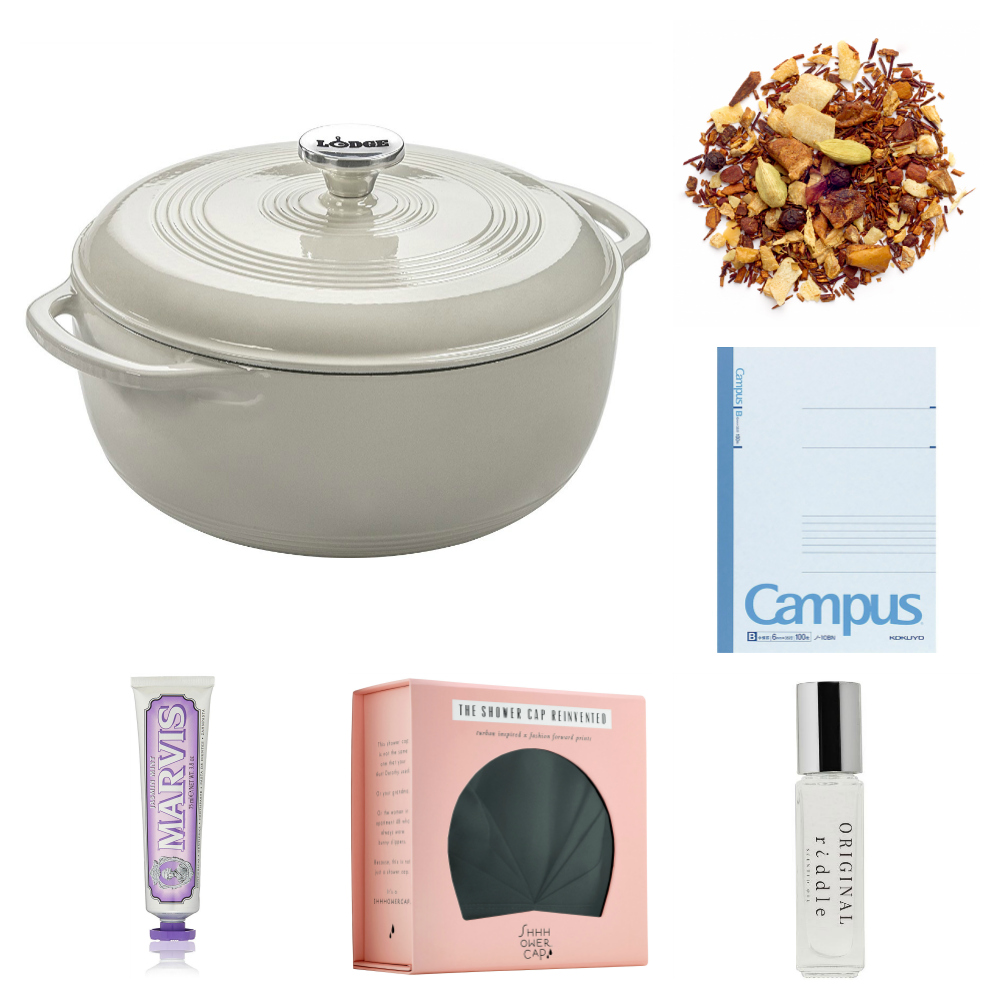 As you may know, I love stuff and things! I don't actually really love to shop, and I research everything pretty aggressively before buying, so I most of what I buy is stuff that solves a very specific problem, and that I end up loving.
Anyway, I thought it would be fun/useful to put all of my favorite stuff and things in one place! (And, per usual here, all of the Amazon links are affiliate links.) So here, in no particular order, is all the good shit that was worth every penny, sparked joy, and really made my 2017:
Home Comforts: The Art and Science of Keeping House. A game-changer.
Puzzles! Especially this beautiful ombré barrette one.
Smartwool socks. One of my big goals for 2018 is to own a lot more pairs of Smartwool socks.
Muted pastel sticky notes. I love the Post-It Helsinki collection. (Other sizes here and here.)
An electric tea kettle. 2017 was the year I became a looseleaf tea person, and I love this kettle a lot.
Alpine Punch looseleaf tea from David's Tea. I drink it before bed with a little vanilla syrup (like the kind you'd get in a coffee shop) and a splash of half-and-half and it's heaven.
A beautiful Dutch oven that replaced the shitty old pots that I hated. (And that is way cheaper than most beautiful Dutch ovens on the market.)
My beloved Pilot Juice 0.38 pens.
Book darts (mostly for my journal, but also for books)
A rolling pet carrier (that also converts to a backpack), which makes taking Chuck places in the city (or taking him on Amtrak) less of a chore.
Original Soylent. OK, Soylent is dumb but it's also incredibly helpful if your appetite is shit or on days you just, like, cannot cope with all of your lunch options. (Which is..a lot of days for me.) A friend of mine who is nursing also mentioned that she has relied on it to help her get the nutrition she needs. (I also like the chocolate flavor.)
Cosrx Acne Pimple Master Patches. These things are god damn witchcraft, and I've sold a bunch of friends on them, too.
An inexpensive wash basin, which actually got me to wash my stupid bras.
Uniqlo cashmere crew neck sweaters (keep an eye out for sales; I think mine were BOGO).
A great little space heater. (WHYYYYYY didn't I buy this sooner?!)
This clear tumbler for drinking water. (I own two.)
The Shhhowercap.
And Grace Eleyae satin-lined caps. (I have two ivory ones and a navy one, which is currently on sale.)
A pair of kitchen gloves that I love. (I actually have a pair for my kitchen and a pair for my bathroom. Wearing gloves was such a game changer for me in terms of cleaning motivation.)
Two new perfumes: Riddle Oil (get a small sample dram here) and Jo Malone Wood Sage & Sea Salt.
O'Keeffe's Working Hands hand cream. After my hands literally bled from being so dry, I realized I needed to take better care of them. I bought this stuff based on the positive Amazon reviews and I'm so impressed. (I actually bought a tube to keep at work, too.) The packaging is truly hideous, but I just scooped some into a smaller clear jar and all's well.
A high-quality rolling cart for laundry/groceries.
The Muji oversized lint roller (so helpful for cleaning my velvet headboard).
Dish cloths. (Home Comforts really sold me on switching to dish cloths instead of using a dish brush. I have a bunch, in a few different colors, and also use them for general cleaning/cleaning my bathroom.)
Marvis Jasmine Mint toothpaste, which made brushing my teeth a million times a day (THANKS INVISALIGN) less of a chore.
A Kokuyo Campus notebook (for morning pages) and a Kokuyo Campus High Grade MIO notebook (for evening pages).
Kneepads for DIY projects and chores. (Another "WHY DIDN'T I BUY THIS SOONER?")
Candles! I'm currently loving the rosemary mint one by Illume at Target (not available online).
A hot water bottle. The Sänger one I have is currently sold out, but this one is actually cheaper and has really good reviews.
A butter dish that is very beautiful and is also big enough to hold Kerrygold butter.
Glossier Haloscope. (If you use this link you will get 10% off and I will get a $10 credit.)
A lush (hooded!!!) robe that turns me into a snow queen.
We're Going to Need More Wine: Stories That Are Funny, Complicated, and True. I'm just gonna keep stanning for this book until all of you read it!!!
NPR's Up First podcast and the New York Times' The Daily.
And the Done app!