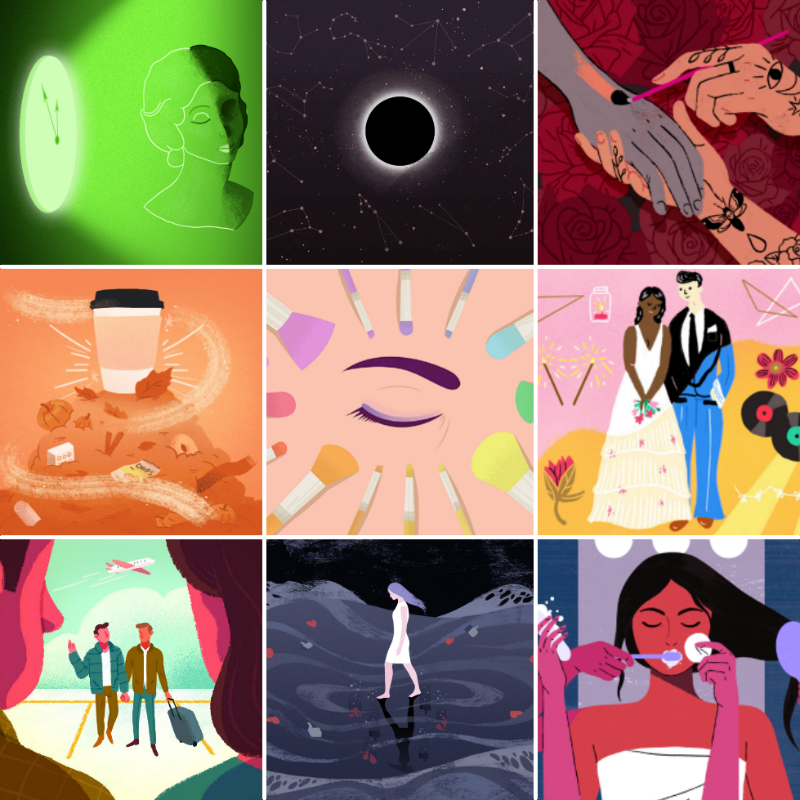 In December 2016, I had one direct report at BuzzFeed — same as I had had since September 2015. This December, I have five. They are all wonderful — so talented, bright, curious, kind, and funny — and bringing them on/editing their work has been one of the best things about my year. I also edited a handful of freelancers this year, which was new/cool/fun.
Here are some of my favorite things that I got to help bring into the world in 2017:
Features
The Forgotten Story Of The Radium Girls, Whose Deaths Saved Thousands Of Lives by Kate Moore
Here's What My Parents' 1974 Wedding Would Cost In 2017 Dollars by Meg Keene
Why The World Went Wild for Pumpkin Spice by Virginia Chamlee
I Style Dead People by Virginia Chamlee
Here's What Three Astrologers Think The Eclipse Means For Horoscopes by Terri Pous
A Friendly Guide To Exactly How A Dead Body Decomposes by Kayla Suazo
The World Is Ending, Just As It's Always Been by Terri Pous
Essays
I'm Terrible, Thanks For Asking by Nora McInerny Purmort
Introducing My Parents To My Boyfriend Meant Introducing Them To Me by Tom Vellner
My Makeup Routine Is My Morning Meditation by Gyan Yankovich
The Small-Town America I Love Is The One I See At Football Games by Delia Cai
Yes, I Call My Mom Every Day by Terri Pous
Why Is Getting Ready For Bed SO EXHAUSTING? by Kayla Suazo
Shopping/products
9 Books That Actually Helped Me Win On "Jeopardy!" by Terri Pous
If You Drink Any Kind Of Liquid At Your Desk, You Should Buy This Tumbler by Tom Vellner
I Tried The Underwear That's All Over Instagram To See If It's Actually Legit by Tom Vellner
This Facial Oil Will Solve All Your Skin's Problems by Kayla Suazo
Classic Buzz
Tag Yourself As An Ugly Renaissance Baby And We'll Reveal What Type Of Drunk You Are by Anjali Patel
If You Get 9/9 On This Quiz, You Should Travel Back In Time And Be A Doctor by Terri Pous
21 Tweets For Women That Are So Real It Hurts A Little by Gyan Yankovich
A Definitive Ranking Of The Planets By How Fucking Dramatic They Are by Anjali Patel
19 Things That Will Make Every Kind-Of Adult Say, "Oh Shit, That's Me" by Kayla Suazo
Hey Millennials, If You Score 5/8 On This Quiz You Deserve To Own A House by Anjali Patel
26 Stories That Prove Dads Must Be Protected At All Costs by Anjali Patel
21 Pure Tumblr Posts About How Beautiful Women Are by Anjali Patel
12 Women Share The Practical Money Advice They Wish They Knew Sooner by Gyan Yankovich
Rompers For Dudes Are Here And TBH I Don't Hate Them by Tom Vellner
17 Things That Will Make Anyone With Big Boobs Say "That's Too Real" by Gyan Yankovich
21 Things That'll Make Any Catholic School Student Laugh And Then Genuflect by Tom Vellner
15 Things People Actually Used To Believe About Women's Bodies That Will Make You LOL-sob by Kayla Suazo
22 Extremely Important Questions I Need Americans To Answer by Gyan Yankovich
Earlier: The best things I wrote in 2017.