Entries Tagged as 'Stuff to Buy'
June 4, 2015
Last month, I found this ASOS dress in my search for something to wear to my sister-in-law Kelley's wedding. I loved the look of it—it's very similar to the ASOS dress I wore to the last Miller family wedding! #uniform—so I went ahead and ordered it.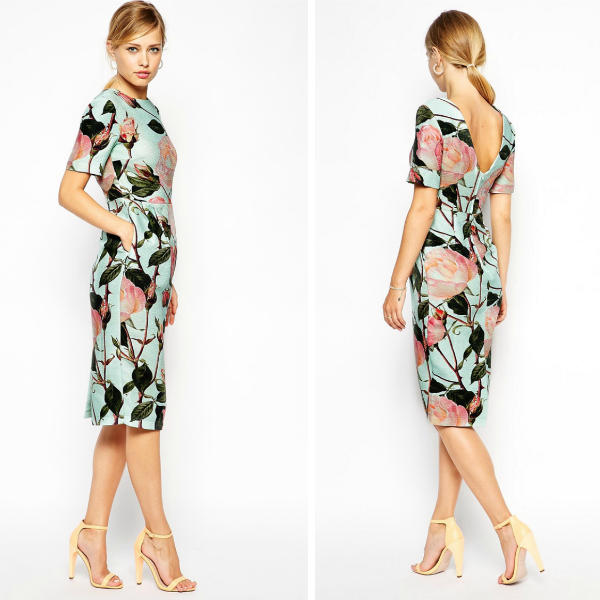 But when the dress arrived, it looked horrible on me. The size 6 was too big in the hips, the back gaped around my shoulder blades, and it was a really unflattering midi length on my 5'4″ frame. But I loved the color, the pattern, the heavier fabric, the fact that I could wear a regular bra with it (!!), and the POCKETS. Since I had already sent back another ASOS dress twice (the petite was a little tight in the arms and the 6 regular was a little baggy/long overall, plus the fabric was on the thin side), I decided to see if a tailor could save it for me.
I've gone to the tailor for a bridesmaid dress, but never for more everyday-type clothing. If something isn't the right fit, I just don't buy it. (I was also raised by two experienced seamstresses, so that helped.) Because despite watching enough episodes of What Not to Wear to know that tailoring is The Secret to Everything (right after wearing the right size bra), I'm never quite sure how to find a good tailor, how much the job should cost, or what to ask for. (Like, how long should my jeans be?) Also, who wants to add another—errand especially one that involves going someplace twice in the same week—to her to-do list? Ugh.
In the interest of time, I decided to go to a place near my office (Fifth Avenue Dry Cleaners & Tailors on 23rd and Fifth) and everything went perfectly. My friend Tashween spotted me as I was walking there, so she came along; we squeezed into the teeny shop and we were both impressed by how quick and professional the tailor was. I had actually forgotten to mention I wanted the back fixed, but he noticed how it was gaping and asked me if I wanted him to do that too. I dropped it off on a Friday and asked if I could pick it up on Tuesday and the timeframe wasn't a problem. The final bill was $50—it would have been considerably less if I'd only gotten it hemmed—which may be a lot (is it? in NYC? I have no idea) but I was in a time crunch, handing a brand-new dress over to a stranger and asking him to hack eight inches off of it, and Mercury was retrograde, so…whatever. It brought the total cost for the dress to $150 which is a little more than I wanted to spend, but now I have a pretty versatile party dress that was virtually unwearable before.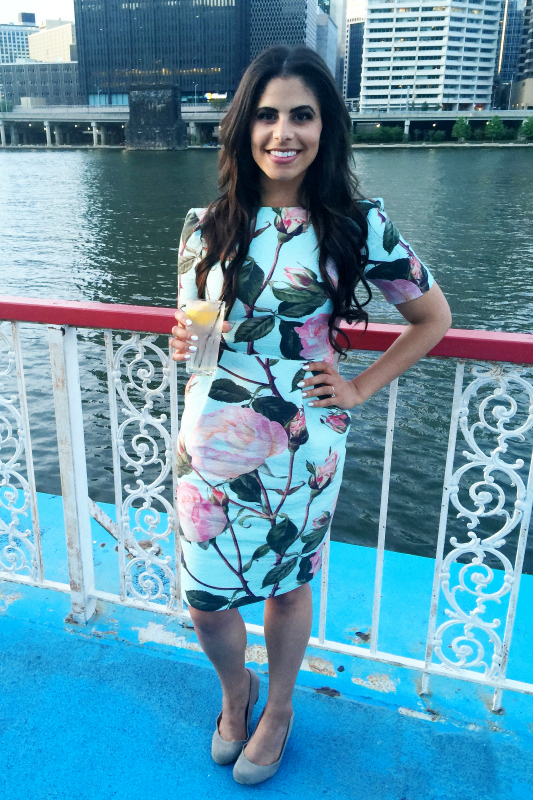 P.S. I left my heels at the office and had to take some very old wedges on the trip instead. I was so bummed!
P.P.S. After I put considerable effort into doing my hair and makeup and applying fake eyelashes the day of the wedding, I realized that I hadn't even surpassed the Mormon-fashion-blogger-going-to-church basic level of glam.