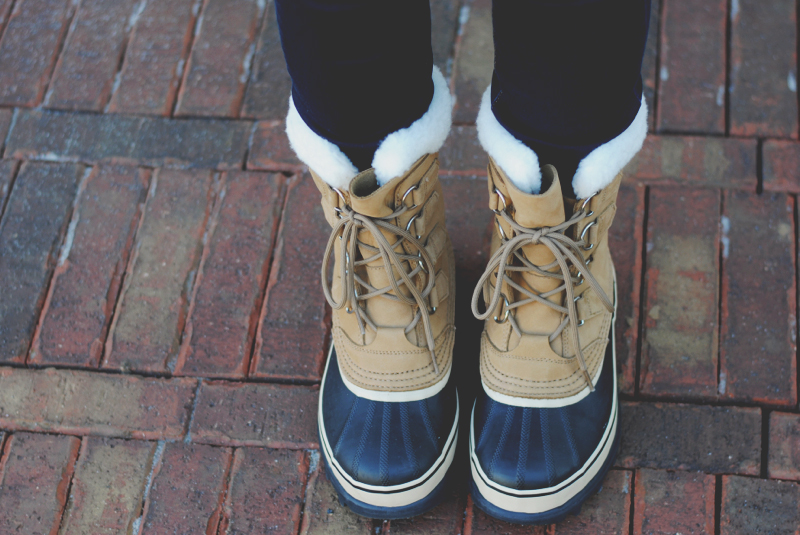 This week, I learned that anxiety looks like spending five hours trying to find the perfect winter boots online, which is what I did last Sunday. Apparently I've forgotten how to cold weather? Or (more likely) I just didn't want to deal with packing. I ended up going with a pair from Sorel after basically everyone on Facebook and Twitter recommended the brand. I feel like I'm wearing actual snow tires on my feet and am not sure if this is going to realllllly be necessary in New York. (I don't remember the 2008-2009 winter being that snowy.) But whatever; it's done.
After that anxiety-fueled shopping experience, I cut myself off after about 60 minutes of shopping online for a winter coat and just went with one from Land's End. It was on sale. It looks warm. It's not a life or death decision. It's going to be fine.
Other highlights from this week…
Eating
I re-discovered avocado toast a couple weeks ago and it's been giving me life. (I usually put a fried egg on one slice.) The toast plus Panera Bread's new hazelnut coffee pods for the Keurig mean I am very happy with my breakfast situation.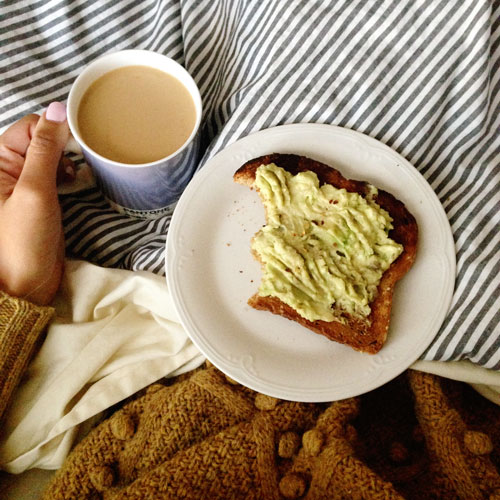 Also, these are the best chocolate chip cookies I've ever made.
Reading
Like everyone else, I've become completely obsessed with Serial. Like, I check Reddit at least once a day for the craziest new theory. This also led me to two fantastic/outrageous older articles that everyone should read: The Innocent Man in TexasMonthly and Trial by Fire in the New Yorker. Interestingly enough, both cases have been in the news again recently; the first because the prosecutor in the case will actually serve jail time for his wrongdoing, the second because it could be the first case in U.S. history where we know an innocent man was executed. (Also of particular interest to me: the trial in the first story was in the courthouse where Eric and I got married.)
More good reads from this week…
A Modern Guide to Thanksgiving Etiquette, Bon Appetit. This has seriously great tips/advice. (It's for guests and hosts!)
So You've Finally Started Wearing The Right Bra Size, The Toast. SO funny.
Two well-written posts on Bill Cosby: Art or Humanity: Thoughts on Bill Cosby by Roxanne Gay and The Cosby Show by Ta-Nehisi Coates.
Abortion Clinic Protesters: "Sidewalk Counselors" or "Sidewalk Terrorists"? on Cosmopolitan. I damn near had a rage stroke reading this article.
A Rape on Campus: A Brutal Assault and Struggle for Justice at UVA by Sabrina Rubin Erdely for Rolling Stone. A horrible subject, but great reporting and a worthwhile read.
Why Were Three Teenage Rape Victims Bullied Out of School in Oklahoma?, Jezebel. Warning: you may actually throw your phone/computer across the room while reading.
What It's Like to Date a Horse, NY Mag. OK, I apologize in advance for this article. I was literally shouting about it as I was reading. Know that it gets worse before it gets better. I'm sharing it for the same reason people say, "EW this smells awful. Here, smell it." I sent it to my friend Dallas after I read it last night and she had several similar reactions, which culminated in "a pox on your house." And…I deserve that.
Buying
ALL THE THINGS, it feels like. We sat on what felt like a million couches (because our 3-year-old couch is a piece of shit and is falling apart) but we're not pulling the trigger on one until we're in New York. But after sitting on an unexpectedly amazing teal velvet sofa at Dillard's last weekend, I sort of began a love affair with jewel-toned furniture. (The things you zero on in when you're freaking out about big life changes…) We picked out a new headboard for the apartment from Joss & Main; it's blue velvet and very sexy and I'm pretty pumped about it.
ASOS has a pretty strong holiday sweater game; I bought this one. (It runs a little small! I normally wear a small in tops; I got the 4 and it's totally fine, but it's just a bit more fitted than I normally wear sweaters.) I also got two plaid scarves, bringing my plaid scarf total for the week to three. (I'm…not keeping all of them.)
I'm not the only one in need of some additional cold-weather attire; I made Chuck's hipster dog dreams come true yesterday with an American Apparel dog hoodie.
One thing I did not buy? An AMAZING mega-oversized Christmas ornament from Home Goods. It was completely impractical on every level.
Writing
19 Things That Are The Literal Worst
This Sweater Is Big Enough For You And Everyone You Know
21 Foolproof Ways To Bring Cheer To Your Warm-Weather Christmas
The week ahead…
Phase 1 of the move to New York is this week! I'll be spending the rest of my day today running errands packing, which I'm not looking forward to at all.
Also, Thanksgiving! Eric and I will be in New York with basically no furniture and no lives, so I'm leaning toward doing this.