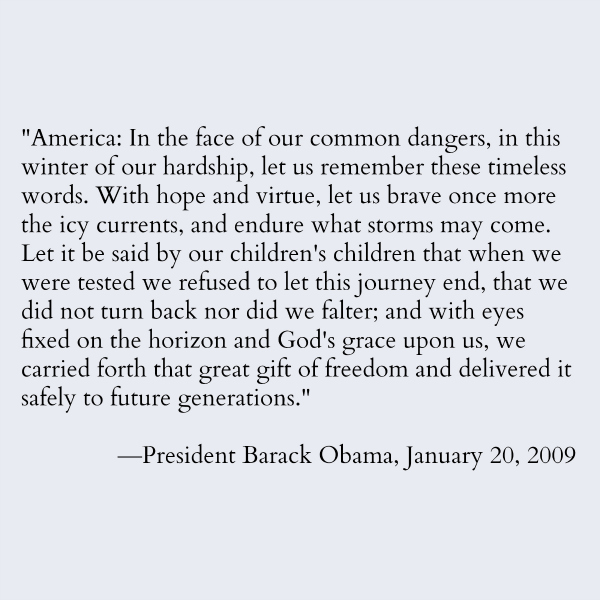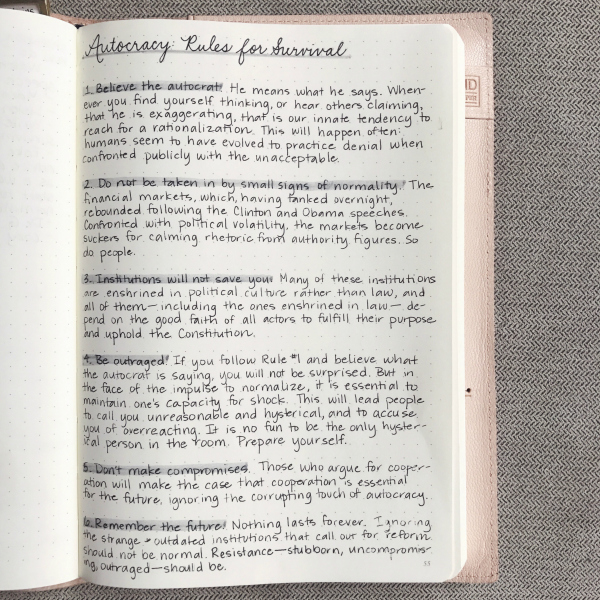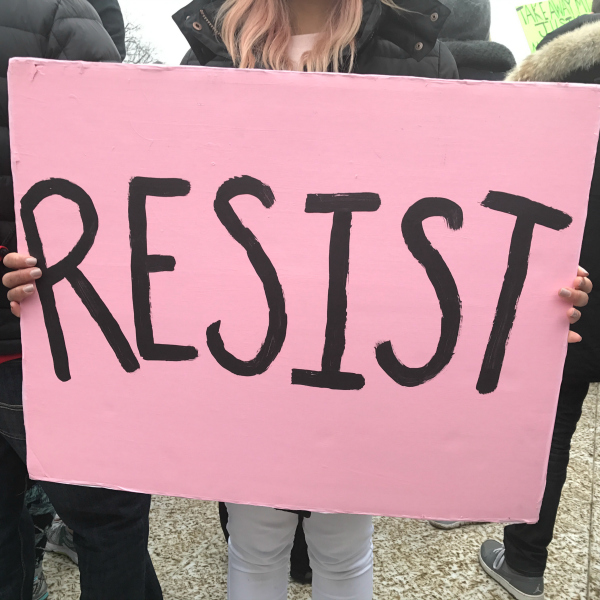 Text in the photo of my journal is from Masha Gessen's Autocracy: Rules for Survival
So, you may have heard that we got a new President this week, and also that a few of us took to the streets on Saturday to express our displeasure. Millions of people marched all over the world, including in small cities and tiny — red — towns as well. This is what we were marching for.
The inauguration was surreal; every time the band played cheery music, I felt like I was watching a horror movie, and at one point a chill literally went down my spine. The speech was awful and dark, but of course it was. The crowds were relatively small, but of course they were. I genuinely liked Melania's dystopian Hunger Games Kate Middleton costume, and I thought that Hillary looked magnificent and I hope she was on so many drugs, but she probably wasn't because she's a pro. I appreciated that Bill took her arm and not the other way around.
On Saturday morning, we were walking to the train when a car pulled up. "You all going to the Metro? Get in, I'll drive you." We got in. The driver was 70-year-old black woman, who told us that she was at the original March on Washington. She said she was too old to march today but still wanted to support, hence the ride. It was humbling, a nice start to the day.
We spent a lot of time before the march taking in the glorious signs and the glorious crowds. We stood in the holding pen area for a while as it filled with people, and then 1:15 came and went, and then 1:30. Then we learned that there were actually too many of us to match on the the planned route, so we took to the surrounding streets (which were already closed/empty) instead. After two hours of standing, it felt good to move, and to yell. We held our signs high and chanted "What do we want? Equality. When do we want it? NOW" and "Black Lives Matter" and "We want a leader, not a creepy tweeter," and, in one of my favorite moments, stood outside Trump's newest hotel in DC and shouted "Shame! Shame! Shame!" over and over again. There were so many people in the streets — truly, it was stunning to get up a small hill at point and then look back and take in the thick wave of people as far as the eye could see (and this was only on ONE street) — and also the weather was bearable and I somehow got through the entire day without having to pee once.
A couple of weeks ago, the Washington Post published an extremely bad take entitled "The Women's March needs passion and purpose, not pink pussycat hats." I thought it was incredibly stupid at the time, but after being there on Saturday, I felt even angrier about it. Symbols matter. Women's art matters. To see thousands of people — men, women, and children, of all ages and races and ability levels (and, presumably, orientations and gender identities) — wearing the same hat throughout the city all weekend was powerful. I was genuinely surprised by how many people were wearing them everywhere I went. And the fact that the hats were handmade, one by one, in the grand female tradition of sewing/knitting circles — the fact that thousands of people, across the country, took the time to knit these hats for themselves and their friends and their daughters and for perfect strangers so that a group of people could clearly say who they were and what they stand for (and what they stand against) — made them beautiful. It was a lovely antidote to those fucking red baseball caps (which give me so much anxiety), and a powerful reminder that people who shit on traditionally female art forms need to have a seat. (Also: I never was able to actually get a hat!!! My biggest regret from this weekend, actually.)
A lot of people have been saying that marches and protests have no place in this day and age and no longer matter; obviously, criticism and accountability is fine/valid/necessary, and the reminders that this is only the beginning are important, but I think it's worth pointing out that, among other reasons, this march mattered because of who this president is. Do I think someone like Mike Pence gives a fuck about more than two million Americans protesting his Handmaid's Tale views on women? Of he doesn't. But Trump, who desperately wants to be popular and liked, who cares so little for facts and science and norms and reason but so much about ratings and numbers? Who took such pride in the "size" of his crowds during the campaign? I think that masses of people in the streets was actually the perfect way to get under his skin. He has already set the standard that crowd size matters. And with the world watching, we made him look undeniably small.
Here's what else I got up to this week…
Reading
The Complicated, Controversial, Historic, Inspiring Women's March, NY Mag. "'From the beginning the only question the media wanted to ask us was whether we had a permit,' said Linda Sarsour, the Palestinian-American Muslim activist who is one of the four national co-chairs. It was almost funny, the fetishization of the question of whether thousands of angry women literally had permission to show up and protest. Sarsour felt it was indicative of a basic distrust of women as serious activists and organizers. 'Logistics became the main focus,' she said. 'As if women were not sophisticated enough to know how to obtain permits. I was like, Can someone ask me about my principles and values?'"
The Radical Possibility of the Women's March and The Somehow Controversial Women's March on Washington, The New Yorker.
A March Can Change Your Life, NY Mag. I actually attended the March for Women's Lives in DC when I was a wee lass — yes me, Rachel, a country mouse from an area with loads of economic anxiety boarded a bus in Flint, Michigan and took it all the way to Washington, D.C., where the liberal coastal elites lived, because even in the year two-thousand-fucking-four and at the age of 18, I somehow understood that there was a world beyond my economically depressed, white, Catholic bubble and also that women should have the right to control our fucking bodies and oh my god I just remembered how much I hate this condescending fucking election narrative and now I'm angry again.
Here Are All The Best Signs From Women's Marches Across America, BuzzFeed.
Eve L. Ewing's inaugural poetry, The Rumpus. "with all the mean they learned from you." (h/t SMI)
Not My President, Not Now, Not Ever, The New York Times. "Mr. Trump isn't my president. I don't mean it emotionally; I mean it literally. It's not sloganeering; it's observable truth. Mr. Trump has no intention of representing me, my family, the people I care about, or the majority of Americans, from the imperiled to the comfortable. It is a stretch to call him anyone's president but his own."
Without a path from protest to power, the Women's March will end up like Occupy, The Guardian.
Trump's Speech Gave Us America the Ugly. Don't Let It Become Prophesy., NY Mag.
Congresswoman Maxine Waters Will Read You Now, ELLE.com.
'He Has This Deep Fear That He Is Not a Legitimate President', Politico.
How Jokes Won the Election, The New Yorker.
Ben Carson's Nomination is an Offense to America, TIME. "So—would we accept a celebrity chef in charge of the Pentagon? What we would all say in unison if President-elect Trump dared to make such a nomination is this: No. Our men and women in uniform deserve nothing less than the most qualified leader. And they do. As do the millions of men and women who benefit from a smart, effective HUD. And by accepting the appointment of Dr. Carson, we implicitly tell them: Be okay with run-down neighborhoods and towns. If you were denied a lease because of your skin color, be okay with it. And if you aspire to find a quality, affordable place to call home, please contact the Housing Secretary who knows nothing about housing."
Republican Lawmakers in Five States Propose Bills to Criminalize Peaceful Protest, The Intercept.
This, on Sean Spicer's lies.
Our kids may never get the chance to know America, The Correspondent. "We are living in a rupture, and we might not make it back."
What Happened When I Cut the PEOTUS Out of My Life, ELLE.com.
The Nihilistic Purity of the Far Left Will Kill Us All, Sammy Leonard on Medium. "These grandiose motherfuckers LOVE to do nothing but shit on Democrats who aren't 100% perfect progressives when they're in office — which is pretty much everybody — and love to go on and on about how "both sides are the same" and how 'we're fucked either way'. And when a right-wing extremist that would inflict pain and suffering to the most marginalized populations inevitably comes to power, suddenly they want to either complain about how fucked we are, revel in the prospect of the 'revolution' that will finally be at hand, or try to wash their hands of their complicity and say 'don't blame me, I voted for (fringe minor party candidate)' and use it to advocate the 'necessity' of a third party."
Security Tips Every Signal User Should Know, The Intercept. (Related: Worried About the Privacy of Your Messages? Download Signal.)
Slutty-Cozy Is the Perfect Aesthetic, Racked. I relate to this deeply.
Here's What 'The Bachelor' Stars Really Eat While Filming, Delish.
What is keeping bears out of our schools?, The Washington Post. "Fish are always in schools. All mammals are in a class. What is keeping bears out? I can understand why bears do not attend college: SAT tutoring is out of their price ranges. But I don't understand what is deterring them from putting in an appearance at our nation's many exceptional institutions of primary education."
To Obama With Love, and Hate, and Desperation, The New York Times Magazine. JUST A HEAD'S UP THAT THIS STORY ABOUT THE OBAMA WHITE HOUSE MAIL ROOM IS SO LOVELY AND WILL MAKE YOU CRY ACTUAL TEARS.
Things that made me say "WHAT NO I'M FINE I ALWAYS SCREAM ENDLESSLY LIKE THIS JUST IGNORE ME I WILL TIRE OF SCREAMING AND FALL ASLEEP EVENTUALLY"
Republican Men Say It's a Better Time to Be a Woman Than a Man, The New York Times. "'It's easier being a woman today than it is a man,' he said in an interview. 'The white man is a low person on the totem pole. Everybody else is above the white man.'" 1. GFY, and 2. Stop saying "totem pole."
Why Obamacare enrollees voted for Donald Trump, Vox.
All the reasons you could be denied insurance coverage before the ACA.
Who Trump voters apparently think Donald Trump is.
Loving
These women singing and the many faces of Maxine Waters. "Fuck him up, Elsie." Samantha Bee on Kellyanne Conway (this entire episode was great), this lolsob Twitter thread (be sure to read the responses), Nick Offerman in a pink pussy hat, and a reminder not to toss your Metro cards. This tweet and this one. Obama on the origin of his "Fired up, ready to go!" chant. And this perfect poem.
The week ahead…
Wondering why it's so goddamn hard for the national news media to not do shit like this and this.