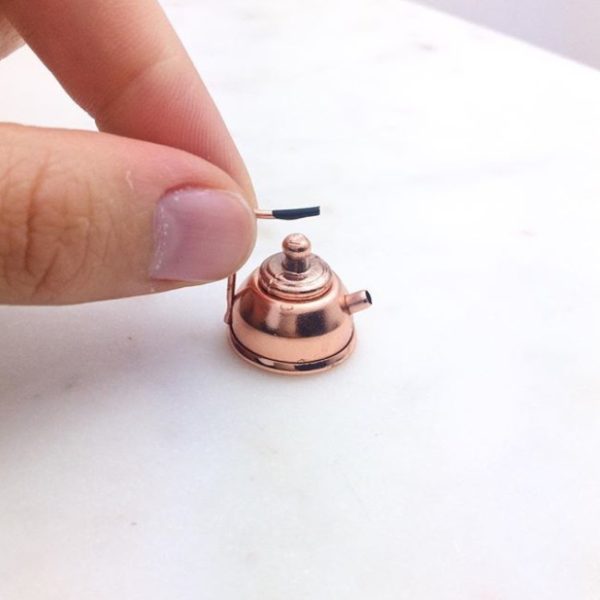 Image: Miniature Co.
I have been toying with the idea of buying an unfinished dollhouse kit for a few years. I love, love, love tiny things, a love that was cemented during an April 2016 trip to Tiny Doll House, a truly magical store that I highly recommend visiting if you live in NYC and are having a terrible day/week/time. Building a dollhouse seemed like a perfect amalgamation of all my hobbies — it's crafting and home decorating and antiquing and puzzles, and also miniatures, which are the goddamn best.
Still, though, I felt weird about it. Whenever I mused about maybe doing it, I'd eventually land on, If only I had a child to build one for! I don't know any 30-year-old women who build dollhouses, especially not just for the hell of it. Normally this wouldn't be a huge deal, but I was going through so much personal trauma and was worried that it could skew my judgment. Like, I had gone down the Avatar Real Born rabbit hole and seen what that looked like, and I just wasn't sure I wanted to descend into my own Tragically Bizarre Hobby Phase From Which You Never Really Return at the age of 31, you know? In terms of social capital, I assumed that building the dollhouse was probably equal to adopting 25 cats all at once. I also didn't really know what I'd, like, do with the dollhouse. Like, just…have it? Is that what one does?
Building a dollhouse wasn't something I thought about a ton, but every so often, I'd start looking at minis on Instagram or read an article about miniatures and begin entertaining the idea again. But I just couldn't quite give myself permission to start playing with toys. Meanwhile, I had a book to write and plenty of other stuff to keep me busy, and I just simply wasn't in the market for a brand new hobby for most of 2017.
Then in the fall, Chip and Joanna Gaines launched their debut collection for Target. It included an adorable modern farmhouse dollhouse (which like three people texted me because they know me well!) and seeing it was a lightbulb moment: suddenly, I saw what a dollhouse could be. Before, when I thought of a dollhouse kit, I always thought of a very formal Victorian thing — which is incredibly not me, and which is why it kinda would be the equivalent of adopting 25 cats if I went that route. But a more modern dollhouse with, say, subway tile and a tiny KitchenAid stand mixer? That made sense. It actually felt like the most natural and obvious thing in the world. Suddenly I wanted to build it and then, yeah, just…have it. Like, of course.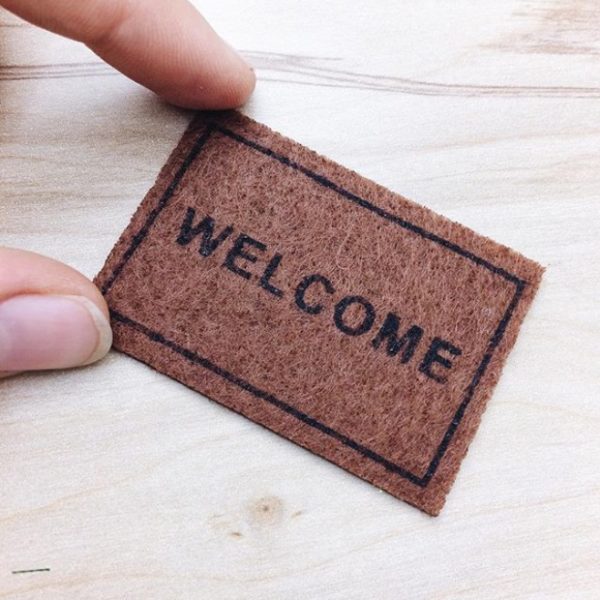 Image: Miniature Co.
My mom and brother came to visit me for Thanksgiving this year, and on that Friday morning, as we lounged and scrolled, I started looking at dollhouses online, sort of casually. The idea that dollhouses would be on sale for Black Friday seemed sort of unlikely, but…I don't know, the spirit moved me to just look! It was actually the first time I'd searched for dollhouses online. I had a rough price range in mind, based on what I'd seen at Tiny Doll House, where the smallest and most basic unfinished dollhouse kit was around $500 and the big Victorians were $800-$1200. I expected to pay around $400 for what I wanted (I assumed there was a pretty big markup at an NYC dollhouse store), which was actually a big part of my overall hesitation; if I was going to spend that much money on something, I wanted to be really sure and feel really good about it.
I had no idea what to expect when I started searching, but I quickly found a great website with a ton of options, including some that weren't nearly as expensive as I'd anticipated; in fact, the one I liked best was $187. (No Black Friday sales, though — alas.) Then I discovered that it was sold at Hobby Lobby for $120…and that you could use a 40% off coupon on it. And my mom was here…with a car. We called two different Hobby Lobby stores, both of which were about an hour drive from my apartment; the first one didn't have the dollhouse I wanted, but the second one, in New Jersey, did. It was sort of the perfect Black Friday activity. The weather was really nice, the drive wasn't bad, and, honestly, a trip to the suburbs with my mom and brother was exactly what I wanted to do. (We also went to Target, Home Goods, and had lunch at Panera! It was a great day.) (Also, I took them to Times Square to see Spongebob the Musical the next day, so rest assured that we also spent some time in the city doing the NYC things they wanted to do!) My mom offered to buy the dollhouse for me as my Christmas present. And, I mean, dollhouses are a thing you buy for your daughter for Christmas, right?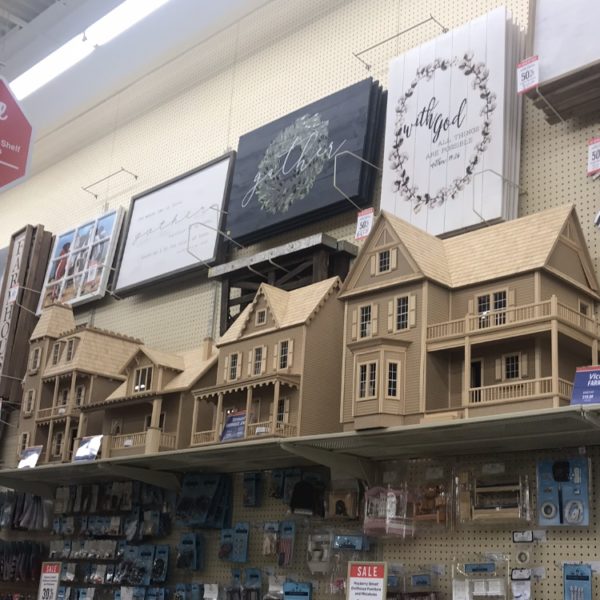 I'm glad we were able to look at the kits IRL; Hobby Lobby had all of their dollhouse models assembled — unpainted — which gave me a better sense of the size of them. Honestly, they were all majestic. The photos of the dollhouses online don't really do justice to how lovely and elegant and big they are, and seeing them assembled was genuinely inspiring. The Painted Lady Victorian was incredible, and there was a bigger/more expensive farmhouse that I liked so much (it's the one on the right in the photo above), I seriously considered getting it. But ultimately, I left with what I had come for: the Vermont Farmhouse, Jr., made by Real Good Toys.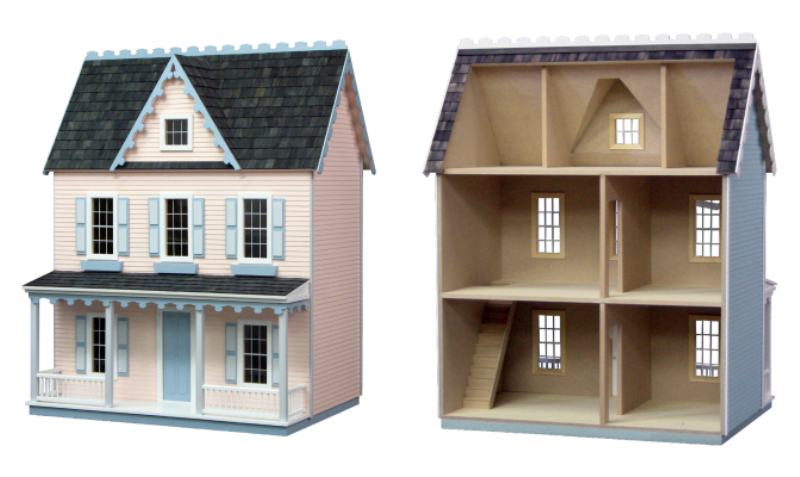 The cool thing about Real Good Toys is all of the resources they have readily available. I quickly discovered that dollhouses are mainly the realm of grandpas, and that they have already done the work to help other people build a great dollhouse. (Hobbyists are really the best!)Each RGT dollhouse has its own mini site with deeply detailed guides, photos, Q&A, etc. The sites aren't super pretty, but reading through all of that in the days following Black Friday was very fun and reassuring.
The first thing I did was dye the shingles because I knew it would take several days, and because it could be done separately from everything else. I was super skeptical of the process at first; the overwhelmingly recommended method was to dye them in this incredibly specific way (vs. staining them or painting them) that I found intimidating and just very "hmmmm" (like…I can't just paint them????) but eventually, I came around. And…yep, they were right! That was the way to do it, and it was fine! It was a really great first step.
But the thing with the shingles was that I was able to just pop open the box, grab the bag of shingles, and then shut the box and shove it aside again — basically, I still hadn't had to unpack anything, and I just hadn't *really* started the dollhouse. Even though I was super excited about the dollhouse, I was actually really anxious about sitting down and reading the full instructions. After stalling quite a bit, I finally made myself do it around Christmas, and after reading them, I sort of panicked. It's not impossible (you actually assemble everything with basic-ass white craft glue!) and the instructions are written in an incredibly (surprisingly !) human way, which I really appreciate…but it's a lot of work, and includes a lot of things I just don't have experience with. (Like…woodworking? So like…all of it?)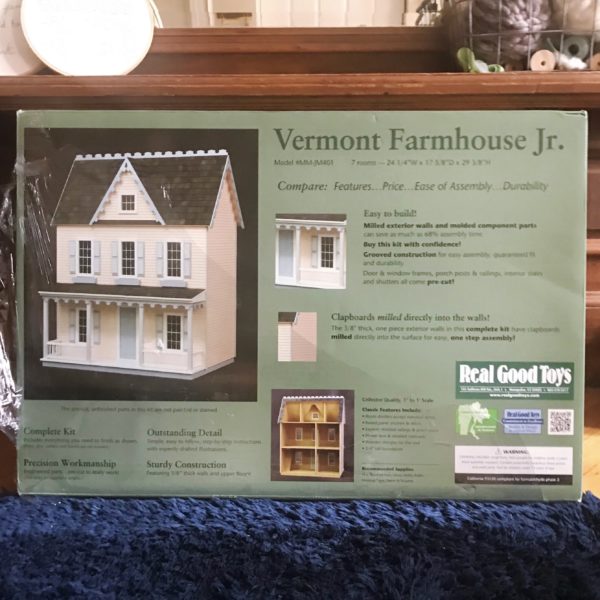 Before I read the instructions in full, I was feeling pretty ambitious. What if I just go ahead and wire the whole thing for electricity while I'm at it?! I thought to myself one night after reading the online tutorial for giving your dollhouse working fixtures. LIKE WHAT IF I JUST TEACH MYSELF ELECTRICITY??? I COULD, YOU KNOW!!!! But after I read the full printed instructions, I was like…Oh, boy. Again, it's not impossible, and I know I'll just go step by step and be fine, but seeing it all in one place was just…A Lot. A dollhouse is basically a complicated puzzle that requires a ton of advance planning, a lot of careful reading, a lot of sanding, and some light sawing (SAWING!!!!!), and it's a project I just really, really don't want to fuck up. Like, maybe I should have gone with Avatar Real Born dolls after all! But alas, here we are.
Here's an idea of sooooort of where I'm headed (but with less black and more color):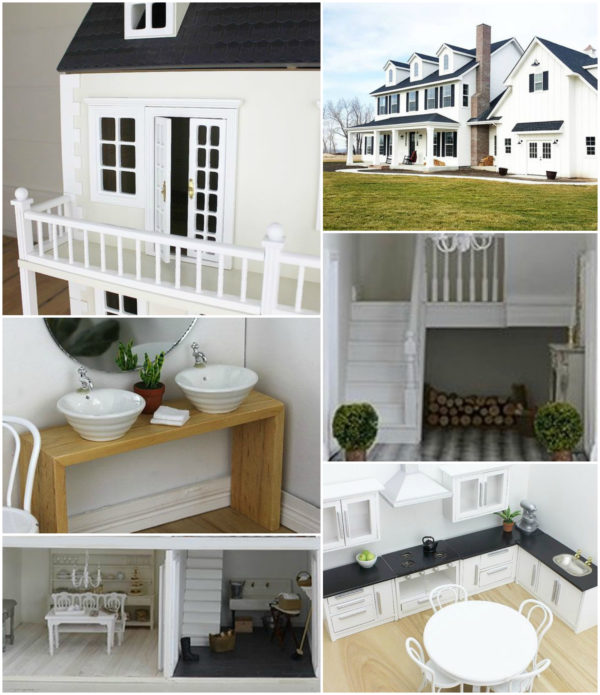 I'm planning for lots of beautiful neutrals and pastels, modern traditional, and classic but unfussy. (More inspiration here.) So, basically a mini version of my apartment. Which…checks out!
I'm not really sure how long it'll take me to finish it, but I will probably take some PTO to work on parts of it (and to cut down on my apartment being in a total state of disarray). I'll definitely blog about my progress here, and will continuing documenting everything on my Instagram Stories and in this Twitter thread.
Right after I got the dollhouse, I was visiting with my friend Rachel. She didn't bat an eye when I told her about it; she immediately completely understood why I wanted to do it, and said that she and her husband are firm believers in adults continuing to find ways to play. (Over on the couch were the custom Muppet versions of them that were part of their wedding.) I have also been thinking a lot in the past several months about the different ways adults engage in world-building — from Dungeons and Dragons to Fantasy Football to Department 56 to The Sims to Pinterest. There's something so universally pleasing about having your own little domain, and after the brutal past few years that I've had, the idea of literally building and making a tiny, beautiful home feels exactly right.