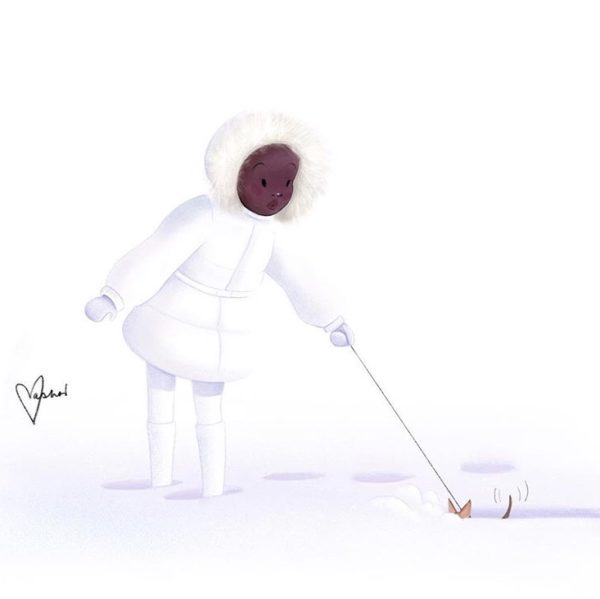 Image: Vashti Harrison
This week, I lost count of the number of times that one of my friends or I said, "How is it still Wednesday?" Or "How is it still JANUARY?" A lot is happening at work right now and it was just…not the best week. For anyone, it seemed like. Getting to February 1st felt like a big collective achievement.
February has aways been one of my favorite months, although I don't know if "favorite" is the right word anymore. It's historically just been one of the most emotionally loaded months of the year for me, and that cuts both ways. (98% of my friends are Pisces, so maybe that's it?) That said, I do really love February. January always feels like a fake month at BF; we come back from the holiday break optimistic, only to remember that it's never a great time to get shit done. There are too many holidays, people tend travel to the LA office (or elsewhere entirely), we're in the middle of reviews and compensation conversations, and we tend to re-org around this time. The real work — good or bad — doesn't start until February. Which is fine by me. Give me 28 days of cold-ass, bleak-ass, snowy-ass winter with a strong dose of gorgeous flowers and pretty pastels everywhere, and I'm good to go.
Here's what else I was up to this week:
Writing
7 Simple And Easy Ways To Upgrade Your Life In February
Editing
16 Things About Being In Your Thirties I Wish Someone Had Told Me, So I'm Telling You
How To Apologize Like A Goddamn Adult
Reading
This week I read The Emotionary (super quick/good read) and started The Comfort Food Diaries.
Also:
Stacy London On Her Year Of Going Broke, Refinery29. This is so, so good from start to finish.
Customer Satisfaction at the Push of a Button, The New Yorker. I loved this.
The Women Behind White Power, The New York Times. "An element of surprise still animates discussions about white women supporting white supremacist politics. In part, it's because the narrative of white supremacist history in the United States is not immune to the same sexist forces that have shaped so many of our national historical narratives: It has left out the women."
Wellness Has a Race Problem, Self.
The man's man's kitchen, Curbed. "If there's a dudely analog to 'shrink it and pink it,' it's something like 'steel it, matte-black it, and make it heavier.'"
My dream of dancing at the Super Bowl came true. And then I became Left Shark., Washington Post.
How to Travel the World While Working Full-Time, Cupcakes and Cashmere. I'm not a big traveler but I thought these were good tips.
Steve Jobs Knew How to Write an Email. Here's How He Did It, Inc.
The $2 Ingredient I Have on Hand for Every Party I Ever Throw, The Kitchn.
Skincare Is Good and Also Works, Racked. This rebuttal is *Italian chef kissing fingers*
I (SUE the T. rex) am moving to my own place and all y'all are invited., The Field Museum. "Another change to note: since my original unveiling 18 years ago, scientific opinion on determining the sex of tyrannosaurs has lacked sufficient data. As such, I would like to state that my preferred pronouns are 'they/them' to refer to me in the third person. As in, 'SUE is a T. rex. They are a majestic murderbird, and Chicago is lucky they grace the city with their presence.'" Please read this all the way to the end.
Best life
If you need something to get you through the dark days of February, consider this beautiful winter puzzle from my favorite puzzle company. I gasped when I saw it for the first time a couple of months ago, then I bought it immediately. I actually haven't done any puzzles recently but I'm excited to work on this one this month.
I can now report that the pasta I linked to last week is delicious and so easy! I legitimately had a bare pantry the other night and was thrilled when I remembered this. Also, definitely get the Better than Bullion if you can find it; I bought it because the post recommended it, and my coworker who used to work at Good Housekeeping later told me it easily bested everything else during their broth taste tests.
I can't stop looking at the red, white, and blue version of these socks and imagining myself as a winter Olympian for Team USA wearing these with an all-white tracksuit. As they are $36 (!!!!!), I will now aggressively be checking J. Crew for site-wide 40% off sales.
And after being on the hunt for chill background music that's not too folksy for a while, I've been really loving the Spotify station Mediations of a G Radio. (Meditations of a G is a very good album BTW.) I couldn't figure out how to link to the station, but I exported whatever I was listening to last night to a playlist which is here. My favorite songs on it are "Keep on Running" by Gabriel Garzón-Montano and "Work" by Charlotte Day Wilson, which I listened to so many times this weekend.
The week ahead…
Just being very kind to myself. Please remember to be kind to yourself too.