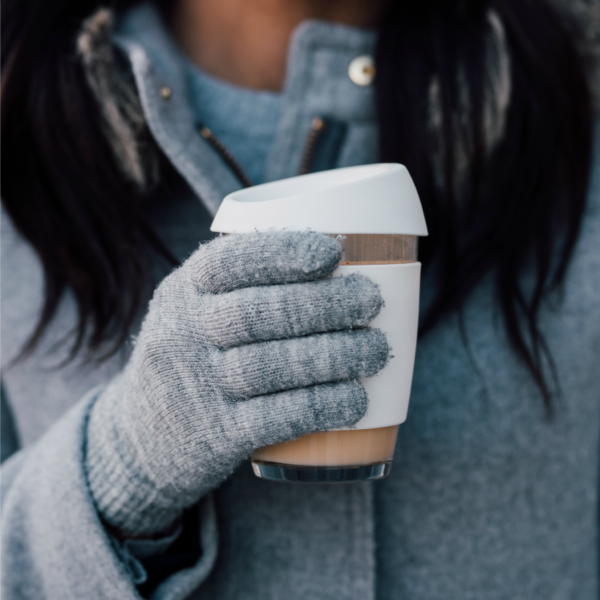 Image: Taylor Miller / BuzzFeed
On Tuesday, I went up to the 16th floor — coming from a meeting and running two minutes late — to attend a meeting…only to discover that it didn't actually start for another hour. As I was heading back down to my floor, a woman in the elevator backed into me and spilled her coffee all over my white jeans. I am not sure if she was a coworker or not (signs point to no, but it could really go either way) but she was like…50% less horrified than she should have been, and didn't offer to pay for dry cleaning or anything. And I was so distracted by being two minutes late for the phantom meeting that I just flatly said, "It's OK" when she (not-horrifiededly!!!) apologized. The coffee stains were way too big of a job for a Tide pen so I ended up walking over to CVS and buying a big bottle of Oxi Clean and spraying the stain…but it quickly became clear that the Oxi Clean needed to be rinsed out to really be effective in the moment. So I had to go up to the gender-neutral bathroom, take off my socks and winter boots (which don't go on or come off without a FIGHT), and strip off my jeans so I could rinse them out. The stains did actually rinse out…but then I was left with a huge wet spot on the front of my pants in the crotchal region. The entire thing had all of the bumbling workplace mishap nonsense of a rom-com, and yet I never encountered any cute guys during the whole ordeal so like ???????
So that was my Tuesday, and a pretty good summary of the vibe of this week TBH. But! Taking Thursday off made me feel like a new woman for a little while anyway.
Here's what else I was up to…
Writing
Here's A Soothing Tea Recipe For Anyone Who's Barely Keeping It Together Right Now
Reading
The female price of male pleasure, The Week. This is one of the best things I've ever read on sexism, sex, and rape culture.
The Rising Pressure of the #MeToo Backlash, The New Yorker. "I think it's interesting, given the extent of what we're learning, how many people seem more concerned with overreach than anything else."
OTL: Michigan State secrets extend far beyond Larry Nassar case, ESPN.
The Price I Paid for Taking On Larry Nassar, The New York Times.
What to Say When You Meet the Angel of Death at a Party, The New York Times. "A tragedy is like a fault line. A life is split into a before and an after, and most of the time, the before was better. Few people will let you admit that out loud." I love this so, so much.
Four Chicago public schools getting washers and dryers to help students in need, Chicago Sun-Times.
Everything I Thought I Knew About Early Parenthood Was Wrong, The Cut.
The katykatikate guide to apologies, Katy Kati Kate.
Thinx Has a New CEO and, Finally, an HR Department, Racked.
Sorry to Bother You is a bananas satirical comedy about code-switching and exploitative capitalism, Vox.
Why Women Love to Wear Men's Deodorant, MEL Magazine.
I delay writing back to people and then never do it — can I fix this?, Ask a Manger.
10 Straightforward Ways To Handle The Awkward Situations You Live In Fear Of, BuzzFeed.
How to Turn Your Old iPhone Into a Cute Minimalistic Feature Phone, Lifehacker.
This 10-Minute Bare-Pantry Pasta is Your New Instant Comfort Food, Food52. I'm totally sold on this recipe. I also immediately bought Emily Nunn's book after reading this and am excited to start it this week!
A Review of the Delirious New Diet Coke Flavors, GQ. "It is sobering to sip a soda and realize while every day I inch closer toward death, the soda is only growing stronger, smarter, and more powerful. I do not think Diet Coke Feisty Cherry is a bad product; however, I am confident there is a better use for it than drinking. Perhaps dissolving buildings; resetting fingerprints; creating mirrors out of thin air and Diet Coke Feisty Cherry."
Watching/listening to
American Crime Story, Call Me By Your Name, "Miss Manhattan" — 99% Invisible, "The Women Who Brought Down Larry Nassar" — Burn It All Down, "Gold Coats and OGs" — Ear Hustle, and "Getting a Date" — Ear Hustle.
Best life
I earned a ton of gift card monies for a work thing recently, and decided to use some of that to buy two rings from Catbird — the Mignon and the Sweet Nothing. (See both on here.) The Sweet Nothing is so pretty; it's actually a tiny chain and that catches the light and just looks lovely on.
I also bought these Lou & Grey sweatpants last week when LOFT had everything 50% off. I had to order up a size because my size was sold out, but I'm so glad I got them because they are SO DANG SOFT. (I also think i can easily shrink them up a little in the wash.) I'm not really a sweatpants person but I wore these all weekend and basically never want to take them off.
And after wanting it for literally four years, I finally bought Dior Nail Glow a couple of weeks ago and I'm a fan so far. As I mentioned recently, doing clear nail polish instead of traditional nail polish/gel manicures has been a good switch for me, and the Nail Glow looks nicer and holds up better than clear nail polish. I don't know if it's $30 good, but it's like…$30 on a gift card good, which is how I bought it.
This weekend I made two recipes from Dining In: the sour cream flatbreads and the salted butter and chocolate chunk shortbread.
In other news, these gorgeous containers have made me want to commit to cooking and packing my lunch.
Also, my friend Sally and I were recently talking about how much we love all the phone beeps and bloops on Black Mirror; she said searching the iTunes store for "soothing" and "calming" ringtones brought up some good similar options, which proved to the true. I went with "Elegant Business Tone" from Soft Signals and "Short Design Tone" from Ringtones Aaa+ Design.
Loving
This tweet and also this one.
Housekeeping
Here's your first of soon-to-be regular monthly reminders that if you like my links, you can buy me a coffee or a tea or a drink or drugs or whatever via Venmo at Rachel-W-Miller.
The week ahead…
"We're now in the third month of January."