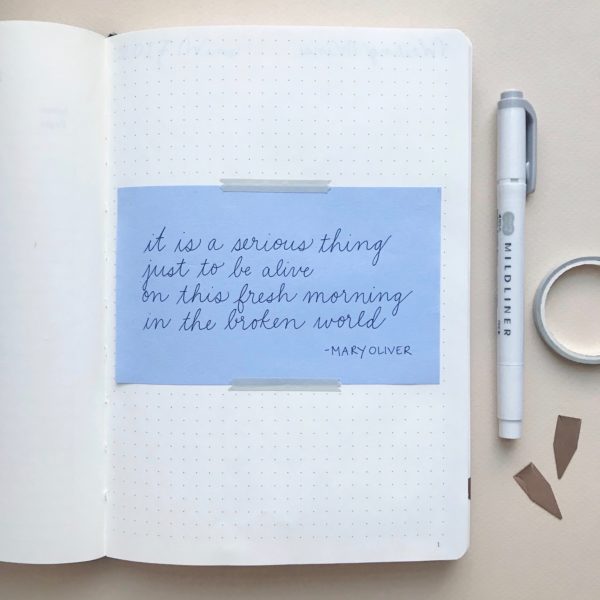 I welcomed 2018 feeling incredibly burned out. On Monday evening, I got the Sunday Scaries…but, like, for the entire year. There were a bunch of clear/obvious reasons why this was the case, but I didn't really realize what was happening until it was too late for me to do anything but ride it out. Coming to the realization on Tuesday morning that I was burned out and then figuring out how to remedy it required some soul-searching, some planning, some patience, and some just..accepting the world we currently live in, and of the realities of being a WOC in that world. Like…of course I was burned out.
Anyway, at that point, I gave myself the assignment of doing basically nothing (except laundry because we live in a society!!! and also writing this post) from Friday night through Monday morning; this approach was actually very helpful because while I don't like sitting still and not doing stuff, I love rules. So I slept in and wore cozy clothes and watched The Crown and read blogs and window-shopped online and drank tea and worked on my new journal and ignored the impulse to write anything and was just really, really kind to myself. And I feel…better. Imagine that!!!!
Here are some other notes from this week…
Writing
7 Simple And Easy Ways To Have Good January
Just 5 Great Planners For Anyone Who Still Needs One
35 Cool Lists To Start And Keep In 2018
Reading
We Asked, You Answered: Wondrous Things That Happened in 2017, Atlas Obscura. This is so good.
"Black Museum" Episode of Black Mirror Shows Why We Need More POC Reviewing Shows, The Mary Sue.
'Black Mirror's' Season 4 Finale 'Black Museum' Offers a Horrifying Critique of American Racism, The Daily Beast.
How this year's Golden Globes red carpet became a political statement and why a boycott was rejected, LA Times.
Donald Trump's Year of Living Dangerously, Politico.
"Here's a story about how I nearly just got killed by this cop", @TheHipsterRebbe on Twitter.
How I Saved 30 Percent of My Income in 2017, The Cut. A lot of articles like this are bullshit, but this one is pretty good.
I Refuse to Wear Chic Workout Clothes to the Gym, Man Repeller.
How The Crown Re-created Buckingham Palace Without Actually Filming There, Vulture. This is fascinating.
Black Mirror Does Not Appear to Know What the Morning-After Pill Is, The Cut. "I'm sorry … what? I was with this show through the grief clone that expands, for whatever reason, in the bathtub. I was with it through the murderous hashtag-controlled bees. I was even with it through the politician fucking a pig on live television. But this was different. This crossed a line, and I'm not the only one who felt that way. A reminder to show creator and lead writer Charlie Brooker: The 'morning-after pill' and the 'abortion pill,' as they're colloquially known, are not the same thing."
Remote Control, The Believer. "As the quickly accepted press narrative also had it, the assault on Nancy Kerrigan was only a hop, skip, and a failed jump away from Tonya's disappointment at the 1992 Games and her growing frustration thereafter. She was trash: trash cheats. Trash wants reward without working. Trash is dangerous. Trash doesn't care about other people's dreams. Why question a story that made such easy sense, and provided so much to laugh at along the way?" Last night, after watching some of the figure skating championships, I re-read this article, which is my favorite piece of sportswriting ever.
The Redemption Of Figure Skater Mirai Nagasu, Deadspin.
Kristi Yamaguchi, Unlaced, Shondaland.
13 Experts Explain Why Diets Don't Work And What To Do Instead, BuzzFeed. "With all of the research we have supporting the negative physiological and psychological effects of dieting and pursuit of weight loss, I find it unethical to approach nutrition counseling with the old diet/weight loss paradigm."
Trader Joe's Butter Is as Good as the French Stuff, Bon Appétit.
An Update on My Twin Sister, A Cup of Jo. This is lovely.
Who the Hell Are Logan Paul and Jake Paul? A Helpful Guide to All the Pauls, Splinter. I…legitimately did not realize that Logan Paul was not Jake Paul until I read this.
Loving
My friend Sally listens to a lot of podcasts, and she made me a list of all of her favorite podcast episodes from 2017; I've spent the last two weeks working my way through it. You can see the list here. Everything I've listened to so far has been great, but I strongly recommend the episode of The Pitch; it was wild.
My friend Alanna's Twitter thread about Anthropologie's food styling is not to be missed.
This figure skating routine choreographed to "The Room Where It Happens" is so fun to watch.
And this tweet makes me laugh every time.
Best life
These vintage fern prints are so pretty. (The whole shop is great.)
I'm obsessed with this winter white loungewear and this cozy look.
And I did an Instagram Story of my new 2018 journal setup if you're into that sort of thing! (It's pinned to my IG profile as a Highlight.)
The week ahead…
Continuing to take it easy, thinking about goals and priorities for the next few months, and doing my best to stay warm!