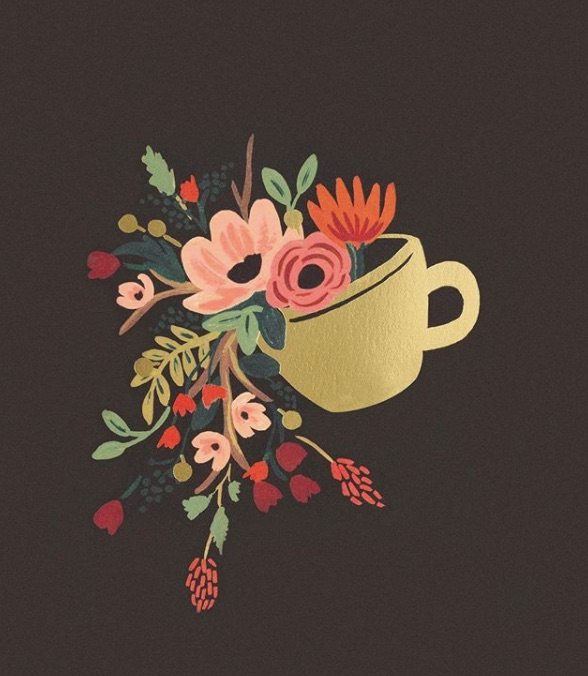 Image: Rifle Paper Co
This week, I felt like I finally exhaled after two years of not knowing that I was holding my breath.
As I was publishing my post last week, I was bracing for the worst, but my best-case scenario was something pretty quiet/neutral. I wasn't totally sure what to expect, but I guess I just didn't…really…expect…much…response? (I don't know…I've never shared terrible news on the internet before!!!) I was definitely not expecting to be showered with heart emojis and so much support and kindness by coworkers, Internet friends, and total strangers all week. (Seriously, at one point on Sunday night, my entire iMessage list was just a bunch of red hearts.) It actually reminded me of the moment at my wedding during the processional when I walked in and everyone in attendance stood up and I was totally taken aback and moved by it even though, like, of course that's a thing people do at weddings when they see the bride. I don't know why I didn't see it coming, then or now. But in any case, there's something about seeing a group of people stand up for you in a significant moment in your life that is incredibly powerful and deeply moving. So just…thank you so much. I really, really appreciate it.
Here's what else I was up to this week.
Writing
19 Puzzles That'll Give You Something To Do Now That It's Getting Dark At 4:30 PM
21 Little Ways To Make Your Home Less Of A Death Trap
7 Little Ways To Upgrade Your Life This Month
Reading
I'm still reading Gabrielle Union's memoir which is amazing and I want everyone to read it! Also:
I'm Not Ready for the Redemption of Men, The New York Times. "Redemption must be preceded by atonement. It is earned, not offered. If you want amends, you have to make them."
Your Happiness Is Built With the Little Things, Lifehacker. "Wake up each day ready to take those small steps toward your happiness, and recognize that it will always be a work in progress. Take good actions, no matter how small; make beneficial choices, no matter how simple; and show gratitude for what you have, no matter how basic. In time, the small things will add up to a genuinely great thing." I love this.
More Than 180 Women Have Reported Sexual Assaults at Massage Envy, BuzzFeed.
Nobody Wants to See your Dick — A Guide to Handling your Newfound Wealth and Influence, Chris Rosenthall on Medium.
Meghan & Harry's perfect day, Lainey Gossip. Not gonna lie: waking up to a half-black 36-year-old divorcée getting engaged to a prince was exactly what I needed on Monday morning, and had me and everyone around me in a genuinely great mood all day. (See also: this.) I'm all-in on these two.
The Instant Pot Is Now an Entire Economy and Religion, Slate. "Is it possible to just casually admire the Instant Pot? Judging by the Facebook reviews, the answer is a steadfast nope. Of the 39,000-plus reviews of the 7-in-1 DUO Pressure Cooker from Instant Pot ($84.96 for the 6-quart model), 83 percent are five stars, and only a paltry 4 percent are one star. This may seem unremarkable, until you realize that Beyoncé's Lemonade has an 82–6 ratio on the same metrics. Yes, the Instant Pot is more revered than Beyoncé."
What I've Learned in 16 Years of Editing Glamour, Glamour. This made me cry.
The Men Who Cost Clinton the Election, The New York Times.
What it's like to win the lottery as a woman, Washington Post.
The Most Fascinating Part of The Big Bang Theory Is How Bad Everyone Is at Fake-Eating, Vulture.
Banana thefts, peppers for potlucks, and other weird office food stories, Ask a Manager. This made me laugh so hard.
Prince Harry Engaged To Woman Who Will Never Love Him The Way 29-Year-Old Idahoan Graphic Designer Jennie Hoffman Does, The Onion.
Things to Do at Work Besides Showing Your Penis to Coworkers, McSweeney's.
Also, here's this week's TWIM.
Loving
This sweet Christmas story (you're gonna get teary, just FYI), Gabrielle Union on Death, Sex, and Money, and "Welcome to Hell." Also this tweet.
Best life
After wanting this faux fur robe for more than a year, I finally got it on Black Friday on a mega sale and am loving it. (It's not on a major discount anymore, but it is still on sale!)
Also this candle holder DIY is so pretty.
The week ahead…
Working on my newest project!