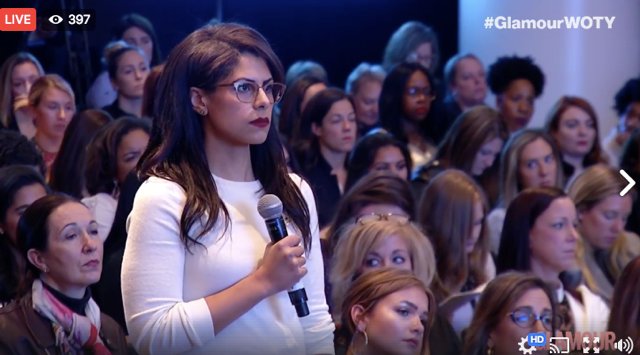 This week, I took my "repeal the patriarchy and white supremacy" show on the road! Since Joe Biden's answer to a question I asked him made the news (also here), I wanted to share a bit more of the context.
Last Monday, I attended Glamour's first-ever Women of the Year Summit. I attended the Women of the Year Awards in 2015 and it was an incredibly powerful and moving experience — truly, one of the highlights of my year. The WOTY Awards is held in a big theater in front of a large audience, but this year, they added a new event, the summit, which was smaller (about 300-400 people). It was a series of panels and talks featuring truly remarkable women and I was so, so thrilled to be in attendance.
The program said that the last panel of the morning before lunch would be Glamour EIC Cindi Leive in conversation with "surprise guests." As it got closer, I thought that perhaps it would be HRC, especially because we kicked off the day with Chelsea. (Also, the security that morning had been surprisingly intense, which I didn't think much of it until later.) Dallas guessed Michelle Obama. It turned out to be the Bidens. Which…fine! Cool!
I probably wouldn't have felt so compelled to say something if Joe hadn't spent so much time talking up his record on women. Look, he has done good, important things for women, and I'm all for tooting your own horn (OBVIOUSLY), but there was something about a white man coming into a room full of women and just sort of accomplishment-dropping ("When I wrote that legislation…") to provide evidence of his wokeness that really rubbed me the wrong way. Also, I found him smug and just…pandering. I'm sorry, but saying things like "There's not a single thing a man can do that a woman can't" (to applause, of course) and openly adoring and supporting his career-woman wife is…pretty basic-ass shit. You know? Like, it's easy to forget that in the year 2017, when there's an unabashed misogynist and racist leading the country and we live in hell. But, sorry…Joe Biden ain't special. (Even Dr. Biden says at one point, "We already knew that, Joe.") Like, great job being a PERSON, Joe Biden. You don't get a cookie for BEING A PERSON.
Anyway, the thing that really made me say "OK, but also…no," is when the topic of Harvey Weinstein came up and Cindi said something to the effect of "What do you think of the argument that these men came from a different time, that they are old dinosaurs?" and Biden got out his soapbox and called bullshit on that. Which: great! It is bullshit! But as he went on to say that he's from that same time, and his dad (also from a different time) raised him to know better, I just thought, But that's probably the exact same defense he'd use if ever called to answer for his own behavior. And between that and him talking about how brave all the women who have come forward are and how "we have to change the culture," all I could think about was Anita Hill.
And I couldn't think about anything else.
I was texting my friend Sally with updates from the Summit throughout the day, and as I was having these thoughts, she texted me something like, "Ok but also….Anita Hill" and I was like, "Right???? THANK YOU." So I was like, Ok, if they do a Q&A for this panel — which seemed HIGHLY UNLIKELY — I'll try to get the mic and ask him about her. A few minutes later, I was looking down, taking notes, when Cindi said that she'd take a few questions at the end, and my head JERKED up. (I'm pretty sure everyone around me noticed.) Still, though, I knew that getting a mic was a long shot.
Aside from worrying about whether or not I'd be able to bring up Anita Hill, I was also debating whether or not it would really be appropriate for me to say something. After all, the Bidens were basically the guests of honor, and Cindi wasn't interviewing them like a reporter. (Which: fine!) So I was sitting there asking myself whether or not the question I wanted to ask would be, essentially, rude. But then I thought, Well, the "rude" question would actually be "So hey, are you going to stop being kiiiiinda awfully handsy with women during photo ops?" so everyone should be happy I'm sticking to something a little easier. I also just kept thinking about two things women have said recently: "You can't get away with this shit anymore." And, "But what's the alternative? To approve? I do not approve."
I. DO NOT. APPROVE.
And as I weighed my options, I thought back to all of the panels from the morning, and I was kind of like, If anyone thinks this is inappropriate, I can quote back several amazing women who told us to be brave and fearless and to get in formation. To ask a serious question felt like it would be acting in the spirit of the summit. And as I considered the possibility of things going badly, I thought, Well, if there's a hill worth dying on, Anita Hill is it.
To be clear, I do not expect a long life in public service to be without mistakes or growth, nor am I asking for purity from Democrats (though anyone who thinks reproductive justice is negotiable or that "identity politics" is real/a problem can kiss black ass). But I have zero patience for people who are incapable of a genuine apology, or who refuse to have a real, non-defensive reckoning with their own failings. And the more Biden talked, the angrier I felt.
So once the production people with mics sort of dispersed and the first audience member was asking her question, I, like, looked around until I spotted another production person holding a mic and basically communicated "I'mma need that mic" and she nodded at me and moved into position at the end of my row with it. (That was actually the scariest part for me — like, aggressively claiming a mic outside of the designated "now is when we raise our hands and ask to be called on" time. It felt impolite.)
So I got the mic and I stood up and said to Joe Biden, "My name's Rachel Miller and my question is for the former vice president. In the context of changing the culture and women being brave enough to come forward [which he'd also said], I'm wondering if there's anything that you would do differently with regards to Anita Hill if given the opportunity."
And he said, "No."
No.
And then he said, "Let's get something straight here."
Which — sure, is a thing an old white man can say to a black woman asking him a question at a women's event about the shameful treatment of a black woman on a national stage. He is certainly allowed to say that, if he wants to.
………..
Biden then went on to say a lot more words, but what he was really saying was, "I'm a good guy, I'm a good guy, I'm a good guy." (The entire event was live streamed, and you can see the Bidens' panel here; my question is at 25:53.) And here's the thing: I have had eerily similar versions of this exact conversation several times over the past six weeks, and I am sick to goddamn death of men who have demonstrably not always been good guys immediately jumping in to defend themselves and tell me that I'm wrong — that they ARE, in fact, good (GREAT, even!!!), and I just don't get it. They get emotional, they get belligerent, they get nasty as they try to get me to listen to the story of that one thing they did for a woman, like, three years ago. And they do this instead of, I don't know, being introspective for one fucking second, and considering that maybe they are wrong. Maybe they aren't great. Maybe they aren't good. Maybe they aren't that brave, maybe they didn't always do everything they could have done, maybe they ignored certain things because they were ignorant or cowards or lazy or, hell, because "it was a different time." But instead of pausing and thinking about how he could have done more, Biden, like so many other men, looked me dead in the eye and just said, "No." No, I couldn't have done more. No, I will not consider that I'm anything other than a good guy. I'm the hero of this story. Has no one told you that I'm the hero?
He ended his response with, "What I do feel badly about is the bad taste that got left in the mouth of some of the people around Anita Hill."
Again: OK, but also…NO.
After he finished speaking, I fully expected Cindi to accept his answer and pivot back to softball questions. (Which: fine! I know how this works.) But that's not what happened. And this was actually kind of the best part for me. Cindi didn't just let his narrative stand. She said, "If I can just follow up on that for one second…Professor Hill has said herself that she expected a fair process and did not feel that she had one. Do you, given your leadership on these kinds of issues, have any kind of message to her now?"
And Biden said, "Well, my message, which I've delivered before [translation: Why are you wasting my time with this?] is that I am so sorry if she believed that."
I am so sorry if she believed that.
I am so sorry IF she believed that.
And then he followed it up with, "I feel really badly she didn't feel like the process worked."
I'm sorry if. I feel badly that she felt.
And then, for good measure, he finished it up with a little bit more about how he was the hero. He talked about "the shouting matches I had with those witnesses who were attacking her" and then finished with, "I said something at the time that proved to be right. I said this is going to be the start of a fundamental change of what constitutes harassment in the workplace, and people are gonna begin to change."
I said something at the time that proved to be right.
I just…what a gross thing to say here. "I said something at the time that proved to be right." It's not really surprising, but that smug-ass delivery was still enraging.
I DO NOT APPROVE!!!
Later that night, at the WOTY Awards, there were a lot of surprise appearances, including when Jodi Kantor and Megan Twohy — the journalists who broke the Weinstein story — dropped in and talked about #MeToo, and then said that four survivors of sexual harassment who told their stories in the name of justice would be joining them on stage. And then the name "Anita Hill" appeared in huge letters on the screen and I blurted out, "Oh, holy shit," and then started crying for like the dozenth time that day. (Watch the video here.) It was really incredible, seeing her there and listening to her speak. (Especially right after seeing Zendaya give Maxine Waters a Lifetime Achievement Award.)
"I saw that we had a chance to shift this narrative," Hill said on stage. And to that in particular, I hope we can all look back someday and say, "Me too."