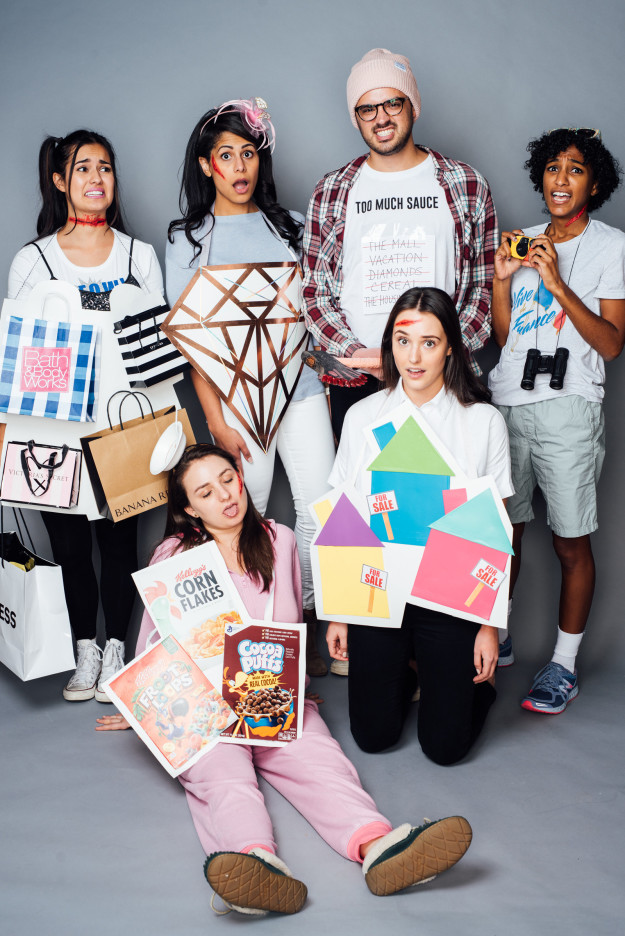 Photo: Taylor Miller
I…can't believe Halloween was this week. (My team went as a killer Millennial and his victims. Also, all of my reports are ~100~ and I just adore them.) I just…so much is happening!
Here's what else I was up to…
Writing
This $11 Candle From Target Smells Just Like The $30 Anthropologie One
ICYMI: I shared my pumpkin butterscotch cookie recipe.
Reading
I finished Home Comforts! (Well, to be honest, I skimmed several sections — it's essentially an encyclopedia and some of it is really dense/not particularly relevant to me right now.) Anyway, it's a great reference book and a good all-around read; it legit left me feeling very inspired.
Also:
Ask Polly: 'I Hate Men.', NY Mag. "For your personal emotional health and resilience as a woman, you must choose to view the world of men through a new Cranky Old Bitch filter. Through this filter it soon becomes clear that men are simply too pathetic to waste your giant brain contemplating for too long. Sure, they lord their power over us, they cast their dismissive eyes on us, they attempt to jack off in front of us because they are sad deluded animals who always need a new fix to feel like more than nothing. It's gross and it's sometimes litigable but it's also just hilariously unevolved. Imagine, the desperation of living that way! And sure, they might fire you if they catch wind of your total lack of respect for the way they operate. Many of them are in charge. What a hilarious irony, right? I mean you at least have to admire their tenacity. In spite of countless obvious deficits, they STILL find a way to stay on top." P R E A C H.
The Reckoning Always Comes, Deadspin. "There are too many men out there who think if they can't be bad men, they can't be men at all."
How Men Elevate, and Women Ruin Food, Taste. "But the central critique of women-driven food trends is that women are getting food wrong. Things that are supposed to be complex, like wine, are vilified for being simple (never mind that the majority of wine drinkers are women), while foods like cupcakes and froyo pander to people who have no taste. And let's not forget that women also needlessly complicate food that is 'supposed' to be simple—why drink coffee when you can have a half-caf double caramel soy macchiato instead? Men can obsess over every aspect of procuring, drying, and grilling a steak, but women are the high-maintenance ones for arranging a beautiful smoothie bowl. … If a man is fussy about craft beer or protein shakes, it's food that should be fussed over. If a man requires nothing more than meat, potatoes, and a Budweiser, neither should anyone else." This is so, so good.
America is facing an epistemic crisis, Vox.
Harvey Weinstein and the Power of Celebrity Exceptionalism, The Atlantic.
Ta-Nehisi Coates on Robert E. Lee and John Kelly.
I'm your mentor, not your mother, Science.
Former 'Male Feminist' Columnist Faces Multiple Allegations of Assault, Jezebel. (Note: this is a pretty intense read.)
Modest Dressing, as a Virtue, The New York Times Style Magazine.
NYC strippers strike: Dancers say nearly naked 'bottle girls' are grabbing their cash, cite racism, Washington Post.
The Fable of Aesop's Hand Soap, Racked.
Inside the Joyfully Deranged Kitchen of Amy Sedaris, Eater.
9 Books That Taught Me All Of The Random Shit I Know, BuzzFeed.
Loving
This episode of Vox's podcast The Impact, this puppy, this (very) short story, and his Royal Flatness, Mexican burrowing toad.
Best life
I'm preparing for the coming frost! I ordered these flannel sheets (The Sweethome's budget pick) and this blanket. I also ordered some new bath towels and hand towels, but I'm really psyched about the sheets — my first flannel sheets as an adult! I just feel like the all-white will be so pretty and cozy.
In other news, these garlic knots look delicious.
The week ahead…
Trying to cook more and work out more (so, like…at all). I can't get over how quickly this month is going to go!