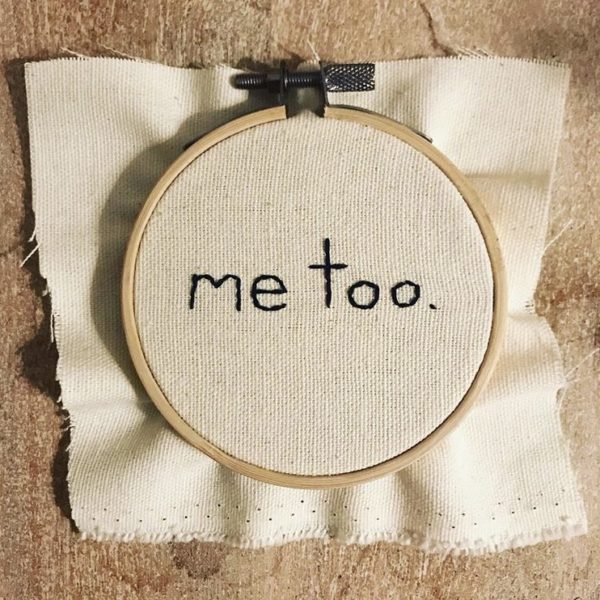 Photo and embroidery: my friend Alanna
This week was rough. In multiple areas of my life, I was dealing with men who know how to talk but not listen; whose lack of emotional intelligence and basic empathy is genuinely stunning; who have spent decades being rewarded for being appallingly average (and then turning around and rewarding others like themselves); and who are just shitty. I was also surrounded by so many women who are overwhelmingly, shockingly, infuriatingly better at this whole "being an adult person in society" thing…and yet have to fight to be taken seriously, to be believed, to be respected, to be cared about. Meanwhile, the still-pervasive idea that women are "too emotional" while men can be trusted to remain rational and in control at all times is so demonstrably false, it's almost laughable…except, you know, the part where it's our fucking bodies and livelihoods and dignity and time — God, so much fucking time!!!! — at stake. Watching so many smart, competent, kind, thoughtful women be repeatedly disappointed and disrespected by men who are so grossly mediocre and maladjusted, who trade mainly in bullshit and bad faith, and who just don't fucking get it is not good for the soul. I am tired, and I assume you are too.
Here's what else I've got:
Writing
The Pretty Little Bookmarks That Can Actually Withstand The Trauma Of Your Backpack
Just 17 Tweets That'll Make Women Lolsob
Editing
Here's What My Parents' 1974 Wedding Would Cost In 2017 Dollars
Um, Disneyland's Opening Day In 1955 Sounds Like It Was A Dystopian Hell
If You Drink Any Kind Of Liquid At Your Desk, You Should Buy This Tumbler
Reading
Yes, This Is a Witch Hunt. I'm a Witch and I'm Hunting You., The New York Times.
Why Would This Time Be Any Different?, Deadspin. "For too long, men have considered sexual and other gendered violence to be the problem of women. It is a problem for all of us to solve. Yet men have gone on, frowning and furrowing their brows. They are doing it now. They give it the old How horrible, I agree it is horrible and go about their days. For women, this often is our day. This is a constant. We live with the unceasing fear of what a man is capable of. We know that it's not convenient; we know that the urge to prey on women does not discriminate by how a man presents to the world otherwise, and especially the men around him. It's time for this to get inconvenient for men—for, perhaps, you. It's time for them—you—to sit with this issue, not just for a day or two, but as part of your life."
'Grey's Anatomy' Showrunner on Harassment in Hollywood: "It's Not Just Harvey" (Guest Column), The Hollywood Reporter. "We work within this culture so that we can amass some power so that we can have a voice."
The Conversation We Should Be Having, The Cut.
20 Things Men Can Do RTFN to Support Women, Beyond Just Literally Ceasing to Sexually Harass Us, Helen Rosner on Medium.
How to Listen to Women When They Share Their Stories of Sexual Assault, MEL Magazine. "From the time we're little girls, we're taught to behave, be quiet and not to make a fuss. If I fought every man who touched me while I was waitressing or grabbed me on a bus or at a bar, I'd be dead from exhaustion. We pick our battles — daily — and so when a nasty woman does rise up and make a ruckus, don't be surprised when it unleashes decades of suppressed rage on behalf of women everywhere."
Why I Defended, Supported & Enabled Bad Men, Bustle.
Hey Hollywood, Don't Forget David O. Russell Is An Abusive Jerk, Pajiba. For crying out fucking loud.
Men of the world: You are not the weather, The Washington Post.
Lupita Nyong'o: Speaking Out About Harvey Weinstein, The New York Times. "I was part of a growing community of women who were secretly dealing with harassment by Harvey Weinstein. But I also did not know that there was a world in which anybody would care about my experience with him."
Men's "Cluelessness" and the Rape Culture, Shakesville.
Women have always tried to warn each other about dangerous men. We have to., The Washington Post.
What We Know About the Niger Attack That Left 4 U.S. Soldiers Dead, NY Mag. More plainly explained in this Twitter thread.
Inside a Secretive Group Where Women Are Branded, The New York Times.
California Restaurant Admits It's Been Serving Popeyes Chicken for Months, Vice.
How a Gilded-Age Heiress Became the 'Mother of Forensic Science', The Atlantic.
In Texas, Homecoming Mums Are a Team Effort, Racked.
A Catfishing With a Happy Ending, The Atlantic. This story is wild.
Rose Totino, Patron Genius of Frozen Pizza, Mental Floss.
These Tights Are Still Perfect After Nine Years Of Wear, BuzzFeed.
Watching/listening
The October 18th episode of The Daily was really, really good.
Related: I loved listening to Michael Barbaro on the Longform podcast.
You can also hear me talking about journaling on Stuff Mom Never Told You/a>.
And this linguist talking about 45 is amazing.
Best life
I spotted this book — Home Comforts: The Art and Science of Keeping House — in my new friend Alyce's home — she of the amazing rug I mentioned last week — and then she actually recommended it, so I was instantly like, Yes, sold. After it arrived on Friday, I immediately bought the Kindle version so I could casually read it on the train. (The softcover is a legitimately beautiful book and I'm glad I bought it, but it's 896 pages.) Anyway, IT IS SO GOOD, YOU GUYS. I highlighted like 75& of the first chapter. The author — a Harvard-educated lawyer — is the perfect amount of bossy/extra, and just, like, deeply wants us all to have clean homes that we feel good in. Also, I'm learning so much from it!!! And it's legitimately inspiring me to come up with a new cleaning schedule, and to give some things I've been neglecting more attention. It's just great.
I also bought these hipster millennial pads based mostly on their beautiful packaging and I'm not even sorry.
Oh, and Dallas started a new thing where each day, at the end of the day, we share three positive things with each other. It helps a tiny bit!
The week ahead…
Rage-cleaning, probably.