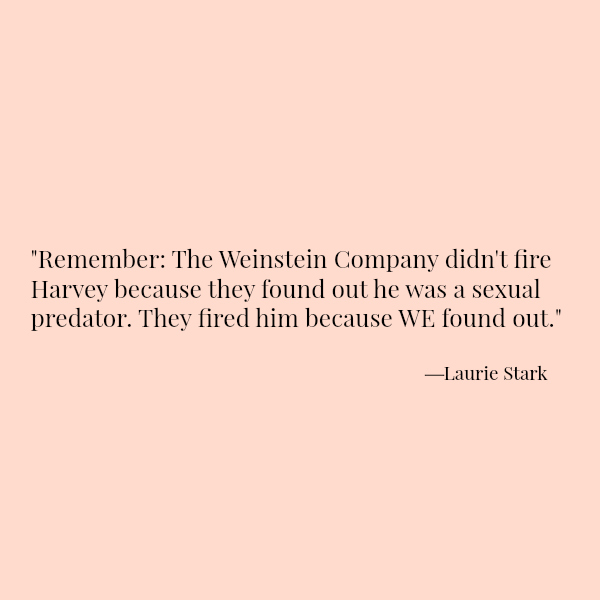 Quote: @heylauriestark
Once again, men have gone and done some more fucked-up shit that requires its own separate post.
Here's the thing I want to say about Harvey Weinstein: I don't believe Meryl Streep or anyone else in Hollywood who says they didn't know about this. *I* knew about this, and I deeply DGAF about anything related to the entertainment industry. (I watch, like, two movies a year.) Hollywood is a small-ass town. They fucking knew.
Anyway. Here are the links:
From Aggressive Overtures to Sexual Assault: Harvey Weinstein's Accusers Tell Their Stories, The New Yorker.
I highly, highly recommend you listen to the Oct. 11 episode of The Daily to hear Katherine Kendall tell her story in her own words.
Why the Harvey Weinstein Sexual-Harassment Allegations Didn't Come Out Until Now, The Cut. "After Weinstein failed to respond to my calls for comment, I was sent, on Election Eve 2000, to cover a book party he was hosting, along with my colleague Andrew Goldman. Weinstein didn't like my question about O, there was an altercation; though the recording has alas been lost to time, I recall that he called me a cunt and declared that he was glad he was the 'fucking sheriff of this fucking lawless piece-of-shit town.' When my colleague Andrew (who was also then my boyfriend) intervened, first calming him down and then trying to extract an apology, Weinstein went nuclear, pushing Andrew down a set of steps inside the Tribeca Grand — knocking him over with such force that his tape recorder hit a woman, who suffered long-term injury — and dragging Andrew, in a headlock, onto Sixth Avenue."
Tell Us What You Know About Harvey Weinstein's "Open Secret", Defamer. There's a LOT happening in this old post, including this chilling bit: "The Harvey Girls are easily spotted. They are all very pretty, often in a rather generic sense. Their instant fame and the push behind them comes seemingly out of nowhere and without any justification in terms of resume or skill set. Most obviously, at least as of 2007, they are clothed exclusively in Marchesa on the red carpet (the fashion line of Weinstein's wife, Georgina Chapman)."
Here's Why So Many Women Knew The Rumors About Harvey Weinstein, BuzzFeed. "There are enough men like Weinstein and Ailes, young and old, liberal and conservative, ones who make us feel like objects, or dirty and out of control in our workplace or classrooms, ones who can and will ruin our lives — that we've become dependent on unofficial modes of communication to protect ourselves. It's no wonder, then, that so many men deride and degrade gossip: It's our most effective armor against their abuses."
How Harvey Weinstein's Hollywood Connections Helped Make His Wife's Fashion Label a Success, Jezebel.
I'm a Coward, The Cut.
Stop Mentioning Your Daughters When You Denounce Harvey Weinstein, Vulture.
As A Father Of Daughters, I Think We Should Treat All Women Like My Daughters, The Toast.
Ben Affleck Has Apologized For Groping Hilarie Burton On TRL, BuzzFeed. Also don't miss him molesting another woman on camera here.
Sarah Polley: The Men You Meet Making Movies, The New York Times.
Study finds 75 percent of workplace harassment victims experienced retaliation when they spoke up, Vox.
Here's a look how the AP chose to cover this story. Which actually brings us to…
The Protection Racket, Jezebel.
You Can't Get Away With This Shit Anymore, The Hairpin.
"Is he on The Island?" On the (lack of) professional consequences for sexual harassers, Ann Friedman.
And here are some good tweets:
On people shaming Terry Crews.
"When it's someone else's fault vs when it's your fault."
"If you think being in the same room with a woman makes it hard to avoid raping or harassing her, perhaps you should stay home. Forever."
"When your subhead thinks you're full of shit."
"If you wanted Hillary Clinton to comment sooner on the Harvey Weinstein allegations, you should have elected her president." (See also: this.)
And a moment of appreciation for Anita Hill.
I'll be back later with our regularly scheduled programming.