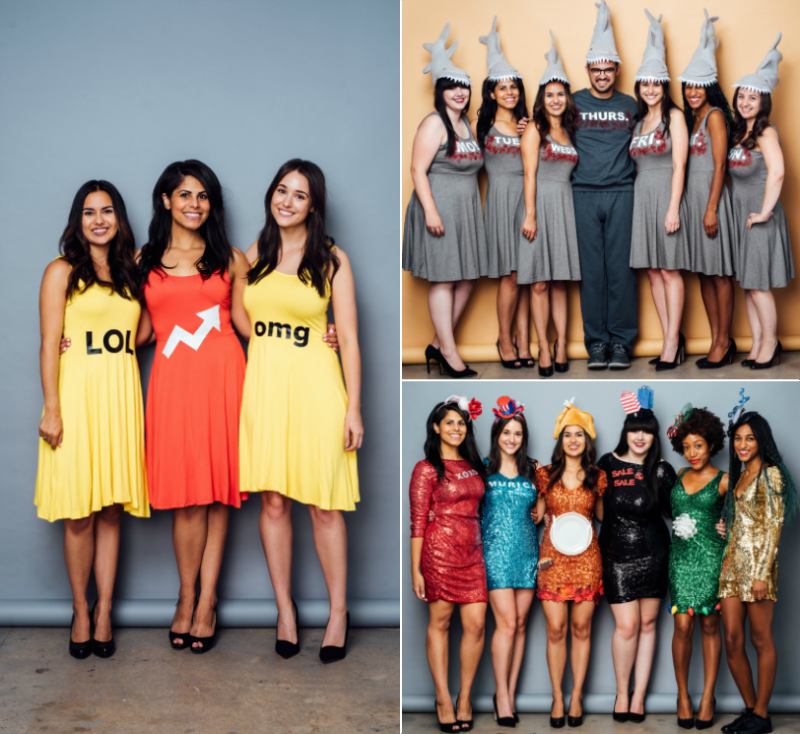 Photo: Taylor Miller / BuzzFeed
God, this week was SO MUCH. I headed down to DC on Wednesday morning for a long weekend. Sometimes it's just nice to watch the world burn with the friends you've known for more than a decade, you know? I attended Julia's Ladies Article Club for the second time, which was such a treat, along with her third annual Oktoberfest party, where there were some good babies and some great dogs. And when I wasn't making apple cider sangria/screaming into the void about all the things that shitty men were doing, I was publishing my big Halloween posts! It was all just so much.
Writing
17 Clever Halloween Costumes For Anyone With A Prime Account And A Dream
This $17 Dress From Amazon Is The Stuff Group-Costume Dreams Are Made Of
Here's How To Make A SpOoOoOkY Haunted Playhouse For Kids
17 Photos That'll Make You Say "It Me"
Reading
First, here's everything I read about Harvey Weinstein and shitty media men this week.
Also:
Non-Compete Clause, The Baffler. "You can't blame men for wanting women to keep on competing with one another exclusively. Late capitalism is still a zero-sum game, and men who suspect their own mediocrity have every reason to fear that they'd be fucked if women and girls ever started competing with them for real." This whole thing is fantastic.
What if the right-wing media wins?, Columbia Journalism Review. Kind of feels like they already have, TBH.
What I Don't Tell My Students About "The Husband Stitch", Electric Lit. (First read "The Husband Stitch," if you haven't already. And while we're on the topic of Carmen Maria Machado — author of one of my favorite essays of 2017 — Her Body and Other Parties: Stories is next on my list of books to read. She was also recently featured on A Cup of Jo.)
I Have Been Raped by Far Nicer Men Than You, VSB.
The Protection Racket, Jezebel.
Rose Totino, Patron Genius of Frozen Pizza, Mental Floss.
A Week In Los Angeles, CA, On A $1,250,000 Joint Salary, Refinery29. This is only the second time I've read one of these Money Diaries and I cannot stop thinking about it.
Americans are pack rats. Swedes have the solution: 'Death cleaning.', Washington Post.
Reboot or Die Trying, Outside. This was one of the articles for Ladies Article Club; it's a bit older, and I really didn't expect to love it as much as I did!
MTV's "TRL" Reboot Is a Spectacular Failure, Pitchfork.
We All Have a Retail Flinch Point, Racked. This is so real!
A Cake You Can Take With You Anywhere, The New York Times.
"A weird part of toxic masculinity is not knowing how to poop properly." I gasped so loudly and so many times when I was reading these, I had to read them out loud to Julia.
Best life
This weekend, I learned that Target apparently sells great dupes of Anthropologie's signature candles. This great-smelling Cedar & Juniper one is what started the conversation, and even though Target.com says it basically no longer exists at any store anywhere, I have gotten some intel that they do, in fact, still exist in stores. Also, according to the internet/Julia, the Island Moonlight candle is a spot-on dupe for the main one Anthro burns in their stores.
Also! Elise, who hosted Ladies Article Club, had THE most beautiful rug in her living room. (The photo online doesn't do it justice; it looked more like this IRL, though the rows were quite slim/tidy.) It's expensive — because all fucking rugs are fucking expensive — but dang. It was so pretty and felt like walking on a cloud. *wishlists*
The week ahead…
"all i want to do with my time on earth is make some nice things and suport some briliant people and combat institutionalized systematic evil." Same, Jomny. Same.