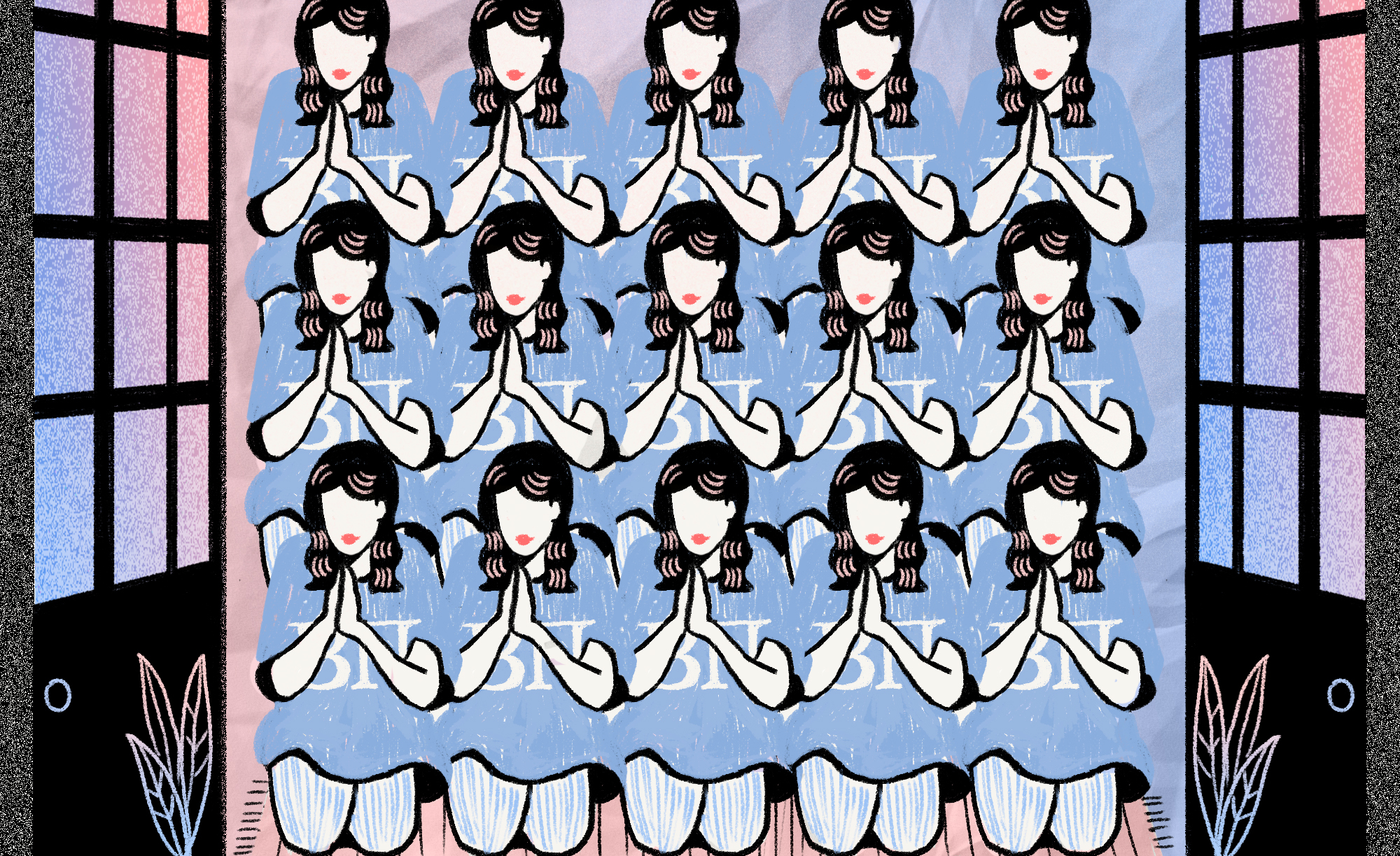 Art by Jenny Chang
Hi again! Here's what I've been up to this week…
Writing
Here's What Sorority Recruitment Is Actually Like
How Many Of The References In "We Didn't Start The Fire" Can You Remember?
Reading
I Didn't Know What to Wear to My Brother's Funeral, Racked. "Through my brother's services, my best friends flanked me like beautiful bodyguards. We kept cracking off-color jokes about Pretty Little Liars and sneaking to the basement to kick off our shoes and take shots of Fireball while I practiced my eulogy on them. I felt like the photo negative of a bride, and they were my bridesmaids. Tits and long legs and tattoos flashed through layers of black fabric, our youth at odds with our grief." This is one of the best essays I've read this year.
HGTV Is a Never-ending Fantasy Loop. Look Deeper, and It Gets Pretty Ugly., Vulture. "We are supposed to be in rehab from our housing binge of ten years ago, the one that nearly bankrupted the country. We are supposed to be in a state of contrition. But our national love of HGTV suggests that the dream won't die. The longing it addresses is impervious to market corrections, or personal financial realities, and as economists continue to explore the true causes of the 2008 financial crisis, they are beginning to suspect that some speculative Americans acting on that longing got us into that mess as much as — or more than — unscrupulous bankers or Wall Street."
She told people she advised Ivanka Trump. Talked about her marriages to world leaders. Promised riches. Why would anyone believe her?, The Washington Post.
DeVos Should Want to Educate Men About Rape, The New York Times.
The War on Porn Is Back, Jezebel.
Women Are Spending Years In Prison Because Wyoming Won't Let Them Into Its All-Male Boot Camp, BuzzFeed.
Size doesn't matter, Winnipeg Free Press. "While Good Fat Care is a health-focused website, its creators stress that the treatment of a person in a larger body should not be contingent on whether or not that person is striving for health in some way. Everyone deserves respect and care, regardless of size or behaviour."
When Men Workshop Their Dick Pics, The Cut.
Straight Black Men Are the White People of Black People, VSB.
What You've Learned, The Awl. "People will struggle to keep their public facade intact regardless of their personal turmoil and trouble. If they confide in you it's for a good reason and you need to pay attention. Simple acknowledgement will do wonders. Compassion sometimes is letting people live their lives and being witness to their struggle, not trying to fix to ease your own distress."
The Story Behind the Greatest Internet Recipe Comment of All Time, The Cut. This. Is. So. Good.
And I'm still going between Word by Word: The Secret Life of Dictionaries and Grunt, both of which are great!
Best life
Allergy season (and cold and flu season!) is coming, so I'm trying to be proactive…I got myself a new neti pot and am planning to use it regularly (aka before things go to shit). DIY season is also coming, and last week, I had a light bulb moment and ordered myself some hardcore knee pads. I don't know why I didn't think of this sooner.
Also, you can donate to help those affected by Hurricane Maria here.
Loving
This 97-year-old veteran, this tweet, and this cartoon.
The week ahead…
I have a big two-day shoot this week — let's hope those knee pads do the trick!