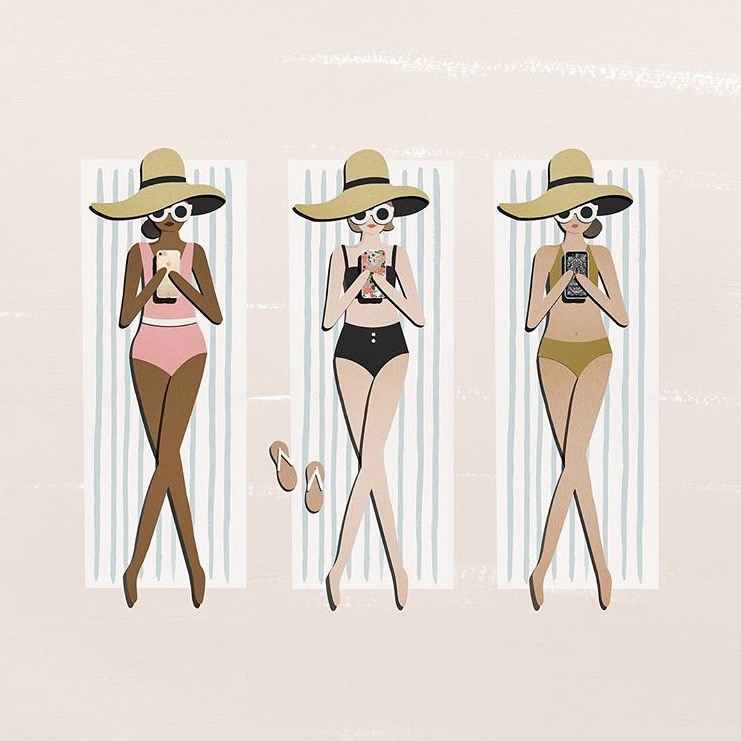 Image: Rifle Paper Co
This week, I met up with my friend Alanna for drinks and we exchanged copies of our books — a truly special and lovely thing to be able to do! It's almost enough to make me forget about Taylor Swift's truly terrible new single.
Here's what else I had going on…
Writing
17 Facts About Octopuses That'll Straight Fuck You Up
7 Cool Facts About Bras That'll Make You Say "HUH"
Reading
Parents Who Pay to Be Watched, The Cut. This story is fascinating and the article is really well done.
Things you should know about Joe Arpaio, @phoenixnewtimes on Twitter.
But wait! There's more! Another thread with more horrors from Nicole Silverberg.
OH AND ALSO HIS DEPUTIES ONCE SET A DOG ON FIRE.
Chanel Sure Picked a Bad Time to Center a Marketing Campaign Around Coco, Racked.
The total solar eclipse made everything feel big again, Vox. "Venus appeared bright in the sky next to the sun, and I lay down before a black, black disc that was surrounded by the most angelic white light I've ever seen."
How the Wives of Prisoners Use Instagram to Cope, Vice.
The Whitney Plantation Is The Only Confederate Monument We Should Keep, BuzzFeed. A tough read, but worth it.
I'm Proud of My Husband for Kneeling During the Anthem, but Don't Make Him a White Savior, VSB.
Take a Look: An Oral History of Reading Rainbow, Mental Floss. This made me a little weepy.
You Won't Be Able To Recognize These Modern Animals Drawn Like Dinosaurs, BuzzFeed.
Sally Hemings, Thomas Jefferson and the Ways We Talk About Our Past, The New York Times.
What is it like to be white?, Kottke. "It is now common — and I use the word 'common' in its every sense — to see interviews with up-and-coming young movie stars whose parents or even grandparents were themselves movie stars. And when the interviewer asks, 'Did you find it an advantage to be the child of a major motion-picture star?' the answer is invariably 'Well, it gets you in the door, but after that you've got to perform, you're on your own.' This is ludicrous. Getting in the door is pretty much the entire game, especially in movie acting, which is, after all, hardly a profession notable for its rigor. That's how advantageous it is to be white. It's as though all white people were the children of movie stars. Everyone gets in the door and then all you have to do is perform at this relatively minimal level."
What Life Is Like After a Life Sentence, Mother Jones.
Did This Book Buy Its Way Onto The New York Times Bestseller List?, Pajiba. This is wild.
This Buttercream Kills Fascists, Eater. "If there aren't already, in short order there will be people who live nowhere near Texas or California or Massachusetts who are furious, just furious, at bakeries in Houston and Oakland and Boston for 'being political,' for not 'sticking to food,' for 'alienating their customers.' This is itself infuriating. Food is politics. It's always difficult for me to say that without adding 'of course' to the end of it: Food is politics, of course. Of course there are political forces pushing and pulling at it, the engine behind everything from the price of grain to the availability of labor to the potability of water to patio zoning to how much sawdust you can add before your processed dairy product is no longer allowed to be called cheese. How can you not understand that?"
Members of 'UES Mommas' Facebook Group Threaten Legal Action After Being Called Racist, Jezebel.
I Tried Six Pairs Of Plus-Size Workout Leggings To Find The Best Ones, BuzzFeed.
Pick Up Lines That Would Actually Work on Me, The Hairpin. I'm #5.
Listening to/watching
Black Girls Rock Acceptance Speech: Auntie Maxine Waters Did Not Come to Play! "If You Come For Me, I'm Coming For You"
Kunta in the House, Another Round.
A Conversation With a Former White Nationalist, The Daily.
My Little Hundred Million, Revisionist History.
And still working on Ken Burns' The Roosevelts on Netflix!
Best life
Got a fancy manicure on Friday. I've been working on this puzzle. And these blemish patches are goddamn witchcraft.
The week ahead…
Let's all send good vibes and maybe also money to the people of Houston.