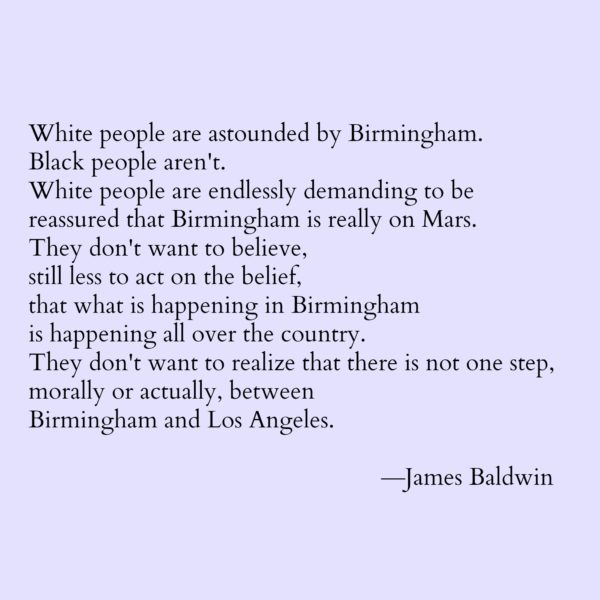 Here is the thing I want white liberals to know about Charlottesville: I highly doubt that most 2016 Republican/Trump voters are terribly upset about Nazis marching with torches, or that the past week has been any sort of tipping point for them. I would love to be wrong about this, but it seems pretty unlikely that if you voted for him/this party, that you'd suddenly be like, Oh, wow, these statues *do* need to come down, or that you'd actually see a difference between neo-Nazis and BLM (a LOT of white people think Black Lives Matter is a hate group! a lot!!!), or that you'd care if the POTUS said both sides had bad people — because you probably agree. And also, intimidation of or violence against black people (or the white people who care about us) actually…doesn't…move…a lot of white people? I don't think they really care what happens to us or care if a Nazi drives a car into a crowd of us, because they believe on some level that we deserve what we get if we don't know our place. And that sucks! But, like, come on — most of those "nice" white Republicans (like the parents of all my friends growing up, and a not-insignificant amount of my college friends) or even the "nice" white people who "don't do politics" aren't actually bothered by any of this, or have honestly even thought that much about it at all. And if you think that I am wrong about this, please go read the comments from all the "nice" white ladies on this video of Heather Heyer's mother on GMA.
Onto the reading list…
White Feelings: 0-60 for Charlottesville, Erynn Brook.
White Liberals Still Don't Understand White Supremacy, Harper's Bazaar. "Racism doesn't always look like the KKK marching hoodless in broad daylight. Racism also looks like white liberals getting angry at people of color who ask them to confront how they benefit from white supremacy and white privilege. It looks like white women telling me that I am being divisive by asking for an honest conversation about race and racism within feminist circles. It looks like tone-policing, emotional labor, objectification, fetishization, the white-savior complex, staying silent when you hear overt racism, saying nothing about working in a mostly white to all-white office, ignoring gentrification and the school-to-prison pipeline, loving The Help but hating Girls Trip."
The Truth About Women and White Supremacy, The Cut. "Tyler spearheaded the Women of the Klu Klux Klan, the all-women, autonomous arm of the KKK that had roughly half-a-million members during the 1920s. As I wrote in a Timeline piece on the WKKK, the organization was savvier than its male counterpart because 'they were better than the men's group at hiding their white supremacist mission behind a facade of social welfare.' The group helped to normalize the terrorism of the men's KKK. Pamphlets from the time read, 'Are you interested in the Welfare of our Nation? As an Enfranchised woman are you interested in better government?' Through picnics, lunches, and cross burnings, these white women rallied around racist immigration laws, anti-miscegenation, and segregation."
And some other "nice" white ladies.
The Many Lives of Hazel Bryan, Slate.
Love Needs Fury To Defeat Hate, Fader. "Neither is love inaction, silence, or complicity. Love does not stand down in the face of terror. Love does not demand silence in the face of injustice or submission in the face of oppression and its attendant brutalities. Real love proves more expansive and powerful than previously imagined when tested by the specter of death."
For Our White Friends Desiring to Be Allies, Sojourners. "Privilege means that you owe a debt. You were born with it. You didn't ask for it. And you didn't pay for it either. No one is blaming you for having it. You are lovely, human, and amazing. Being a citizen of a society requires work from everyone within that society. It is up to you whether you choose to acknowledge the work that is yours to do. It is up to you whether you choose to pay this debt and how you choose to do so. Sometimes living with privilege can disillusion us into thinking that being in community with other humans doesn't require work. This is a lie; it requires a great deal of work. And all of that work requires being a human and trying to love other humans well." This quote will stick with me for a long time.
There Was Never Doubt Over What Trump Thought of Charlottesville, Salon. God, the number of "Why won't he just denounce the neo-Nazis?" headlines this week was OUTRAGEOUS. WE KNOW WHY.
Is America Headed for a New Kind of Civil War?, The New Yorker. The article is less terrifying than the hed, FYI.
How Corey Long Fought White Supremacy With Fire, The Root.
Father of White Nationalist Denounces His Son After Charlottesville: He's 'Not Welcome at Family Gatherings Any Longer', The Cut. TBH, I thought this was going to be kind of basic, but it's legit.
Why the Charlottesville Marchers Were Obsessed With Jews, The Atlantic.
If you're still sad about the removal of these statues, please read this thread about the origins of Confederate monuments, and just how worthless they are.
Speaking of statues, can y'all get this out of the goddamn Capitol?
"Condemning killing is the easiest thing. It does not take courage. It doesn't mean one supports the advancement of civil rights or equality." Read this thread from Hannah Nikole-Jones.
This episode of The Daily is great — legitimately so inspiring.
And here's one link that's just for my black and brown friends who are reading this.
I'll post my regular links for the week later tonight.