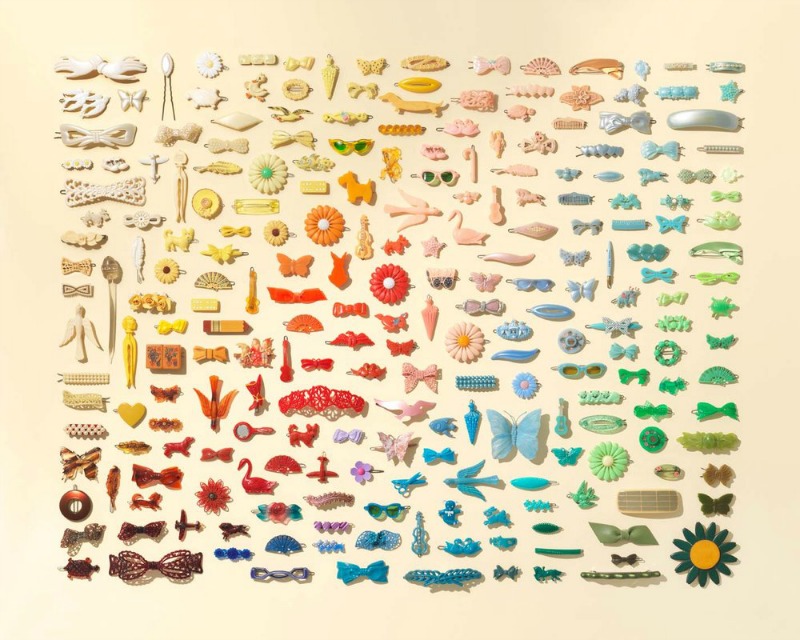 Photo: Jim Golden; you can get the puzzle version — and it is a *very* good puzzle — here
This week, everything was kinda bad, but the reading material was pretty great, so let's get right to it!
Writing
10 Intensely Satisfying Photos Of Things Organized By Color
Editing
A Definitive Ranking Of The Planets By How Fucking Dramatic They Are
24 Mother-Child Lookalikes That'll Make Your Jaw Drop
21 Pure Tumblr Posts About How Beautiful Women Are
21 Wedding Readings That'll Make You Want To Marry The Next Person You Lay Eyes On
Reading
The Last Person You'd Expect to Die in Childbirth, ProPublica.
The Painful Truth About Teeth, The Washington Post. "As the distance between rich and poor grows in the United States, few consequences are so overlooked as the humiliating divide in dental care. High-end cosmetic dentistry is soaring, and better-off Americans spend well over $1 billion each year just to make their teeth a few shades whiter. Millions of others rely on charity clinics and hospital emergency rooms to treat painful and neglected teeth. Unable to afford expensive root canals and crowns, many simply have them pulled. Nearly 1 in 5 Americans older than 65 do not have a single real tooth left."
The Autocrat's Language, NY Review of Books. "Trump's word-piles fill public space with static. This is like having the air we breathe replaced with carbon monoxide. It is deadly. This space that he is polluting is the space of our shared reality." Another must-read from Masha Gessen.
Authoritarianism 101: First, fire the FBI director, The Globe and Mail.
Our Lady of Complicity, The Baffler. "It's true that anyone can be a dead-eyed Instagram husk of a human being frantically photoshopping themselves in the down-hours between soul-crushing corporate drudgery and unpaid emotional labour for some ungrateful lantern-jawed jock if they really want to, but it takes a special type of person to do all that whilst also being a decoy for a global backlash against women's rights. … The sheer tedium of her prose is part of the horror here: At times, the book reads like the panicked screams of a machine attaining sentience."
Dwayne Johnson for President!, Caity Weaver for GQ.
How Homeownership Became the Engine of American Inequality, The New York Times Magazine. "And yet we continue to give the most help to those who least need it — affluent homeowners — while providing nothing to most rent-burdened tenants. If this is our design, our social contract, then we should at least own up to it; we should at least stand up and profess, 'Yes, this is the kind of nation we want.' Before us, there are two honest choices: We can endorse this inequality-maximizing arrangement, or we can reject it. What we cannot do is look a mother like Diaz in the face and say, 'We'd love to help you, but we just can't afford to.' Because that is, quite simply, a lie."
Our Friend Hits Women, Captain Awkward. "You say: 'I have no desire to ostracize Paul.' How many women would he have to beat up before you & your husband would want to ostracize him?"
From the Handmaids to the Marthas, How Each Handmaid's Tale Costume Came Together, Vulture.
Feminism Doesn't Mean Liking Every Stupid Woman You Meet, Harper's Bazaar.
Pearl Parties Are Taking Over Facebook Live, But Buyer Beware, BuzzFeed.
This is not a crisis, Republicans say as a large spider slowly devours them, The Washington Post. "Okay, the firing of FBI Director James Comey looked bad. And when the president stunned him, pierced him with his fangs, wrapped him in a thick cocoon of impenetrable webbing and left him to hang there for days, that timing was also poor."
The Republican's Guide to Presidential Behavior, The New York Times.
The Presidential Advisory Commission on Voter Suppression, Slate.
My husband died of brain cancer in his 30s. Thanks to Obamacare, it didn't bankrupt us., Nora McInerny (host of my new favorite podcast) on Vox.
What Happened The Night Of Beta Theta Pi's Bid Acceptance Night, Onward State. This is sick.
Red Pill Boss: All Feminists Want to Be Raped, The Daily Beast. And this man is, in all likelihood, a New Hampshire State Representative.
How African-Americans Disappeared From the Kentucky Derby, Smithsonian Magazine.
The Narrator Of HGTV's "House Hunters" Is Ready To Step Out From The Shadows, BuzzFeed.
Meeting Mr. Irrelevant: True Stories of Being the NFL Draft's Last Pick, GQ. This is a fucking delight.
The week ahead…
I have a new hire starting tomorrow and new a new pair of glasses on the way!