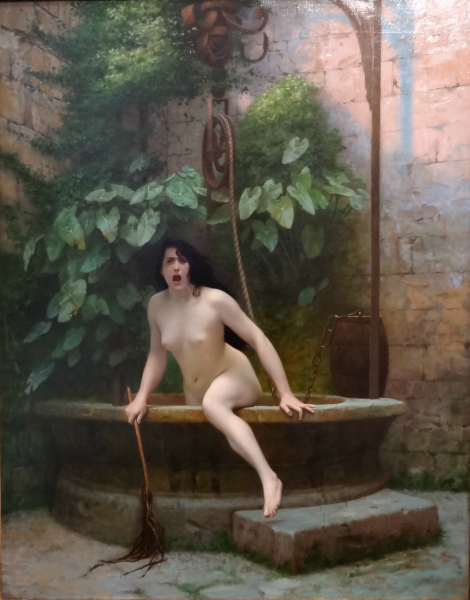 'Truth Coming Out of Her Well' by Jean-Léon Gérôme
Here's something that has been on my mind this week: A few summers ago, I was on vacation with Eric and his family, when Eric's dad started talking about "Obamaphones." A group of us was sitting outside on the patio, and he went on about how all these poor people were lining up for their free phones, around the block, down the street…so many of them, he said, no jobs, but there to get their free iPhones from the president. Eric and I were incredulous (though I didn't express my feelings) — like, everything about it was so truly ridiculous, I remember that Eric struggled to even form a response.
I think part of the reason the conversation stuck with me was because of where it happened: on a (wonderful!!) summer vacation at the family's second home; the patio we were sitting on directly overlooks the fourth hole of the surreally beautiful golf course on which the house is located. It was the same patio where, at a different point during that trip, I came upon a group of white male relatives (nice people! truly! I cannot overstate this!) having a casual, non-heated, totally chill-ass discussion about whether or not it's OK to display the Confederate flag. One relative (who I genuinely adore!!!) said that he'd heard some people say it was mostly about Southern pride. The one who disagreed took the position that it just seemed like "treason." Race and slavery were never mentioned, not even when I finally — very hesitantly, very measuredly — said that I don't think it's OK to display the Confederate flag, and, after all heads turned to look at me, followed that with a careful, aggressively neutral, "I've heard the Southern pride thing…but what, exactly, is the South so proud of here?" There was a beat, and some "Mmm"s, and some brisk man-nods, and then we moved on.
Anyway, the Obamaphones conversation popped into my head twice this week. The first time was when Jason Chaffetz said that if poor people wanted healthcare, maybe they should just not buy a new iPhone. The comment was widely (appropriately!) called out in my corner of Twitter, but I keep thinking about how Chaffetz probably thought that large swaths of the voting public would agree with him. The fact that I saw "Obamaphones" spoken of with such derision on a beautiful, privileged patio by someone who doesn't want for anything that money can buy makes me think that Chaffetz's comment went over just fine in some parts of the country — really, any parts where people who have very nice things and who hate the idea that other people might also have nice things live. The other time I thought about it was after I saw Get Out — a highly entertaining movie that's brilliant in so many ways; one of the things it does best is capturing exactly how unnerving nice things can be.
Here's what else I got up to this week…
Writing
7 Wild Facts About Potatoes That You Didn't Know And Will Now Want To Tell Everyone
9 Things You Probably Don't Know About Daylight Saving Time
Reading
Why Ben Carson Said That, MTV.com. "Carson provides not simply symbolic cover for his fellow Republicans to push racist policy such as Trump's discriminatory travel bans. By claiming that slaves were immigrants, he also positions that policy in a narrative of individualistic heroism. In those remarks, he added that enslaved Africans, too, 'had a dream that one day their sons, daughters, grandsons, granddaughters, great-grandsons, great-granddaughters might pursue prosperity and happiness in this land.' That isn't a dissimilar message from what we hear in Maya Angelou's poem 'Still I Rise': 'I am the dream and the hope of the slave.' But tied to this new idea of enslaved immigration, which isn't a thing, Carson's uplifting end note doesn't just send a message to other black folks that 'we started from the bottom, now we here.' It's more akin to 'I started from the bottom, now I'm here. Why aren't you?'"
In Get Out, Racism Is The Horror Story Black People Try To Survive, BuzzFeed.
Why Get Out Is the Best Movie Ever Made About American Slavery, Esquire.
Get Out Understands The Black Body, MTV.com.
22 Secrets Hidden In Get Out You May Have Missed, BuzzFeed.
23 Hilarious Tweets About Get Out, BuzzFeed.
What Do Feminists Owe Kellyanne Conway?, Jezebel. (Also: "highlights" from Kellyanne Conway's book.)
Despite a mother's plea, her mentally ill daughter was sold a firearm. Here's why she sued., Washington Post.
The Trouble With Disney's Remake Machine, BuzzFeed.
In Praise of the House Bra, Racked.
A 5-year-old, Edith Fuller, is headed to the National Spelling Bee. She's the youngest contestant ever., Washington Post.
The New York Times Is Not Built For This, Deadspin.
NYPD 'patrol pig' hams it up downtown, NY Post. *siren noises*
The week ahead…
Ranting about how much I hate daylight saving time, obviously.