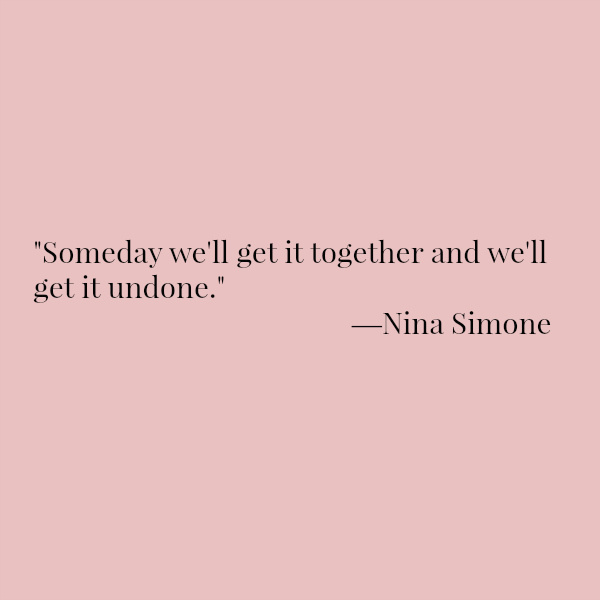 All month, I've been trying to be better about unplugging before bed, but I hadn't been doing a great job of it. Finally, last Sunday, I realized that I just needed to set an actual rule for myself. So I decided that I would read 20 pages in a book before bed. That's it; that's my rule. No reading for a set amount of time (which ends up stressing me out more for some reason)…just making reading 20 pages the last thing I do before bed. I haven't hit the goal every night (and sometimes I am too tired to read 20 pages), but on the nights I've missed the goal, it's been because I've been journaling, which I feel fine about. My book of choice is A People's History of the United States, which I hadn't read before, and which I'm really enjoying so far. (I mean, as much as one can an "enjoy" a book about all the terrible things white people have done.)
Here's what else I got up to this week…
Writing
How Popular Are Your Opinions On Pens?
I'm Sorry I Made Fun Of Nick Viall For Wearing A Livestrong Bracelet
Just A Bunch Of Crazy Things That Happened During Hometown Dates On "The Bachelor"
Reading
Own, Apologize, Repair: Coming Back to Integrity, Nora Samaran on Dating Tips for the Feminist Man. This covers a lot but it's really, really great.
Janet Mock: Young People Get Trans Rights. It's Adults Who Don't., The New York Times.
Maxine Waters Is Back and She's Not Here to Play, ELLE.com. Hot damn, this is good.
Chill With The "Journalists Are Heroes" Thing, Deadspin. "My cursory viewing of CNN tells me that Jake Tapper has been consistently asking tough questions of lying White House functionaries who appear on his show. Does this make Jake Tapper a hero? No. It makes him a guy who is doing his job. (For which he is extremely well-compensated.) The national reporters at major news outlets have been turning out an admirable number of meaningful stories about the new administration's mismanagement of the government. Again: this is literally their job description. I am glad that they are doing their jobs well, but it would be more remarkable if journalists were not able to produce good stories at a time of profound national crisis and routine public lying by top government officials. The level of heroism here is roughly the same as that displayed by a Subway™ sandwich artist who really nails the flavor on your turkey foot-long: give em Employee of the Month, sure, but let's keep the Medal of Honor in reserve for now."
I'm an Arab actor who's been asked to audition for the role of terrorist more than 30 times. If La La Land cleans up at the Oscars, I'm done, The Independent.
Queens of the Stoned Age, GQ. This was a great read; I didn't want it to end.
I Ordered Plan B And A Bacon, Egg, And Cheese On Seamless, BuzzFeed. The more you know!
I told my doctor I didn't want kids. She sent me to a therapist., Vox.
Why Does Dating Men Make Me Feel Like Shit?, Emma Lindsay on Medium.
Y'all's President Is a Lazy Thot, The Root.
The Bachelor Recap: No Place Like Home, Vulture. "The first ladytestant to drag this sad sack to her hometown is Raven. Raven is riding around in the swamps of Hoxie, Arkansas, and she says she's ready to show Nick a new side of her: 'a little fun, a little sassy, a little sexy.' Today could be the day that she tells Nick she's falling in love with him, and she says that there could be nothing better than falling in love in Hoxie. I can think of like 18 things better than falling in love in Hoxie. I looked up Hoxie to see if there were any other famous residents or fun landmarks. Guys. Hoxie is 98.15 percent white and is the home of the third school in Arkansas to integrate after Brown vs. Board of Education and is one of the first sites where the decision had to be defended after half of Hoxie's white students boycotted school integration. I … I … I dug too deep." This is a very, very good recap.
What Celebrities Wear Under Those Red Carpet Dresses, Racked.
I've Honestly Had Very Little Trouble With West Elm's Peggy Couch, But Now I Fear Her, Jezebel.
60 Times I Laughed And/Or Gasped In Horror While Reading The "Bachelor" Book, BuzzFeed. I literally don't know who any of these people are and I still laughed out loud multiple times when reading this.
The week ahead…
I mean, I can tell you what I won't be doing, and that is picking a fight with the Anne Frank Center. Like…for fuck's sake, people.