Since the inauguration, I've had to pretty dramatically change my media diet. Once I'm at work, I don't check/read any news until after 4:00; if I get sucked in in the middle of the day, things will go completely off the rails and I won't get any work done. I've also started documenting each day's fresh horrors in my bullet journal.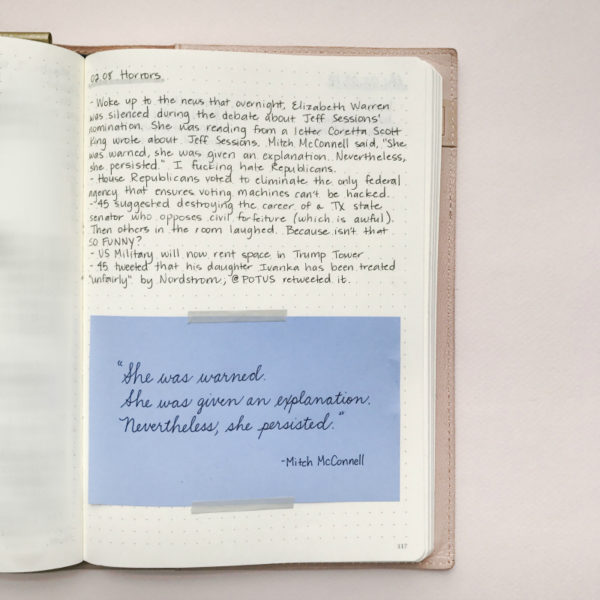 Here are some other things that happened this week…
Writing
The 13 Most "Um, EXCUSE ME?!" Moments From Last Night's "The Bachelor"
5 Creative Ways To Hang Out With Your Grown-Up Friend Group
ICYMI: Blush things I recently bought and liked
Also, I wrote a review of Amtrak's AMAZING Red Cap Service here.
Reading
When Things Go Missing, The New Yorker. This is one of the best things I have read in a long time.
Linguists have been discussing "Shit Gibbon." I argue it's not entirely about gibbons., Language Jones. This is a goddamn delight.
Meltdown of the Phantom Snowflakes, The Baffler. This is excellent.
The Best Valentine's Day Gift is a Knife, Alison Freer.
How to stop an autocracy, Vox. "In amassing power and breaking troublesome norms, Trump will be doing what the Founders expected. But in letting any president do that, Congress will be violating the role they were built to play. We need to stop talking so much about what Trump will do and begin speaking in terms of what Congress lets him do."
Ordinary Americans carried out inhumane acts for Trump, Baltimore Sun.
Why you might feel like it's been years since the inauguration, The Verge.
Click Here to Kill Everyone: Security and the Internet of Things, New York Magazine.
10 Words for 'Snow', Merriam-Webster.
Jackie Rayos-Garcia Tells About the Deportation of Her Mother, Guadalupe García de Rayos, Teen Vogue.
Trump 101: he is definitely not a health nut, Axios. "The only workout Trump gets is an occasional round of golf. Even then, he mostly travels by cart. On the campaign trail he viewed his rallies as his form of exercise."
The Case Against Contemporary Feminism, The New Yorker.
'I thought I was smarter than almost everybody': my double life as a KGB agent, The Guardian.
Can Megyn Kelly Escape Her Past?, The Atlantic.
I Write Letters, Shakesville. "And now there are people—many of whom are self-identified Bernie Sanders supporters who voted for Stein in those aforementioned key states, or who voted for Trump, or who didn't vote at all—who are demanding to know why Hillary Clinton isn't 'doing something' to stop Donald Trump and his authoritarian onslaught. She did do something, you ungrateful wrecks. She campaigned for 18 months, the last of them against Trump himself, day after exhausting day, keeping up a ruthless schedule that would drive most people half her age to collapse after three weeks, no less a year and a half. She gave up time with her family, her grandchildren; gave up anything resembling free time; gave up her privacy. She made countless sacrifices on behalf of this country in order to prevent this exact outcome. You took a hard pass, and now you have the unmitigated temerity to want more from her? Fuck you."
Related: Where is Hillary Clinton? Hopefully Taking ALL the Naps She Deserves!, Awesomely Luvvie.
Hey J. Crew, Why Don't You Want My Plus-Sized Money?, Racked. Dallas wrote this and it's SO GOOD!
And I read There Is No Good Card For This, which I can confidently say you will love.
Loving
The New Yorker's copy editor earnestly trying to edit 45's remarks, Maxine Waters here and here, everything that makes 45 say "bing", and the black Bachelor.
The week ahead…
Um, waiting to shed my skin like a snake, as it's now been a full week since I did Baby Foot!!!