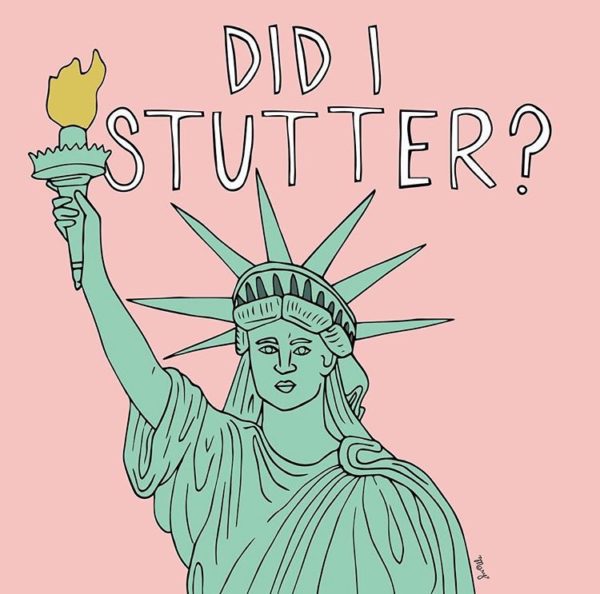 Art by Mary Purdie; buy a digital download here for $10 — all proceeds from purchases through Jan. 29, 2017 go to the ACLU
On Monday, aboard a seriously delayed train from D.C. to NYC, I started reading 1984. I bought it like five years ago — Eric is a fan, so I thought I'd give it a read — but I just never got around to reading it. I actually put it at the top of my to-read list a couple months ago for some research unrelated to the current political climate, and then after the inauguration it started to feel like it might be a good time to read it? Uh, turns out, it was a terrible time to start reading 1984. Like, JFC. Going between this book and Sean Spicer's press briefing and Kellyanne's "alternative facts" was…grim.
Here's what else I got up to in this utterly surreal week…
Writing
Everything You Need To Know About The Leggings Taking Over Your Facebook
15 Women Tried LuLaRoe's Leggings So You Don't Have To
Reading
The Radical Crusade of Mike Pence, Rolling Stone. You're probably going to want a drink before you read this one.
Trump's Lies vs. Your Brain, Politico.
This Is What It's Like to Come to the United States as a Refugee, The Atlantic.
I Was Trained for the Culture Wars in Home School, Awaiting Someone Like Mike Pence as a Messiah, Autostraddle.
Donald Trump Can Absolutely Walk Up and Down the Stairs Like a Big Boy, Jezebel. *Italian chef kissing fingers gesture*
Warm Welcome for Syrians in a Country About to Ban Them, The New York Times.
Trump Aides Keep Leaking Embarrassing Stories About How He Can't Handle Embarrassment., New York Magazine.
Anne Frank Today Is a Syrian Girl, The New York Times.
Protest Works, Slate.
Maybe Trump isn't 'lying' and In Trump's mind, it's always 'really sunny.' And that's terrifying., The Washington Post.
Send the interns, PressThink.
The Three Very Symbolic Things People Carried To The Women's March, BuzzFeed.
Malnutrition Wiping Out Children in Northern Nigeria, Aid Workers Say, The New York Times.
'Make America big again'? The headache of translating Trump into foreign languages., The Washington Post.
Woman Who Caused Emmett Till's Death Admits to Lying, The Root. Oh. (Related.)
Megyn Kelly, the Glittering Aberration, The New Yorker.
The Girl Who Pushed Tyra Banks (And The Internet) Over The Edge, BuzzFeed.
The Temporary Miracle, The New York Times. *cry warning*
Gavin Polone on 'A Dog's Purpose' Outcry, What Really Happened and Who's to Blame, The Hollywood Reporter.
Merriam-Webster has become the sassiest Twitter account of the Trump era. Meet its author., Vox.
Celebrity Feminism Has No Place in Trump's America, Cosmopolitan.com.
Norway wants to give Finland a mountain for its birthday in 'unprecedented show of kindness between countries', The Independent.
When Ida B. Wells Married, It Was a Page One Story, The New York Times. "A sharp-tongued career woman uninterested in being tied down, Ms. Wells had many suitors before meeting her match in Mr. Barnett, a lawyer, 'a race man' and a fellow feminist. Still, once she agreed to marry, she postponed the wedding three times in order to keep up with her rigorous antilynching speaking schedule."
The Kellyanne Diaries, The Hairpin. "'Self care' was a phrase she only ever heard the enemy use, so she hated it on principle. But recently, after these 22-hour screaming matches with Anderson on CNN and berating single mothers on public transportation, Kellyanne yearned to take care of herself. All beauty funds in the campaign were allotted to either the diesel fuel that ran Ivanka's wind machine or the small-batch bleach for Pence's asshole. Kellyanne decided to treat herself to a makeover. Nothing fancy, but she was going to give herself a pedicure."
You Would Do The Same Thing If An Old Witch Had Your Father's Soul Trapped In A Lantern, The Onion.
19 Sean Spicer Tweets That Will Really Make You Think, BuzzFeed.
What, Exactly, Is a Dog's Purpose?, GQ. Ah, it feels good to laugh again.
And some good twitter threads: this great story, Sandra Schwab on how it starts, Sean Spencer is a spineless fuckin' Dippin Dot, and some important questions for the Nice Liberal Nazi Defense Club. Oh, and this tweet.
The week ahead…
Doing something. But not everything.