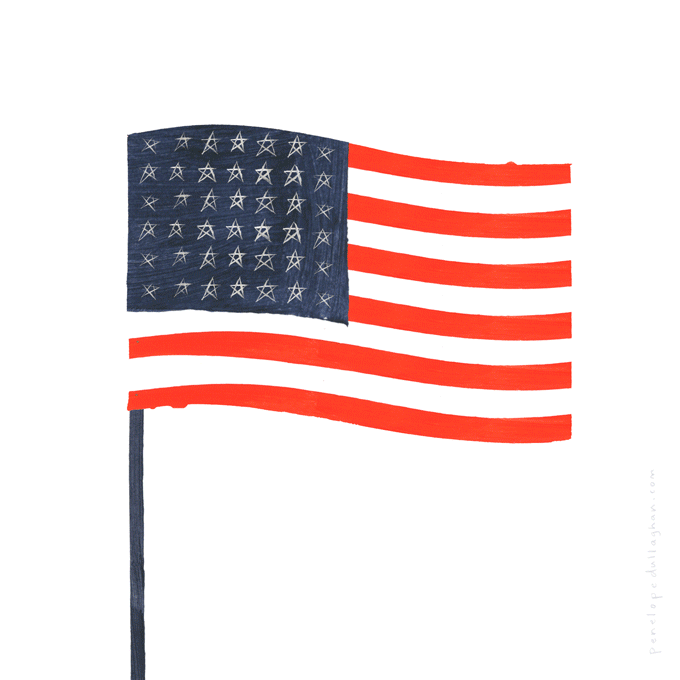 Art by Penelope Dullaghan for A Cup of Jo
This week was my first experience with mass, shared grief. And, as tragedies are wont to do, it all just happened so fast.
On Monday night, I wrote in my journal: Today felt like the last day of "Before." God help us tomorrow. But Tuesday morning was bright and brisk, a perfect fall day. It felt like a happy, fancy, special occasion. By 8:15 a.m., I had voted and also cried three times. I took a bunch of "I voted" selfies that I never got around to posting. I knew it was going to be a long day, so I just tried to stay focused at work — put my head down, stay off Facebook, try not to worry, etc. That night, I watched the results come in at the BuzzFeed office. They produced the live show on the 13th floor, but I was on 12 with a group of about 20 people.
Just before 9 p.m., we heard a coworker become upset. It took a second for it to become clear what had happened, but then we learned that she had just seen Hillary's "Whatever happens tonight, thank you for everything" tweet, and she felt like that meant she was giving up. Even though it was still early, a sense of dread rolled through the room like a wave and it never really left. A couple minutes later, Dallas texted me that she was worried. She hadn't seen that tweet, but she was worried. And then, within a few minutes, I got texts from four other people. Every single one either said "I'm scared" or "I feel sick." We weren't all watching the same channel. No new states had been called. But within a five minute period, this shift happened and that was it.
Wednesday was awful for me, as I'm sure it was for most of you. One of the first things I saw when I woke up, after I saw that Trump had officially won, was the breakdown of the exit polls. And I just felt so betrayed. Getting out the door took so much effort. It was a cloudy day, but it also just seemed…dark. Like I wasn't seeing the world in actual color. When I walked into the office, I saw my coworker Augusta first, and she hugged me for like five minutes and we just sobbed. We all cried pretty much all day. BuzzFeed had puppies brought in for us to play with, which was the nicest and BuzzFeediest thing they could have done.
And now it's Sunday and the world is so different and I mostly feel numb and I don't know what to say except I'm sorry and I hope you are all doing OK and starting to take steps to protect yourselves and those you love, and here are a lot of things for you to read.
Everyone should read…
Shattered, New York Magazine.
A Time for Refusal, The New York Times. "Evil settles into everyday life when people are unable or unwilling to recognize it. It makes its home among us when we are keen to minimize it or describe it as something else."
An American Tragedy, The New Yorker.
This thread on taking care of yourself.
If you want to cry…
Mourning Trump and the America We Could Have Been, The New Yorker. "As psychologists note, after a death we mourn not only the deceased but also the version of ourselves we got to be with that person. What makes Clinton's defeat unique, I think, is that we're grieving for the nation we could have been, a nation some of us feel we are: a nation that elected a female President and rejected the rhetoric of nativism and fear that Donald Trump so casually embraced."
Hillary Clinton's Grace Is Yours, Jezebel.
Her Loss, The New York Times. "We, as a culture, do not take women seriously on a profound level. We do not believe women. We do not trust women. We do not like women. I understand that many men cannot see it, and plenty more do not care. I know that many men will read this and laugh, or become defensive, or call me hysterical, or worse, and that's fine. I am used to it. It doesn't make me wrong."
The Day After The Election, I Told My Daughter The Truth, BuzzFeed.
The Pride and Privilege of Symbolic Voting, Jezebel.
My Plan For Making Peace With President-Elect Trump, GQ.
'What Do I Say?': Stories From the Classroom After Election Day, Jezebel.
And SNL's cold open.
If you want to laugh (and then probably cry)…
Every Way Jezebel Described Donald Trump During the Presidential Election, Jezebel.
19 Totally Real Conversations Obama And Biden Have Had Since The Election, BuzzFeed. "Joe."
This fantastic Tumblr post, followed immediately by Donald Trump Doesn't Like This Any More Than You Do on Deadspin.
15 People Who Just Need To Get Over Losing Already, BuzzFeed.
This guy calling out his sexist father on Facebook. Seth Meyers on Wednesday morning. This hed. This tweet and this one. And this absolutely perfect mashup.
If you want smart people saying smart things…
I'm a Coastal Elite From the Midwest: The Real Bubble is Rural America, Roll Call. "We, as a culture, have to stop infantilizing and deifying rural and white working-class Americans. Their experience is not more of a real American experience than anyone else's, but when we say that it is, we give people a pass from seeing and understanding more of their country."
How Trump Made Hate Intersectional, NY Mag.
White Won, Slate.
Heather Havrilesky on the way Midwesterners talk (or don't talk) about race and culture. This thread is spot on.
Blaming political correctness for Trump is like blaming the civil rights movement for Jim Crow, The Guardian. "This week, I had to listen to supposedly reasonable, leftist men – not trolls this time – insist that Trump's victory was at least partially a result of 'divisiveness' and 'incivility' and 'political correctness gone too far'. This is the consequence of 'confrontational movements', one man told me on Twitter. There's always a backlash. 'Learn from this,' he admonished. As though any social-justice movement in history got anywhere by asking politely and taking a seat. As though there was some magical moment in the semi-recent past when we'd reached a perfect stasis – no racism, no sexism and white dudes could still have a chill time – but those greedy feminists just had to keep pushing." Thank you, Lindy West.
Facebook, I'm Begging You, Please Make Yourself Better, The Intercept.
There is no "person at the top" to fix everything.
Please Stop Saying Poor People Did This, Jezebel.
Siyanda Mohutsiwa's thread on how white men are radicalized online.
6 Books to Help Understand Trump's Win, The New York Times. (I bought The Unwinding and am starting it tonight — click the link in the NYT article to read a full review of it.)
How Trump Conned America, Slate.
Is This the Second Redemption?, The Atlantic.
I Will Never Underestimate White People's Need To Preserve Whiteness Again, Very Smart Brothas.
America Elects a Bigot, The New York Times.
Emily Ellsworth on having your voice heard.
You have to watch Van Jones' powerful message about the 2016 'whitelash', Fusion. "We don't want to feel that someone has been elected by throwing away some of us to appeal more deeply to others."
President Trump's First Term, The New Yorker. I read this a couple months ago…time for a re-read.
I'm Tired of Good White People, GQ.
The smug style in American liberalism, Vox. This is long and there is a LOT I disagree with (including the entire GWB section), but it has some good points and food for thought.
An Open Letter To Supposedly Pro-Choice, Pro-Same Sex Marriage, Non-Racist Trump Supporters, Wonkette.
27 Productive Things You Can Do If You're Upset About The Election, BuzzFeed.
This thread on racism, this thread on "healing the divide," this thread on the bullshit of the "real America" narrative, this reminder that "common ground" is a trap, this accurate summation of the Trump/Obama meeting, a reminder that it's about men too, and #5 in this old post from Michael Moore, which perfectly sums up the politics so many straight white men I know.
Harry Reid's statement. "We as a nation must find a way to move forward without consigning those who Trump has threatened to the shadows. Their fear is entirely rational, because Donald Trump has talked openly about doing terrible things to them. Every news piece that breathlessly obsesses over inauguration preparations compounds their fear by normalizing a man who has threatened to tear families apart, who has bragged about sexually assaulting women and who has directed crowds of thousands to intimidate reporters and assault African Americans. Their fear is legitimate and we must refuse to let it fall through the cracks between the fluff pieces."
Why We Ignore the Obvious: The Psychology of Willful Blindness, Brain Pickings.
If you're white…
What Whiteness Means in the Trump Era, The New York Times. "Conveniently, for most white Americans, being white has meant not having a racial identity. It means being and living and experiencing the world as an individual and not having to think about your race. It has meant being free of race. Some people are proud white nationalists, but probably not many of the millions who voted for Donald Trump. Thinking in terms of community would seem to be the job of black people. The Trump campaign has disrupted that easy freedom."
Once Again, Black Women Did The Work White Women Refused To, Very Smart Brothas.
Kareem Abdul-Jabbar: What it means to be black during a Trump administration, The Washington Post. "Let the other groups denigrated and threatened by Trump speak for themselves. The women, immigrants, Muslims, Jews, the LGBT community and others who now must walk through the streets of their country for the next four years in shame and fear, knowing that their value as human beings has been diminished by their neighbors. I only speak for myself as an African American and I speak with the rage of betrayal."
Stop Telling Me to Fight, Sojourners. "All of you who are going home for Thanksgiving need to make this year's dinner a NAAWP (National Association for the Advancement of White People) meeting and decide that the 'advancement' portion of your organization's name is finally going to mean that you are taking it upon yourselves to advance your beliefs and morals and, above all, your maturity. Because what we have in front of us — a Trump presidency — is ridiculous. It is so flat-out ridiculous and yet so real, and here's an even bigger yet for you: You should have seen it coming."
Hey White People: You Need To Start Doing The Ugly Work That Isn't Safe For Us To, Feministing.
The Cinemax Theory of Racism, Whatever, Scalzi.
This reminder (from me) that if you're white, and you're silent, we really don't actually know where you stand.
If you want a tiny bit of politics-free joy…
This tweet, this one, and this little baby fox.
If you're pretty sure that this is how it all ends (and/or you want others to understand why you think that)…
Autocracy: Rules for Survival, The New York Review of Books. This takes a little while to get going, but keep reading.
Climate change may be escalating so fast it could be 'game over', scientists warn, Independent.
What to Expect Under a Trump Administration – Part One and Part Two, Leah McElrath.
Racist Messages Sent To Black UPenn Students Linked To Oklahoma Student, BuzzFeed.
A Running List Of Reported Racist Incidents After Donald Trump's Victory, BuzzFeed.
One woman's experience with the alt-right.
The forces that drove this election's media failure are likely to get worse, Nieman Lab.
With Trump, Coal Wins, Planet Loses, The New Yorker.
Is this the end of the West as we know it?, The Washington Post.
The Mike Pence (Donald Trump) Assault On LGBTQ Equality Is Already Underway, The Huffington Post.
I'm a disabled American. Trump's policies will be a disaster for people like me., Vox.
Trump's conflicts of interest are without precedent in American presidential history, The Washington Post.
Trump's Revenge, BuzzFeed.
Some extremely chill Breitbart heds, a GOP strategist reminding us to "stay vigilant," actor Kumail Nanjiani being harassed in a bar, this fact, this reminder and this one what it's like to be Jewish online right now, and a crash course in white nationalist symbols.
Oh, and this excerpt from The Handmaid's Tale.