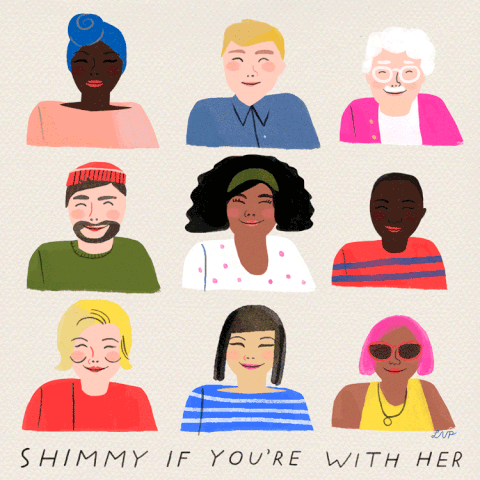 Art by Libby VanderPloeg
Last week, I legitimately thought every single day was September 30th, and was taken aback every single day when, mid-morning, I realized that it was not yet that day. And then on Friday — September motherfuckin' 30th— I was completely sure it was October 1st. Like ????
Aside from having to check my calendar a whole lot, here's what else I was up to…
Writing
23 Things Every Grown-Ass Adult Should Do
Also, I was a guest on Another Round! You can listen here.
Reading
27 Hilarious Tweets You'll Only Get If You Watched The Debate, BuzzFeed.
You Want A Piece Of Me, MTV. Some dickhead went ahead and (supposedly, probably) revealed Elena Ferrante's true identity. Instead of reading that, read this very good post instead!
Ted Cruz and his conscience amicably part ways, The Washington Post. So funny.
So, Which Is It?, It's Fine. For your racist cousins.
Ruth Bader Ginsburg's Advice for Living, The New York Times.
Jailed When Her Boyfriend Killed Her Son, She Is Free At Last, BuzzFeed.
The Absolute Minimum Acceptable Tip for Any Food Delivery Is $5, Eater. Helen Rosner is a very smart human so I'm inclined to agree with her on this.
The Novelist Disguised As a Housewife, NY Mag.
Why the mediocre male's days may be numbered, The Guardian. We can only hope.
The Day Hillary Clinton Won My Heart, Scary Mommy. I made it to the second sentence before I started crying.
Why Do Obese Patients Get Worse Care? Many Doctors Don't See Past the Fat, The New York Times.
Stop Pretending You Don't Know Why People Hate Hillary Clinton, The Huffington Post.
In 'Hitler,' an Ascent From 'Dunderhead' to Demagogue, The New York Times.
The New Yorker's Topical Comedy Is a Disgrace and The 38 Things Wrong With the New Yorker's Oompa Loompa Gene Wilder Tribute Cartoon, Slate. This is sooo extra but pretty funny/accurate.
17 Posts That Prove Your Brain Is An Asshole, BuzzFeed.
How could sexism hurt Clinton in the debates? These female high school debaters know., The Washington Post. God, this made me angry.
I Should Not Have Had to Write This, Quaint Magazine. (Head's up this is about domestic violence.)
Trump says he will only lose Pennsylvania if there's widespread voter fraud. That's very wrong., The Washington Post.
LeBron James: Why I'm endorsing Hillary Clinton, Business Insider.
14 Situations That Are Way Too Real When You're A Woman, BuzzFeed. Giggled through this entire thing.
There's No Such Thing As A Protest Vote, by Clay Shirky on Medium. "But it doesn't matter what message you think you are sending, because no one will receive it. No one is listening. The system is set up so that every choice other than 'R' or 'D' boils down to 'I defer to the judgement of my fellow citizens.' It's easy to argue that our system shouldn't work like that. It's impossible to argue it doesn't work like that."
Watching
The Amanda Knox documentary on Netflix (I thought it was just OK; this author's description of her thoughts on Amanda Knox before watching the doc perfectly match my own…actually all of her thoughts match mine pretty closely), this nail polish trick, Samantha Bee on HRC, and John Oliver on the candidates' scandals.
Loving
This amazing Twitter thread (keep clicking "Read More"), this hilarious relationship question, and this tweet.
The week ahead…
God, I'm just SO happy it's October and fall weather is finally here!!!!!!