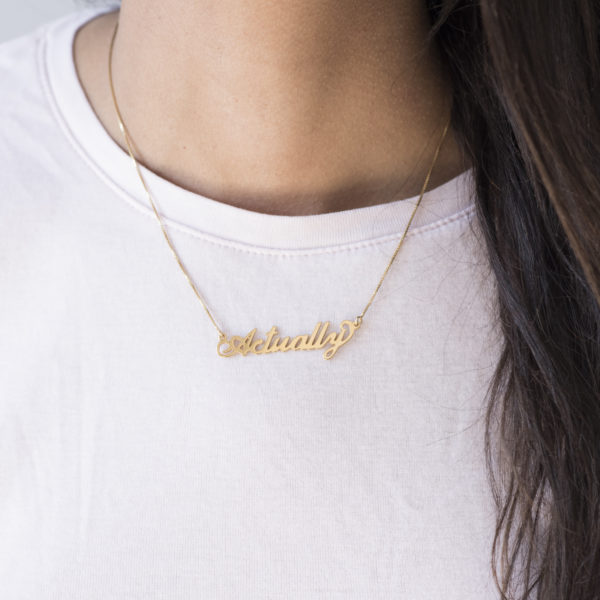 Photo by Taylor Miller; had the necklace made here.
Hello and happy Sunday! I'm back in action after losing all of last weekend to a horrible cold. When I wasn't playing Whack-a-Mole with racists on Facebook or breaking in my new fall booties, here's what I was up to this week…
Writing
I Learned To Love Cottage Cheese & So Can You
My Food Diary, Re-Written by a Celebrity Features Writer
So A Special Sleeping Bra Exists And It's Less Bad Than You'd Think
9 Things That Will Take Your Bed To The Next Level
Exactly What Was Wrong With The First 50 Hot Selfies I Took But Did Not Send
Reading
Hillary Clinton for President, The New York Times. "This endorsement would also be an empty exercise if it merely affirmed the choice of Clinton supporters. We're aiming instead to persuade those of you who are hesitating to vote for Mrs. Clinton — because you are reluctant to vote for a Democrat, or for another Clinton, or for a candidate who might appear, on the surface, not to offer change from an establishment that seems indifferent and a political system that seems broken. Running down the other guy won't suffice to make that argument. The best case for Hillary Clinton cannot be, and is not, that she isn't Donald Trump. The best case is, instead, about the challenges this country faces, and Mrs. Clinton's capacity to rise to them." This endorsement so thoughtful and well-done.
Hating Trump isn't enough – we need to talk about why Clinton rules, The Guardian.
No, I'm from New York, The New Yorker. Literally laughed out loud through this whole thing.
Donald Trump Either Lied to Republicans or Broke the Law, Newsweek.
Ask Polly: Why Do Women Obsess About Babies and Fertility?, NY Mag. One of my faves this week.
Brangelina Is Dead; Long Live Angelina, BuzzFeed.
15 Career Tips From Smart Women, A Cup of Jo.
Men, Please Throw Away Your Crappy Old Pillows, MEL.
I Regret Not Telling My Hair Stylist That Her Service Was Poor, Beautifully Brown. This describes my hairdresser so perfectly, it's a little eerie.
Me, A Chill Girl With No Feelings, Gabby Boyd on Medium. "Vulnerability is not very chill, and leads a person to start requesting luxuries, like communication and effort."
My teen boys are blind to rape culture, The Washington Post. Oof.
He Had His Reasons, Granta. This is fantastic. (Head's up that it discusses murder, domestic violence, and suicide.)
How to Be a Writer: 10 Tips from Rebecca Solnit, Literary Hub. These are great tips; I need to re-read them like once a week.
17 Things No One Tells You About Being On Jeopardy!, BuzzFeed.
"I Hurt With Her," She Said & I Took Note, Hands Free Mama. Pay no attention to me sobbing in a bodega reading this.
Rest Of Nation To Penn State: 'Something Is Very Wrong With All Of You', The Onion. This is perfect.
Fear of a Female President, The Atlantic. "Standard commentary about Clinton's candidacy—which focuses on her email server, the Benghazi attack, her oratorical deficiencies, her struggles with 'authenticity'—doesn't explain the intensity of this opposition. But the academic literature about how men respond to women who assume traditionally male roles does. And it is highly disturbing."
30 Of The Gayest Pictures Of LGBT People As Kids, BuzzFeed. It's basically impossible not to smile when reading this.
I Drank Butter Coffee For A Month And It Was More Magical Than I Expected, BuzzFeed.
Trump used $258,000 from his charity to settle legal problems, The Washington Post.
'The Condition of Black Life Is One of Mourning', The New York Times Magazine. Set my subway tears in motion after a particularly rough week.
Hillary Clinton's 'Angry' Face, The New York Times.
This Featherless Lovebird Is Actually So, So Cute, BuzzFeed. It me.
Fall Is the Worst Season, Jezebel. Terrible opinion, excellent writing.
Loving
Samantha Bee and Seth Meyers, the hoes who use the dog filter (I FEEL SO SEEN BY THIS?!), this thread, this tweet, and Joseph Gordon-Levitt at BuzzFeed.
The week ahead…
Screaming at the TV during the debate, most likely.