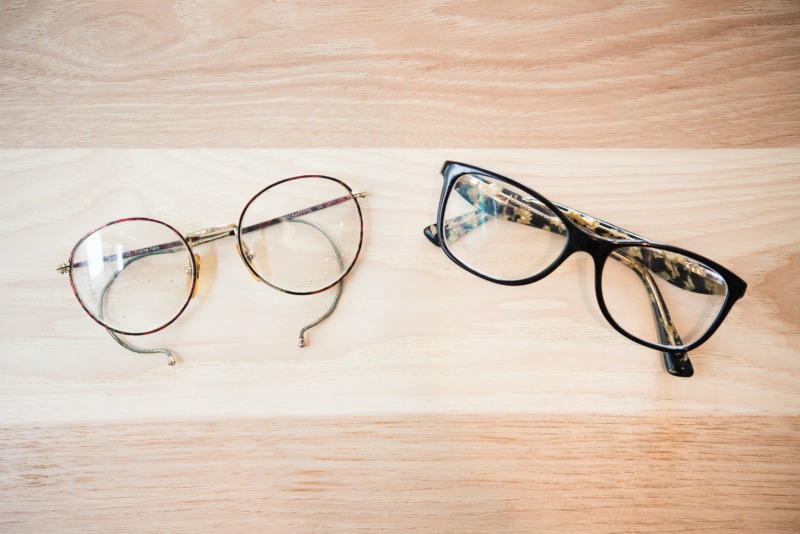 Photo: Taylor Miller / BuzzFeed
Hello, hello! Here's what I was up to this week…
Writing
10 Life-Changing Things You Should Take To The Beach
5 Big-Batch Drinks That Will Get Your Bridal Shower Guests Drunk AF (HIGHLY recommend The Deflower Girl Punch…it's amazingly delicious!)
How My Glasses Showed Me That I'm My Father's Daughter
And though I don't tend to get very meta about my writing these days, I thought I'd share some of the backstory on the glasses piece!
I actually started it at the beginning of March for BuzzFeed's Body Week. The first draft was very, very light on details about my dad — I summed up basically everything that was in the final essay in a single, vague sentence — and upon reading it, my lovely editor and friend Rachel said that I either needed to really unpack that stuff, or I needed to leave it out completely and make it a light essay that was more about my identity as a glasses-wearer and my failed Lasik. Unsure that I could pull off the first one, I decided to write a draft of each version and see which one was better. So I did. The second one was much heavier on my tween and early teen years, when I wore cat-eyed glasses (which were so hard to find at the time that I had to special order them via my eye doctor's catalogue), and included a lot of stuff about how the guy I had a crush on constantly made fun of them. I sent both versions to Rachel, and after reading them, she gently but firmly encouraged me to dig deep and do the harder one. I know she sensed my hesitation and she made it clear that I didn't have to do it, but she said (rightly) that if I was going to do it, it was worth really doing it. So that's what I decided to do, even though I knew it wouldn't be easy for me.
By the time I was rounding third on finishing that version, it had become apparent to both Rachel and me that it didn't totally fit in with a theme week that had by then been re-named Body Positivity Week, and I had another big piece going up for BPW anyway. So we decided to hold it for Father's Day. After continuing with edits throughout may, it was pretty close to done when we shot the photos the week of June 6th. (Which…ended up being a pretty emotional experience for me, particular when we got to the letters. There had been a bunch of back and forth about The Jolly Postman story because I had started to worry that I was remembering it wrong, but then I opened that letter, realized what it was, and learned that I was remembering it completely accurately, which was really cool to discover. But just in general, it was an emotional afternoon.) I added the edited photos to the post on Thursday, and Rachel and I played around with the placement of each one, but the photo we had at the end of the essay (a shot of me holding my dad's glasses) just didn't feel like it was really resonating. I thought we needed a photo that either showed my dad and me together in our glasses…something that perhaps exists somewhere in a photo album, but not in any of the photos I have scanned. So at the end of the day Friday, I asked Taylor, the photographer, if he could quickly shoot the two pairs of glasses side by side on Monday. He obliged and we got the shot on Monday morning. I'm really glad we decided to re-shoot.
Tuesday morning, the day the essay was scheduled to be published, I was really anxious about it. I started to doubt whether or not it even worked, whether being vulnerable and talking about things that I had literally never told anyone was even going to be worth it. I think I had just been working on it for so long that I'd sort of lost sight of the big picture. I knew I was probably being unreasonable and trusted Rachel when she said it was ready to go, which was the right choice. I'm really glad it went out into the world this week.
Here's what else I had going on this week…
Reading
First, on Orlando:
Please Don't Stop the Music, The Nation.
Only When I'm Dancing Can I Feel This Free, MTV.com. "For those who let the rhythm get 'em, dancing has a particular significance. Shunned by friends, thrown out of their homes, banished to metaphorical cities on the plain, they find on crowded dance floors a sense of fellowship that is no less deep for being ephemeral. And, no, rhythm isn't even required — that's the point. We're figuring ourselves out in those spaces, a beer at a time, yielding to that frisson triggered by a passing glance, a smile at the bar, an unexpected nudge on the floor itself. "
26 Things Queer People Actually Want To Hear After Orlando, BuzzFeed.
America's gun problem has everything to do with America's masculinity problem, Quartz. "Buying a gun isn't a rational decision; it's an emotional one."
To Stop Violence, Start at Home, The New York Times. "An analysis of the criminal justice history of hundreds of thousands of offenders in Washington State suggests that a felony domestic violence conviction is the single greatest predictor of future violent crime among men. With so much at stake, responding to violence against women should be a top priority for everyone. Research tells us that violence is a learned behavior."
Thou Shalt Kill, Gawker. "Most people, good guys or not, do not need or deserve the power to kill other people. People are confused or bad-tempered or careless or impulsive, especially under stress. They get mad about a stupid, forgettable traffic dispute and shoot somebody. They get scared by a knock at the door and shoot somebody. They get angry at their spouse or partner and decide to shoot them. They get excited about seeing a shoplifter and try to execute the shoplifter by spraying gunfire with innocent bystanders all around on a parking lot. They lose track of where they've left their guns until a child finds one and shoots itself, or shoots another child. Or, most often of all, they shoot themselves, making a fleeting impulse into an irrevocable decision."
What gun control advocates can learn from the abolitionists who helped end slavery., Slate.
Donald Trump's Exploitation of Orlando, The New Yorker. "It feels indecent on such a day to engage these comments of Trump's at all. But their velocity, vapidity, and sheer ugliness reflect his character, his emptiness, and, most of all, the shape of the election campaign to come. Since Trump has ascended, it's been clear that his demagogic instincts could be tested precisely by the sort of tragedy suffered in Orlando. And, when faced with the path of modesty and the path of dark opportunism, he has chosen the latter. That's what he is about. It's who he is."
Now We Have Seen The Epitome of Anti-Gay Hatred, Gawker.
These Are Some Of The Heroes Of The Orlando Shooting, BuzzFeed.
Onto the rest of the garbage world we live in…
Kim Kardashian West on Kanye and Taylor Swift, What's in O.J.'s Bag, and Understanding Caitlyn, GQ.
Interview With a Woman Who Recently Had an Abortion at 32 Weeks, Jezebel.
Sisterhood of the Traveling Safe Spaces, The Hairpin.
Hillary Supporters Can Now 'Be Public' on Facebook, The New York Times.
The Conservative Case for Hillary Clinton, Texas Monthly.
Choosing a School for My Daughter in a Segregated City, The New York Times. This writer came in and talked to a group of us at BuzzFeed about her incredible article on school segregation (an absolute must-read) and briefly mentioned how much she and her husband were struggling with this, so I was really pleased to read about what they ultimately chose.
A journalist went to a Donald Trump rally yesterday and came back shocked. Here are his tweets, Political Scrapbook. Trigger warning for…garbage people.
Why 'Transcending Race' Is a Lie, The New York Times. I loved this.
An Open Letter to the Female Hat-Wearing Dog From "Go Dog, Go", The Ugly Volvo.
Thinking About Hillary, Michael Arnovitz on Medium. This is excellent.
Stop. Using. Periods. Period., The Washington Post.
My Heart Belongs to 'Daddy', NY Mag.
How to Cover Donald Trump Fairly: A Style Guide, Washington Post.
Maybe the word "rapist" is a problem: The utility of nouns and verbs, or accepting who we are and what we do, Salon. I…did not expect this to be as good as it was.
Hi America, British Politics Went Completely Mad Today, BuzzFeed.
Meet Tumblr's 15-Year-Old Secret Keeper, The New York Times.
I also finally started reading The Empathy Exams this week!
Entertained by
O.J.: Made in America (seriously, watch it!), the new season of Orange is the New Black, my coworker Sylvia on Another Round (episode #59), and This amazing Father's Day twitter thread.
The week ahead…
Heading to a wedding!