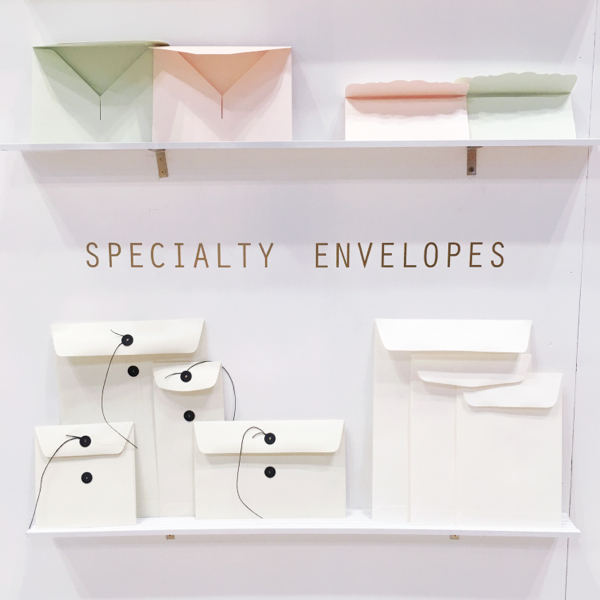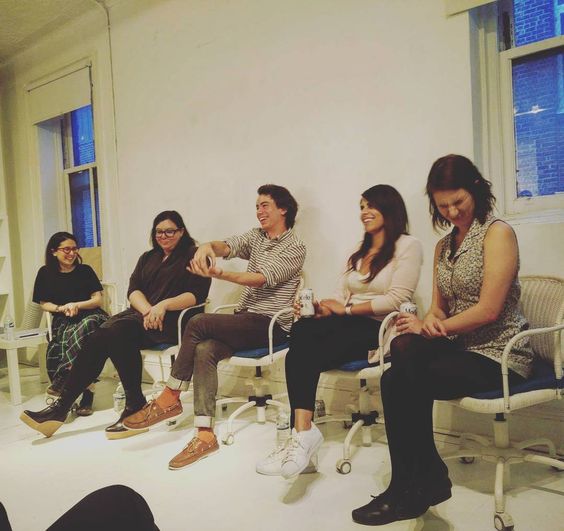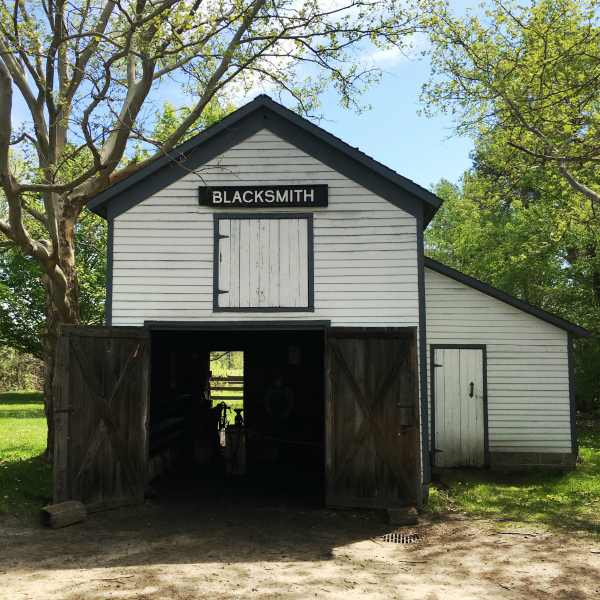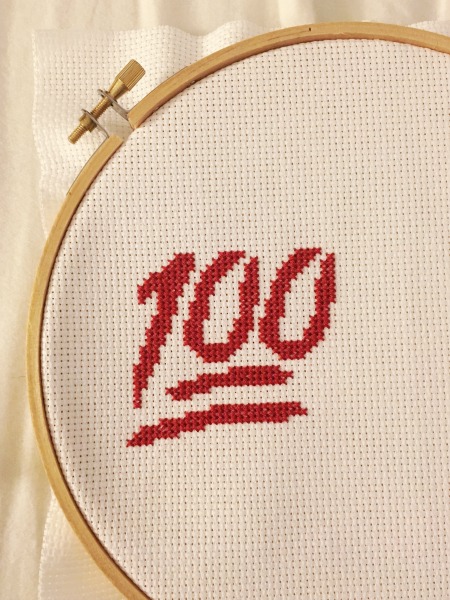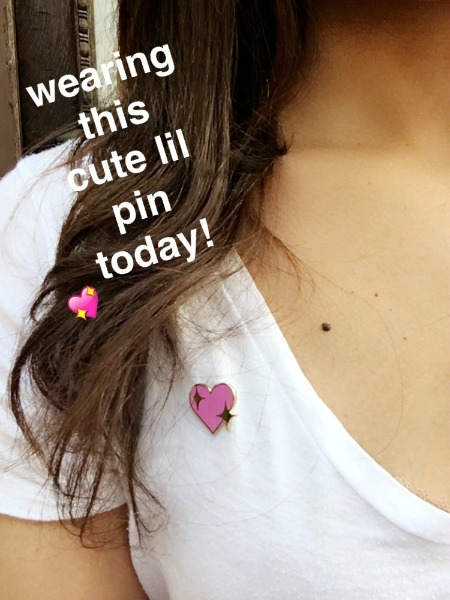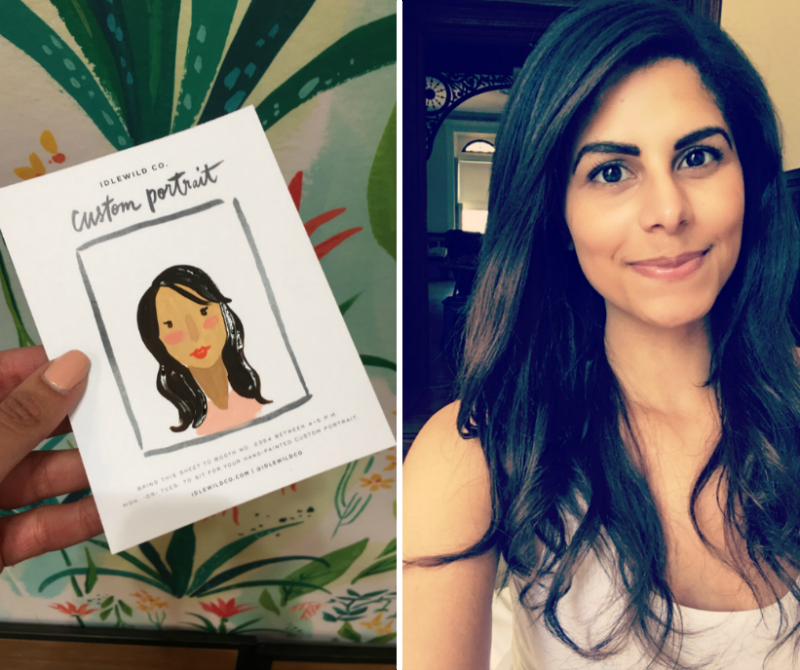 Hey, folks! Since we last spoke, here's what I've been up to…
– Attended the National Stationery Show for the the first time. For those of you who saw my Snapchat story from that day, you know that I had a pretty awesome time. It was seriously a blast. The only downside was that 1) you can't actually BUY stuff (actually that was probably good for my bank account) and 2) I was not prepared for how huge it was or how tiring it would be. The biggest thing that fucked me up was the crazy lighting in all of the different booths. It was incredibly bright/intense/blinding. At one point, around 3:00 in the afternoon, I just sort of flopped down at the very large American Crafts booth (the people basically responsible for 99 percent of the stuff at Michaels)…but then got treated to a super-cool demonstration of the Minc foil machine, which revived me! I pushed through and finished out the day (which meant I could get my portrait painted by the fabulous Kate of Idlewild & Co).
– The same day I attended the NSS, I spoke on a panel about lifestyle in the Internet age that Racked put on. It was so great! I loved getting to talk about some of my favorite meta topics with a bunch of incredibly smart and thoughtful people.
– The next morning, I flew home to Michigan to see my brother Preston play Young Josh in the Flint Community Players' production of Big the Musical. (My mom was in the chorus too.) While I was there, I went to Panera (obviously), visited my favorite antique store (Main Street Antiques in Holly), went to the confusingly-named Christmas Tree Shops and That! (which is the the mommest store that ever mommed), went on a field trip to Crossroads Village with my mom and her kindergarteners, hung out with my college friend Paul, and had my grandma teach me how to cross-stitch. Then that Sunday, I drove my car back from MI to NYC so now I have my car here in the city!
Here's what else I've had going on…
Reading
The Particular Sadness of Lemon Cake by Aimee Bender, which was…odd? The concept is great and I liked some passages a lot but as a whole, I just didn't love it.
How Blac Chyna Beat The Kardashians At Their Own Game, BuzzFeed. I had intentionally been avoiding anything related to this story, but this essay changed all that. It's SO good.
The stark difference between millennial men and their dads, The Washington Post. Toxic masculinity, y'all.
The Clique Imaginary, The New Inquiry. "Women who orient their social lives around a select group are held in distrust, as if women's duty is to cast their friendship nets widely and superficially. The expectation that they do so signals that a woman's social life is not considered her own: it must be arranged for the benefit of the family, of strangers, anyone really besides herself."
I Know Why Poor Whites Chant Trump, Trump, Trump, The Establishment. This is a long read but it's absolutely worth it.
How the Slave Trade Built America, The New York Times.
The Fierce Triumph of Loneliness, Catapult.
So Apparently There Are 4 Kinds of Introversion, New York Magazine.
On the Heartbreaking Difficulty of Getting Rid of Books, Literary Hub.
The Maturation of a White Ally, White Awake.
How To Slay Trolls And Influence People, BuzzFeed.
Are Mis-Gendered Band Names 'Ironic' Or Sexist?, The Establishment.
The Dangerous Acceptance of Donald Trump, The New Yorker.
America Has Never Been So Ripe for Tyranny, New York Magazine.
They're Called Panties, Cosmopolitan. YES, THANK YOU.
Many Middle-Class Americans Are Living Paycheck to Paycheck, The Atlantic. This is GREAT.
Stop Telling Women To 'Stay Hot' For Their Husbands, The Establishment. "It's no secret that women are published less often and make less money than male writers. Yet there's always an outlet eager to throw a bit of cash at any woman willing to bang out some '[whatever outrageous thing I choose to do this week] works for me, so let's make a huge logical leap and pretend this is true for and about the female half of the population' confessional essay. According to another freelancer who prefers not to out herself to a potential editor, Your Tango solicits articles from a large pool of bloggers by sending out emails chock full of potential headlines and topics. Some recent prompts have included, 'I dumbed myself down to see if it attracts guys more,' 'I abstained from having sex with my husband as punishment,' and 'I'm only attracted to ugly women.'" This became even more relevant when it turned out that none other than the "Stay Hot" author was behind the xoJane debacle that went down later that week.
Deonte Hoard Was The 53rd Of 489 Homicide Victims In Chicago Last Year, BuzzFeed.
Filets In First, Gruel In Third: What Class Differences Looked Like On The Titanic, All Day.
How Rona Barrett Became The Gossip Industry's Forgotten Trailblazer, BuzzFeed.
In Victorian Society, Tuberculosis Was For Hotties, Jezebel.
Hillary Clinton says Bill won't be picking out the White House china. He should., The Washington Post. You're DAMN RIGHT HE SHOULD. Christ.
The Magic of MirMir, the Kardashians' Favorite Photo Booth, Racked. Fascinating. (Also extra interesting because it seems like similar technology is involved with Snapchat's beauty filter.)
Actress Roundtable: Jennifer Lopez, Kerry Washington, A-Listers on Nudity, Network Fights and the "Diva" Label, The Hollywood Reporter. This is awesome. (Be sure to watch the videos too.)
The value of diversity: Could you do your job without getting paid?, Media Diversified.
Getting Angry Makes Almost Everything Worse, Deadspin.
Grand Unified Theory of Female Pain, VQR.
The Hunt For Poland's Buried Nazi Gold Trains, BuzzFeed.
And the peer review of the SB Nation failure that was their Daniel Hotzclaw story. (Report here.) Every media org should be paying very close attention to what went wrong here.
Loving
This Twitter thread, Season 2 of You're the Worst (I wept during the last two episodes), and this video.
The week ahead…
Breaking out my summer whites!