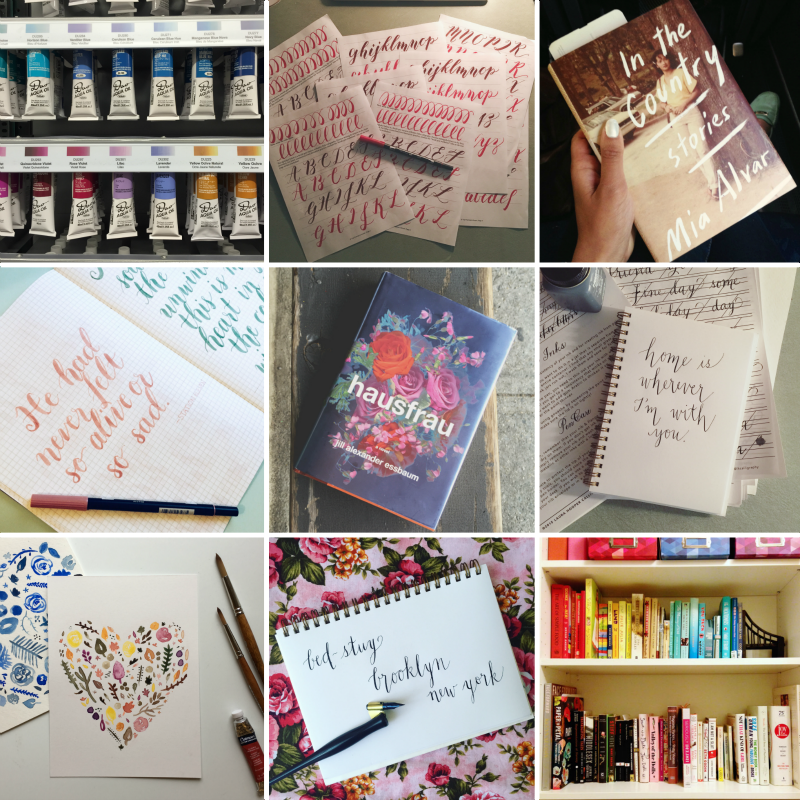 Every year I choose a verb instead of a resolution; over the years, I've found that this really helps me prioritize and focus on my goals throughout the year. My verb for 2015 was learn. My main goal was pretty simple: I just wanted to read more books. Beyond that I wanted to journal more and learn some new skills. Here's how I did:
Reading
I set a goal of reading 35 books, though I had no idea if that was reasonable or not. Thanks to a few spans when I just wasn't as focused, I now have 26 books on my reading list for this year. I think I could have definitely done 35 if I'd pushed myself harder during those times, but I really don't care about the number too much, so it's whatever.
Mid-way through the year I realized that I hadn't read any books by straight, white, cisgender men… or any books by men at all. I decided to keep it that way for the rest of the year, a choice I still feel good about.
Of the 26 books I read, some were definitely better than others. Here are my six favorites, in no particular order:
1. Liar, Temptress, Soldier, Spy by Karen Abbot. This was the first book I read in 2015 and it's so good! It's about four women who were spies during the Civil War and it's just fascinating. Also: females are strong as hell.
2. In the Country: Stories by Mia Alvar. This book was amazing and I can't recommend it enough. Full review here.
3. The Warmth of Other Suns: The Epic Story of America's Great Migration by Isabel Wilkerson. This book is informative, intense, heartbreaking, and inspiring. It's non-fiction but it flows like a novel (think Devil in White City), and I recommend to anyone who likes history or who cares about racial justice.
4. Station Eleven by Emily St. John Mandel. This is the last book I read in 2015 and it will haunt me for a long time. It's beautiful and sad and lovely and magical and I want everyone to read it.
5. Hausfrau by Jill Alexander Essbaum. I picked up this book because I loved the cover, but I ended up really loving the intense and dark story. Full review here.
6. The Life-Changing Magic of Tidying Up: The Japanese Art of Decluttering and Organizing by Marie Kondo. This book genuinely changed the way I look at my home, and it gave me a name/explanation for a lot of the things I was already doing. I know it's gotten a ton of hype so the backlash is inevitable, but I think it's worth a read, even if you don't KonMari your entire house or take every bit of her advice. (I actually haven't done everything yet.) But my apartment is a really, really pleasant place now, and I can definitely credit this book for some of that! Summary/review here.
Journaling
I did a lot more journaling in 2015, but mostly via the Day One app and not my actual paper journal (though I used that on occasion). I set the app to notify me every night at 9:30, and I've added entries pretty regularly, especially in the second half of this year. I also liked being able to add a photo from the day on nights I didn't feel like writing much.
Classes
When I made this goal, I was thinking I'd take some writing classes… which I looked into, but the writing classes in NYC aren't cheap, so I started looking at options that were more budget-friendly. I had been wanting to learn more about illustration and lettering, so this summer I started taking a bunch of online classes in that area. These classes were one of the biggest (and unexpected) highlights of my year and helped me develop a new hobby that I'm really excited about. Here are the ones I liked best/recommend:
1. Intro to Calligraphy Video + Kit from Laura Hooper Calligraphy (which, full disclosure, I got for free through work)
2. Intermediate Watercolor from CreativeBug
3. Hand-Lettering Basics from Brit.co
4. Amy-Style Calligraphy Worksheets from The Postman's Knock
5. Free Brush Calligraphy Worksheets from The Postman's Knock
6. Calligraphy 201 from Brit.co
Reading on my Kindle (or reading physical books) was really great for unwinding and unplugging at night, but there were some nights when I just didn't have the mental energy for, say, reading about systemic racism, or simply wasn't in the mood for the book I was currently reading. Practicing calligraphy was a great alternative because it got me away from a glowing screen and got me making something with my hands, but I learned it can also be a very mindless activity — I could just zone out while doing it when I wanted to. It also forced me to be more patient; the first couple of weeks, I was frustrated working with the nib pen/link, but I ultimately realized that I had to go slowly if I wanted it to work. (That turned out to be the case with brush calligraphy too. Even though most people say it's easier, I find that it's still rather fussy.) Laura Hooper suggests three 45-minute practice sessions a week, which sounded like a lot, but didn't turn out to be all that hard to do. It was often hard to get myself to put down whatever article I was reading on my phone and get started, but the time always flew by; I usually ended up working for 90 minutes or so without even realizing it. A lot of times, I practiced while listening to podcasts, which allowed me to learn new things/be entertained without staring at my phone or laptop. Other times, I'd forget to put on music or a podcast and would just work in silence.
I cannot overstate how incredibly relaxing calligraphy is. Making rows and rows of lowercase "l"s and "e"s was so soothing. Less pressure on the upstroke, heavier pressure on the downstroke, over and over again. Things like the sound the nib makes as it moved across the paper or hitting the turn of an "l" or a "v" just right were so satisfying. 2015 was the year that I left a really comfortable home and lifestyle and had to find my place and my people in a city that is very much Not Texas; calligraphy (and watercolors too) helped me deal with the with the anxiety, uncertainty, and loneliness that were very present this year. Both reading and calligraphy turned out to be very good habits/hobbies to focus on in 2015, and I know both will remain a part of my routine in 2016.