No one has had a bigger influence on my career — and, so, my life — than Bonnie Bucqueroux has. When I found out that she'd died this morning, I felt so sad that the world no longer has her and that future students won't be able to learn from her, and just so grateful that she was a part of my life. I'll update this post with more photos and memories as they come to me/I have a chance to dig through old computer files for photos.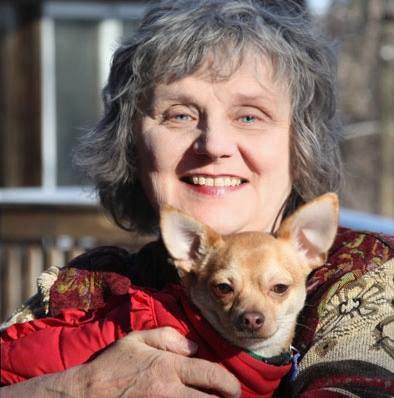 In the fall of 2005, after I found out that the rest of my JRN 200 class had gotten job interviews with the State News and I hadn't, I tearfully sat in my dorm and read an email from my JRN 108 professor Bonnie Bucqueroux. The email reminded us that she was still looking for bloggers and reporters to join in her new project: creating MSU's first online news outlet. Through tears, I wrote back that I would love to be a part of it and that I would like to start a blog for it called "The Spartanette." I didn't even know what the hell a blog was at that point; all I knew is I needed an outlet for my writing and figured she'd be more open to me writing a funny column about sleeping around than the State News was.
I became the Managing Editor for SpartanEdge.com a few weeks after I responded to that email, and when other, older journalists criticized it — and The Spartanette specifically — shortly after the debut, Bonnie had my back 100%, as she did many other times for controversial choices we made for SpartanEdge. Throughout my time at MSU, the J School leadership was pretty resistant to her efforts to teach us to be Web-first writers and journalists, but she knew where news was heading and she quietly taught us what we needed to know (or told us where to look for info) because she knew no one else was going to. My senior year, I learned to edit video in iMovie in one of her classes; it's a skill that I actually still use at BuzzFeed. It feels sort of silly to consider that an asset but it's toootally an asset because I've realized not every writer can do it and it really just comes in handy. She also taught the Victims in the Media seminar, something I think about often (basically every time another white woman goes missing and everyone flips the fuck out, or whenever Nancy Grace is Nancy Gracing).
Bonnie was my mentor while I was at MSU and has been ever since. In the fall of 2009, after I'd moved home from NYC, I met with her in East Lansing and we talked about how I should be doing more video on my then-newish health and fitness blog; a few days later, I received a brand new Flip Cam (!!) from her in the mail, and a couple of days after that, I used it to create a video about how I think about dudes I've banged while training for a marathon. (Sadly, this video is not nearly as funny now that it's been muted by YouTube for my use of Sublime's "Caress Me Down.") Many more videos followed — most of which I need to set to public again now that I have a job that doesn't care that I talk about sex — including the one about sex and McBreakfasts, one of my all-time favorites.
Bonnie, like most amazing, badass women, had so many amazing, inspiring, and terrifying stories that she'd just casually reference from time to time, leaving those of us around her asking, "Wait — what did she just say?" How she'd left her first husband, who'd beat her. How she'd just selected the last name "Bucqueroux" for herself after her divorce because it sounded cool. How her male boss (back in the day, not at MSU) had criticized her for not wearing a girdle, which she thought was bullshit. How she'd worn a black dress on her wedding day. How she'd run for office on the Green Party ticket. Every time I was around her, I was treated to little snippets of a rich life I was lucky enough to get to be a part of for a few years.
In the past couple of years, Bonnie's radical views, which I saw on Facebook daily (along with adorable animal photos), have been on my mind more and more. She's the kind of woman who fights the patriarchy by fighting capitalism, demanding racial justice, and pushing for all of us to take action against climate change. She loved many of the lifestyle things I do — cooking, crafting, dogs, holidays — but she pushed me to look at them through the lens of radical feminism, building community, and truly being independent. And just…a good person.
After I accepted the job at BuzzFeed last fall, I wasn't totally sure what Bonnie would think, but she messaged me with this: "BuzzFeed is brilliant. You belong there. I am so glad to see this happening for you." And then: "What an opportunity. You belong with a cutting-edge place like that. It will be thrilling to watch you make your way over the years. I cannot wait to see all the amazing things you will do." It was so good to see that she got BuzzFeed but…of course she did. I'm doing literally everything she taught me to do, that she showed me I could do, and I truly couldn't have done it without her.
Bonnie was a hell of a woman who lived the shit out of her life. I owe so much of my success to her, and I will really, really miss her.
###
You can read a great tribute that my friend Diane wrote here; I'm so glad she found the email from Bonnie that she included in her post — I remember that email so well.
Here's Bonnie in her own words: 50 may be the new 40, but 70 is still 70.