Like I'm guessing many people who read Hausfrau did, I first picked the book up because of its ridiculously beautiful cover.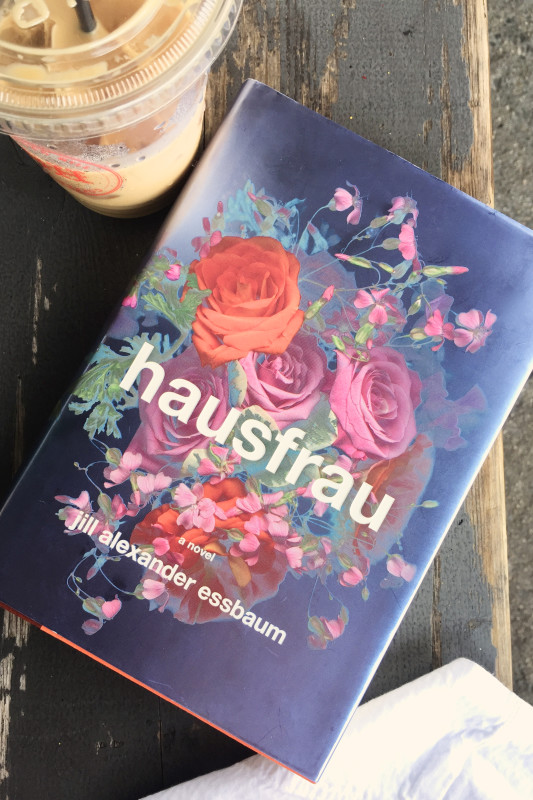 While I didn't think I would like Jill Alexander Essbaum's novel all that much, I actually really liked it. It was dark and intense and you sort of read it with a sense of dread…but I somehow still found it very enjoyable. Here's the book's description from the inside cover:
"Anna Benz, an American in her late thirties, lives with her Swiss husband, Bruno—a banker—and their three young children in a postcard-perfect suburb of Zurich. Though she leads a comfortable, well-appointed life, Anna is falling apart inside. Adrift and increasingly unable to connect with the emotionally unavailable Bruno or even with her own thoughts and feelings, Anna tries to rouse herself with new experiences: German language classes, Jungian analysis, and a series of sexual affairs she enters with an ease that surprises even her.

But Anna can't easily extract herself from these affairs. When she wants to end them, she finds that it's difficult. Tensions escalate, and her lies start to spin out of control. Having crossed a moral threshold, Anna will discover where a woman goes when there is no going back."
So, from that description and the blurbs on the back cover (and all over the Internet) that compare the book to Anna Karenina, I read Hausfrau with a "welp, this is going to end badly" mindset. That's not a spoiler, more of a way of setting the tone for the book; that tone is, I think, part of why I enjoyed it. I didn't expect a story of redemption, but a story of desperation and despair. When I read some reviews on Goodreads after I finished it, it seemed like the people who didn't like it expected it to be the former. They were frustrated with Anna for continuing to make shitty choices and found her unlikable. And she is unlikable, but because Hausfrau is written in third-person, I never felt like I was being asked to like her. There was no defense of her choices or her continued fuckups; they were presented very matter-of-factly. Though some readers found her sympathetic, I'm not one of them. But I really liked the book anyway.
What makes the 320-page novel so good os the prose and the storytelling, which is elegant and tight and raw and dark. Hausfrau cuts between different moments in the past and Anna's therapy sessions, and while that many flashbacks can be excruciating in some books or in TV shows, the therapy moments are only about a paragraph long so the book still moved quickly. About three-fourths of the way through, it begins to drag a bit, but not for long. The last few pages were so vivid and intense, and the last line of the book kind of took my breath away.
Hausfrau is not a light read, but it's still very readable, if that makes sense; I got through it in a few days and I'll probably read it again at some point. Definitely recommend it.