After my friend Tashween threw a fantastic waffle party in January, I knew I wanted to throw a specific-food-themed party of my own. Since potatoes in any form are my favorite food—and I will happily defend them as the PERFECT food—I went with a potato party!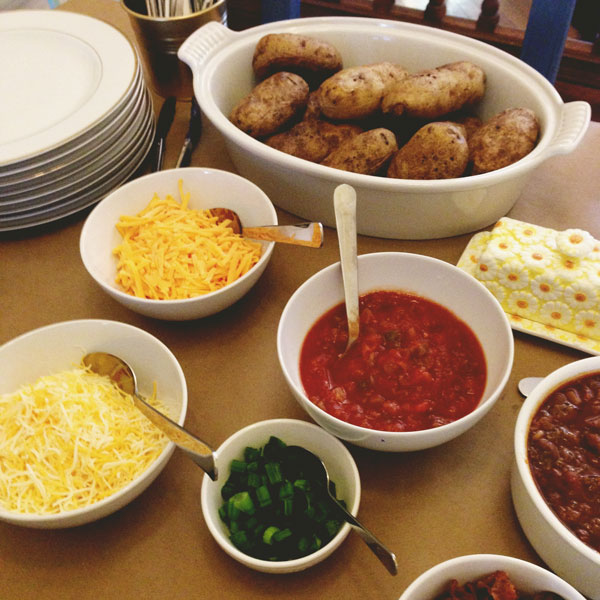 Here was the menu:
– Baked potato bar with chili, green onions, butter, sour cream, two kinds of shredded cheese, salsa, and chopped bacon.
– Baked sweet potato bar with butter, chocolate chips, cinnamon, pecans, and dried cranberries.
– Tator tots
– Waffle fries
– Classic potato chips with French onion dip
– Deep River Snacks rosemary and olive oil kettle cooked potato chips (I had never had these before but I wanted some fancy potato chips so I ordered these from Fresh Direct and OMG. I don't even really like potato chips and I could have easily eaten a whole bag of these myself.)
– A batch of Southern Comfort punch (I haven't made this in a few years and had forgotten how great it is!) along with beer.
– Grocery store birthday cake and ice cream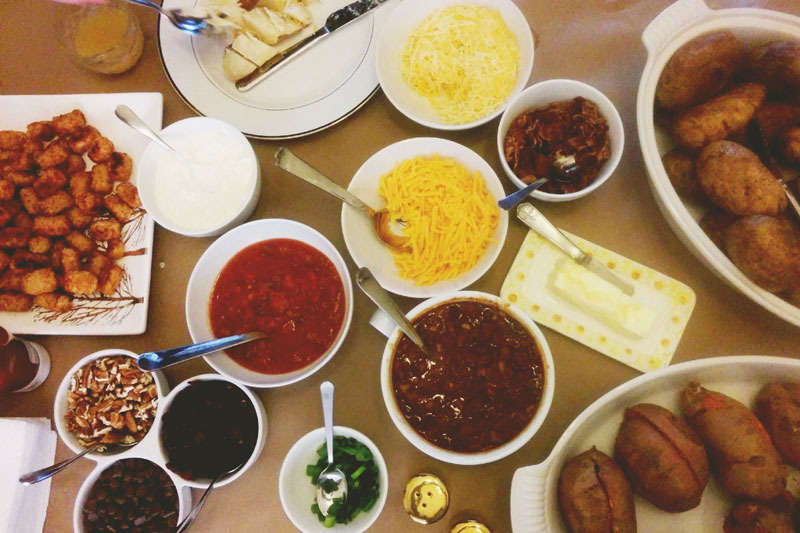 The menu was remarkably easy and inexpensive to put together—definitely the easiest party prep I've ever done. (Really, getting the apartment ready took up the most time.) We found that the tator tots and waffle fries (along with the punch) were the biggest hits. If we were to host another potato party (and I hope we do, next year!) I'd find a better way to keep the potatoes warm since people were arriving/eating throughout the afternoon, and I'd make it clearer that the sweet toppings were meant for the sweet potatoes. I'd also serve mashed potatoes and gravy and/or cheesy potatoes. But really, it was all fine! We had a really good turnout and it seemed like everyone enjoyed themselves. I mean, it's hard to go wrong when you ply people with potatoes and whiskey, and have a 7-hour playlist that includes "Back That Ass Up" on shuffle.
I'm a big fan of midday parties for adults; I find that people are likely to come because they don't have other party plans and aren't as likely to be worn out from their day and wanting to stay in. And it's nice as a guest because you still have the option to go out later…or to just call it a night and still feel like you did something social. (Note: if you do this, people may just turn it into an evening party, which is what happened in our case. The last guests didn't leave until 11:00!)
Another idea I stole from Tashween was to create a party-themed guest Wifi name and password. (It's pretty easy to do this through your Internet provider's website.) So our network name was "Starch Madness" (all credit is due to Eric for that one) and our password was "tatersgonnatate." I included that in the invite, along with this fantastic gif: