Among Dallas's and my many fun activities last weekend, one of the things we did was go to The Met for the exhibit Death Becomes Her: A Century of Mourning Attire. This exhibit was actually a big part of why Dallas scheduled her trip when she did. I find funeral history pretty fascinating, and the exhibit's focus on women made it particularly appealing to both of us.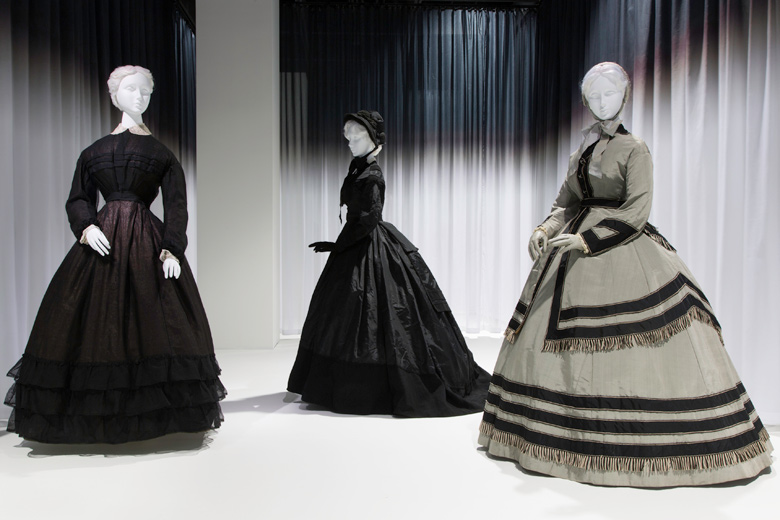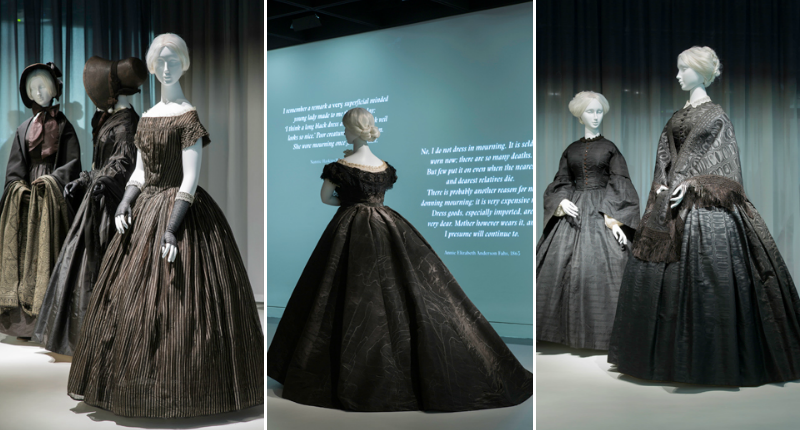 While the collection was beautiful, the exhibit's execution left a lot to be desired. The space was really tight, so people were constantly backing into each other and Dallas and I both felt really rushed so we could get out of the way. The low lighting caused shadows to cover the text that explained each gown, making it nearly impossible to read. (What we did learn, we gleaned from speed-reading and from the photos we were able to snap of some of the explanations.) The lighting also caused people to cast shadows over the quotes about mourning attire that were being projected onto the walls throughout the exhibit, thus making them pretty much useless. It was really, really frustrating, and by the end we just wanted to get the hell out. I wish they had made people make reservations for the exhibit, which would have limited the amount of people in there, cut down on the shadow problem, and helped us feel less rushed.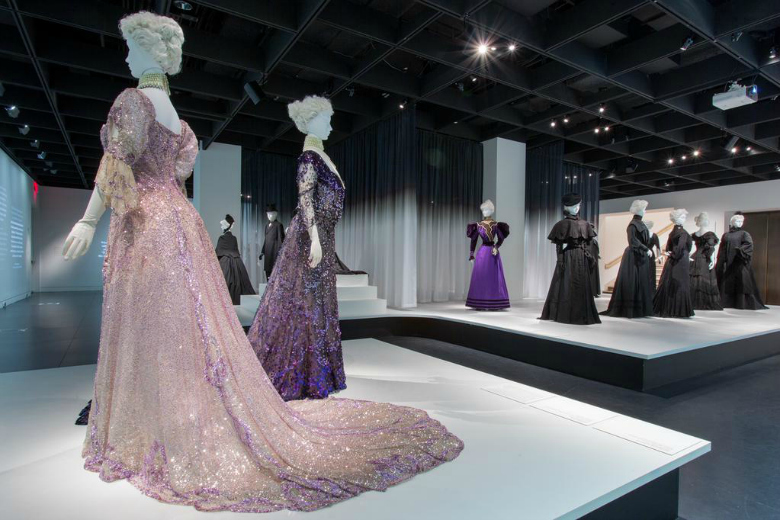 That said, the dresses were great. There were day dresses, evening dresses, and a wedding dress, and every single one was in amazing condition; they definitely didn't look like they were more than a century old. (If someone had told me they were just made as costumes for a historical drama, I would have believed them.) I would have loved to learn more about how the gowns were likely preserved. (Most were from the mid 19th century and were donated to museums in the 1950s, which left us wanting to know the stories of who was saving them, how, and why.)
We also couldn't get over how petite the mannequins were (and we heard other people talking about this as well). You always hear that people were smaller back in the day, but this was the first time I really understood how that would look. It wasn't just that they were thinner or just that they were shorter; it was like everything had been reduced to 75 percent of the size we're used to.
The mannequins' silvery-white wigs were also really beautiful and added a haunting and elegant vibe to the whole exhibit.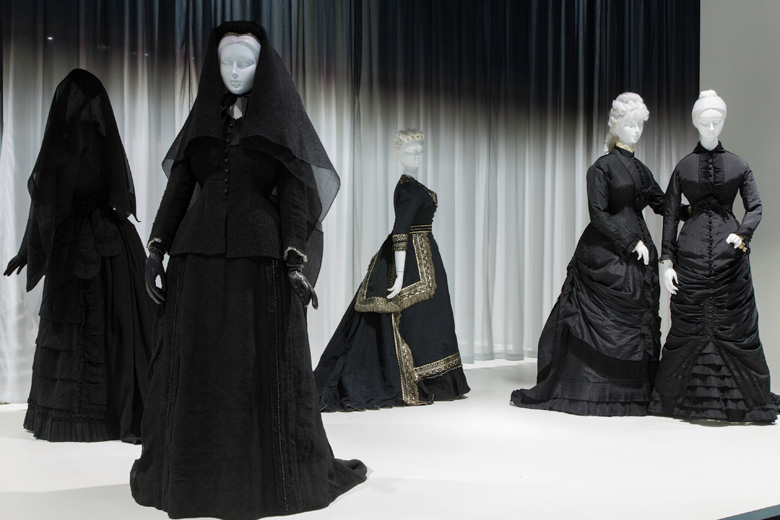 And what we were able to read about the gowns was really interesting. One of the things I found most interesting was how mourning attire was an outer representation of grief that lasted for much longer than we really allow people to grieve today. I mean, can you imagine a woman who had lost a loved one wearing black every day (accessorized with a few pieces of hair jewelry) for more than a year in modern times? Like, HR would probably get involved at some point.
(All photos via The Met)