Well, we made it!
Last week was…about like you'd expect when you move across the country in the winter to an apartment you've never seen in person in a neighborhood you've never been to with just four suitcases.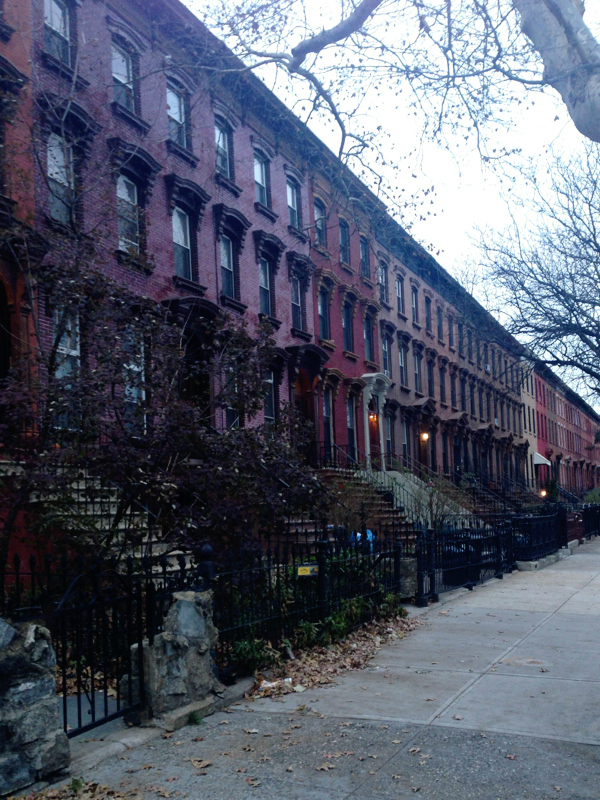 Actually, it wasn't that awful! Here are some of the more memorable moments…
Tuesday
After a full day of flying, 45 minutes in a cab to the apartment, and nothing but airplane snacks as fuel, we take a cab to Ikea, arriving around 8:15 (they close at 9:00). We proceed to haul ass through the store; our main goal is getting a mattress—the one thing we really needed this first night—but I had hoped to grab a few other items while we were there. We get dishes, silverware, a shower curtain (but no shower curtain rings)…and then kind of say "fuck it" and just grab the mattress. After waiting in line (sorry, ON line, we're in New York now) for another 40 minutes, we load the mattress into a van cab and head back to the apartment. I order a pizza from my phone while we are en route.
Once we arrive at the apartment, we have to get the mattress up the steep-ass stoop (SAS). Before I even know what is happening, Eric has lifted the mattress up onto his shoulder and is hauling it up the stairs like it's no big deal. I follow with the rest of our Ikea haul, looking at him like I am Michelle Duggar and he is Jim Bob. He is modest about it, saying it was his "mother lifting a car off her child" moment.
Our bed frame arrived earlier in the day, so we assemble it and throw the sheets and mattress on while we wait for the pizza to arrive. We realize that even though I double-checked (I SWEAR I CHECKED), the duvet I grabbed at Ikea was for a twin bed. So…great.
The pizza arrives and we eat it in bed; I cannot overstate how wonderful this pizza is.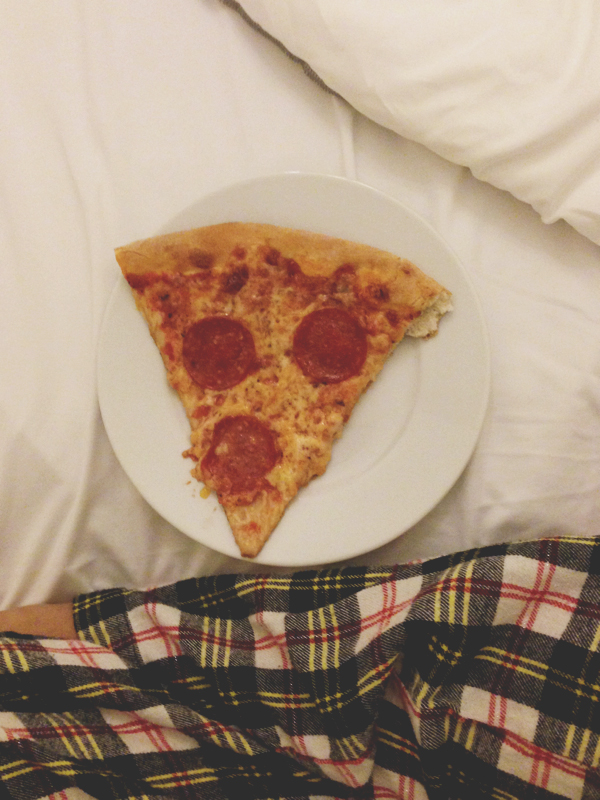 Once our blood sugar begins to return to normal, we are able to marvel at the apartment we are inhabiting. The photos and video we saw before signing don't do it justice; it's so, so lovely in person.
Wednesday
When I was packing for this trip, I put toilet paper in one of our bags. Then I took it out at the last minute in favor of a pillow. So the first thing we do on Wednesday morning is walk to a bodega to buy toilet paper; up to this point, I've been relying on sheer willpower to not have to pee.
We head out in the freezing rain to go to Target for some essentials, including a trash can and bags, shower curtain rings, a queen-size duvet (there are none), and toilet paper that isn't sandpaper. I use Uber to get a cab home; somewhere between trying to get the driver to see me standing in front of Barclay Center and hauling all the stuff we bought up the SAS, I lose the toilet paper.
We have the same Uber driver take us to one of the furniture stores where we had planned to look for a new couch. We like one but we don't pull the trigger, and after we leave we decide to go see if there are any decent furniture options (and a damn queen-size duvet) at Home Goods. After so many pricey cab rides, Uber surge pricing, and the lack of cabs available, we decide to just walk to Home Goods. For 30 minutes in the freezing rain. Without umbrellas.
My new winter coat and boots prove they are worth every penny during this walk. But the walk is still kind of a low point, especially for Eric, who was just not dressed for that weather. Miraculously, we do not turn on each other during this walk, or at any point during what was a pretty tiring day.
After another trip to Target (I mean, it was right next to Home Goods…) and a lather-rinse-repeat on the whole cab hunting in the freezing rain thing, we make it back to the apartment and vow not to leave until Friday.
Thursday
We hunker down in the apartment on Thanksgiving—our main activities are unpacking and scoping out deals online for some of the other things we want to buy. It is at this point we start burning through data on our MiFi and phones so quickly that we have to start rationing it, as each additional gig costs $10-$15.
We have a Stouffer's frozen lasagna as our Thanksgiving dinner, which is just fine with me.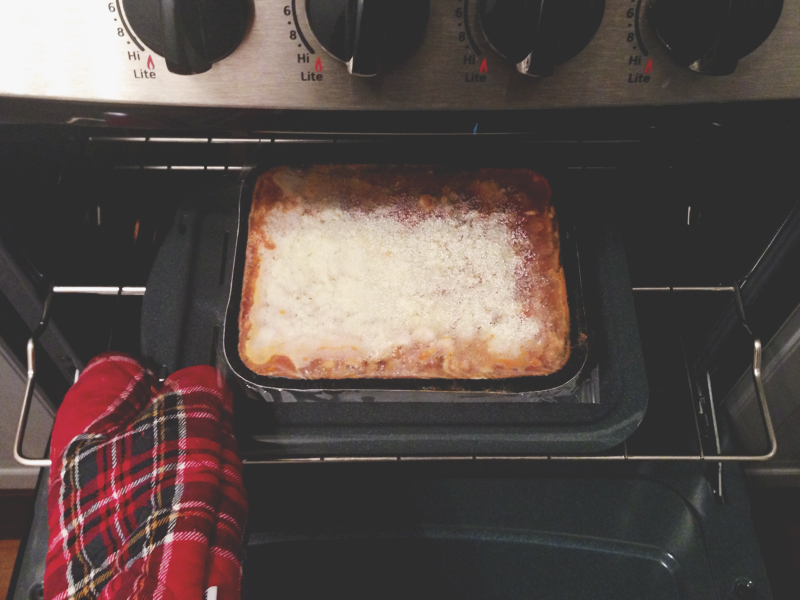 I'm thankful for a lot of things today, but mostly thankful that Eric is here with me and that he's being all kinds of wonderful.
Friday
We get up early today so we have more time to get things done. We take the train to Jennifer Convertibles, where the couch we like is on super sale, and then walk to Macy's to look at the other couch we're considering. At this point, I realize the couches are to Eric what the winter boots were to me…he's putting too much thought into researching different options and is unable to make a decision on anything. Because Eric is worried about what chairs we'll pair with the couch, we walk to Target to look at their arm chairs, but none of the ones that were online are in the store. We get drinks at the Starbucks in Target and take a minute to regroup; finally, I make the call that we should go with the couch from Jennifer. It's comfortable, it's affordable, it's great. We walk back to Jennifer to buy it and find out that it won't be delivered for a month. We go back to Macy's. 35 minutes on the phone with Chase Fraud Protection later, we have a couch that will arrive in a week.
We decide to get a pair of armchairs from Ikea to go with the couch. Because it's pretty nice outside and we're appropriately dressed for the cold, we decide to just walk to Ikea. It's a 45-minute walk, but it ends up being my favorite part of these first few days. It's nice to explore Brooklyn—where I've spent literally no time before this trip—and chat.
We get some of the things we missed during our first trip to Ikea, along with the chairs. The chair boxes are massive. Luckily, they fit in a van cab. But this time around, there is no way Eric is hauling them up the SAS without me. We do it together…barely.
It's just about 1:00. We're pretty much done for the day.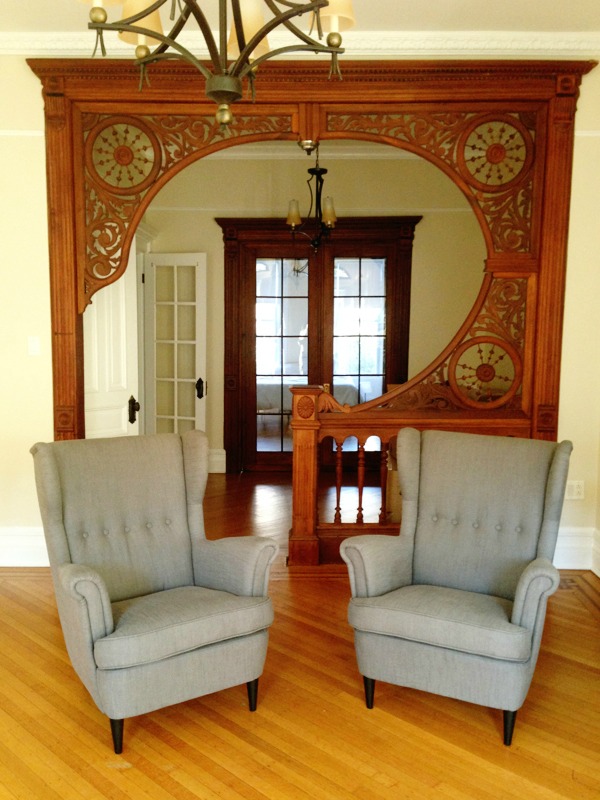 Later: Our new headboard arrives via FedEx and we try to attach the brackets (which I purchased separately) to the bed frame to the headboard. It is a total shitshow, but after some hammering, we have a fully-assembled bed. I am not sure it's completely secure, but whatever; I love gentle lovemaking!
Saturday
Our first order of groceries is delivered.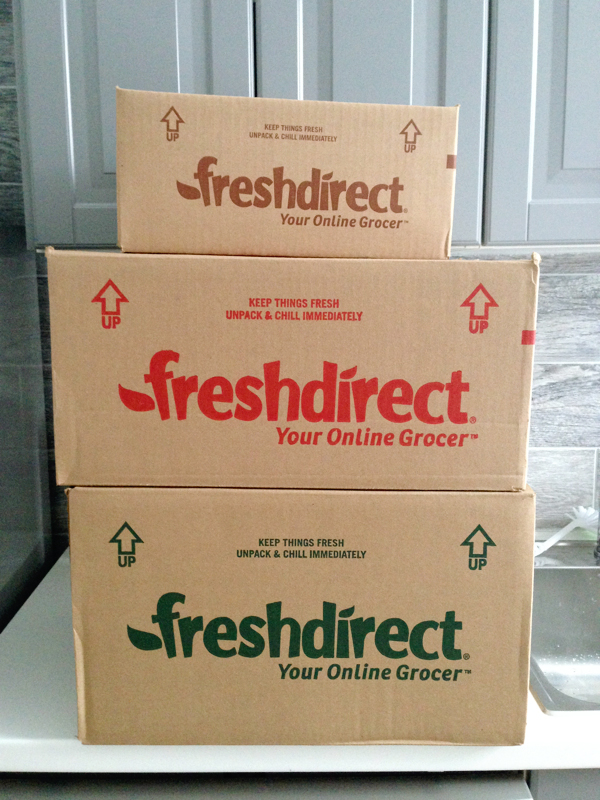 I go back to Target and get the good toilet paper. Fucking finally.