Last week, Eric and I celebrated two years of living in our house. Some days it feels like the house has come a long way, and I'm really happy with our progress. Other days, I feel like our wish list is still so long, and we're never going to be able to do everything we want to do. The reason we've been able to come as far as we have, though, is the fact that we furnished a lot of our house with Craigslist finds. When we started planning to move, we knew the house was a lot bigger than our apartment and we didn't have anything to put in all the rooms. And further, we knew we couldn't afford to buy that much new furniture. So! To Craigslist we went!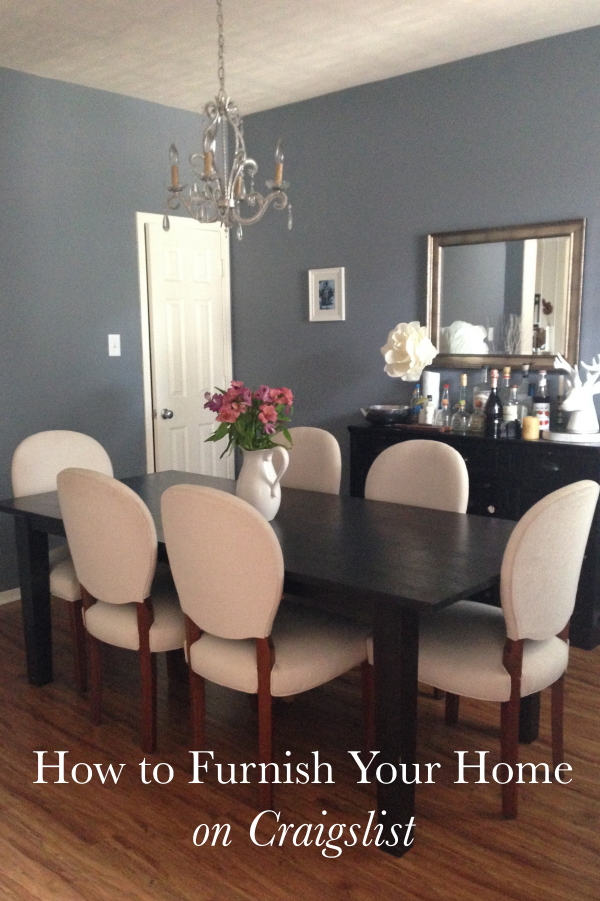 Well, actually, to Craigslist I went. Eric didn't have much faith that we'd find anything there, but he came around when he saw how much cool and affordable stuff I was able to find. Now he's a total convert.
Here are some of the things we've purchased via Craigslist:
7-ft West Elm dining room table
Six white chairs from Z Gallerie (the legs of which we never quite got around to refinishing as planned…)
Pottery Barn bar/wine cabinet
Two desks (one amazing green vintage one and one from IKEA)
Queen-size bed frame, mattress, and box spring for the guest room
Not bad, eh?
If you find yourself in need of new/extra/affordable furniture and want to give Craigslist a try, here are my best tips.
1. Know what you're looking for. While Eric seems to enjoy just browsing furniture listings on Craigslist, I prefer searching for specific items. (If I'm going to just browse Craigslist for a few hours, I'm going to look at a far more interesting section than the furniture, you know?)
2. Search often and don't delay on messaging sellers. People who are selling typically want to sell, like, now, and things tend to go up and get sold very quickly. When we were in the market for our dining room furniture, we checked for new listings every few hours on Saturdays and Sundays. I was always surprised by how often new items were listed, and how quickly we received responses.
3. Search for specific brands. I think this is one of the reasons I've been able to find such good stuff…while you certainly may stumble across a dining room table from Pottery Barn if you simply search for "dining room table," you might have to go through eight pages of tables that don't interest you to find it. Whenever I was on the hunt for a piece of furniture, I searched for Pottery Barn, West Elm, Z Gallerie, World Market, and Restoration Hardware to help surface the sort of things I was wishing I could buy new.
4. Search for specific items. This is especially helpful if you're looking for something from IKEA, because there might be hundreds of listings for "IKEA bed." Instead, search for "IKEA Hemnes queen bed " if that's the one you want. It's not foolproof, but I've found that most IKEA listings include the actual item name. And you just might get lucky and find item by name from other brands.
5. Search for alternative spellings. You may know you want a wrought-iron bench…but the seller might list it as "rot iron" or "wraught iron." Also try searching related words (e.g.,"vintage" and "antique") to make sure you don't miss anything.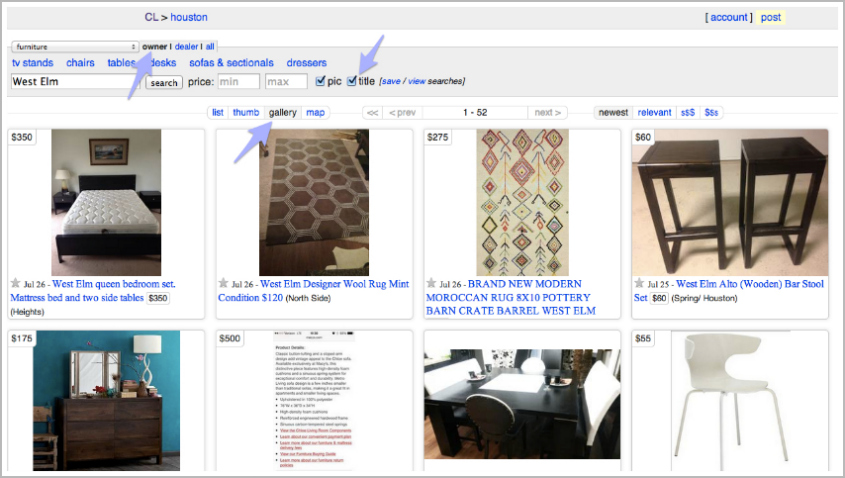 6. Filter your search results by owner to eliminate obnoxious dealer listings. You might find dealer listings relevant, but I find them to be really annoying to sort through (SO MANY CAPS AND EXCLAMATION POINTS!! HUNDREDS OF BOLD CLAIMS!!!) and not at all helpful when I'm searching for furniture. (On the other hand, they are fine when looking in the antiques section.)
7. If you're searching for a specific brand, limit your searches to "title." I've found that a lot of people will list a bunch of brands in the listing and say their piece of furniture is "Pottery Barn West Elm Restoration Hardware style"…which might be fine, but I've never found these types of listings to be very legitimate. Some people still use this technique in the title, but it's far less common (and easier to spot).
8. Don't just limit yourself to big pieces. Smaller items like lamps, dishes, mirrors, and kitchen appliances can be found in the household section for really cheap.
9. Use the gallery view when looking at listings. I discovered this option way late in the game, but it's so helpful. Had I discovered this sooner, I'm pretty sure I'd have even more great CL finds to my name.