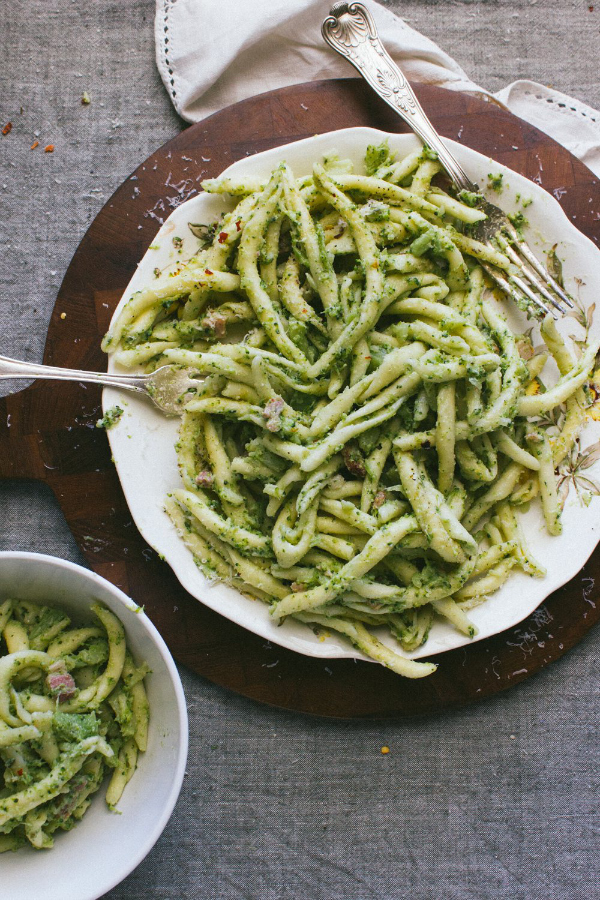 It has been so long since I shared our weekly meals, and while you haven't missed much (we've definitely had cereal for dinner more than once in the past few weeks), there have definitely been some meals worth sharing. So before I get back to posting our weekly meals and recipes next week, I figured I'd share the best weeknight dinners from the past month. Here were my favorites:
Pasta with Broccoli and Bacon Sauce. This recipe (which I made more filling by adding the perfect chicken) blew me away. I was expecting it to be, like, fine…but it was really good. (It reminded me a lot of carbonara.) I actually ate some of the leftovers for breakfast the next day. (Which is…maybe why I ended up eating cereal for dinner?)
English Muffin Pepperoni Pizzas. Eric described this recipe as "a pain in the ass." I don't know what made it such a pain, but I do know that the smoke detector went off three times when he was making the pizzas. They were pretty yummy though, and the leftovers were good too.
Skillet Lasagna. This was a somewhat involved recipe but it wasn't particularly hard and turned out really well. I'd make it again.
Honey Chipotle Chicken Bowls. We made this chicken perfect-chicken-style (I knew it would never cook through if we did it on the stove top) and had it with brown rice, sour cream, salsa, and guacamole. It was a good dinner but it was a great lunch.
Breakfast (or Dinner) Tostadas. I had never had fresh tortillas before trying this recipe, but I'm glad we upgraded! (Fresh tortillas also smell exactly like popcorn when they are in the oven, which was a little weird.) I made two tostadas each for Eric and me but one each would have been enough; this recipe was so filling.
Eric went to the grocery store last night and I'm feeling really good about our groceries for this week…we're trying some new recipes and there's no cereal on the dinner agenda. I'm off to make some baked ziti now!