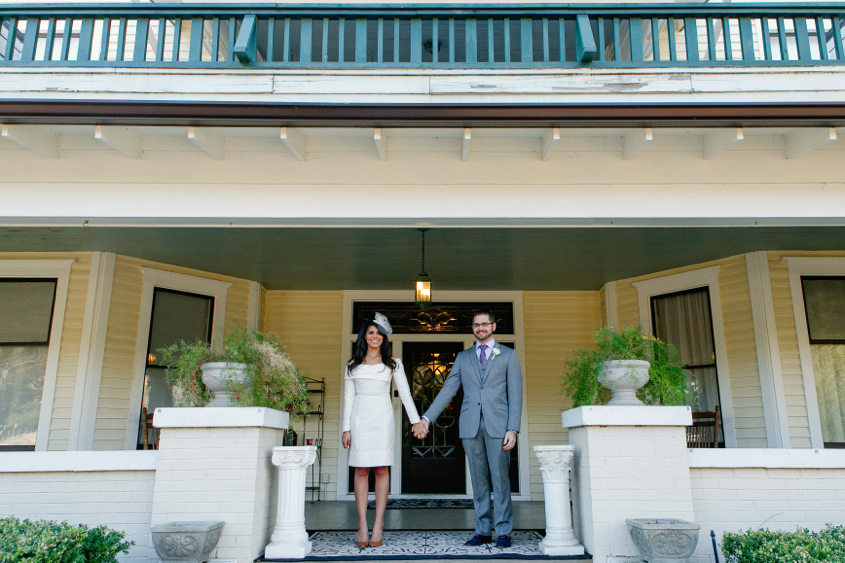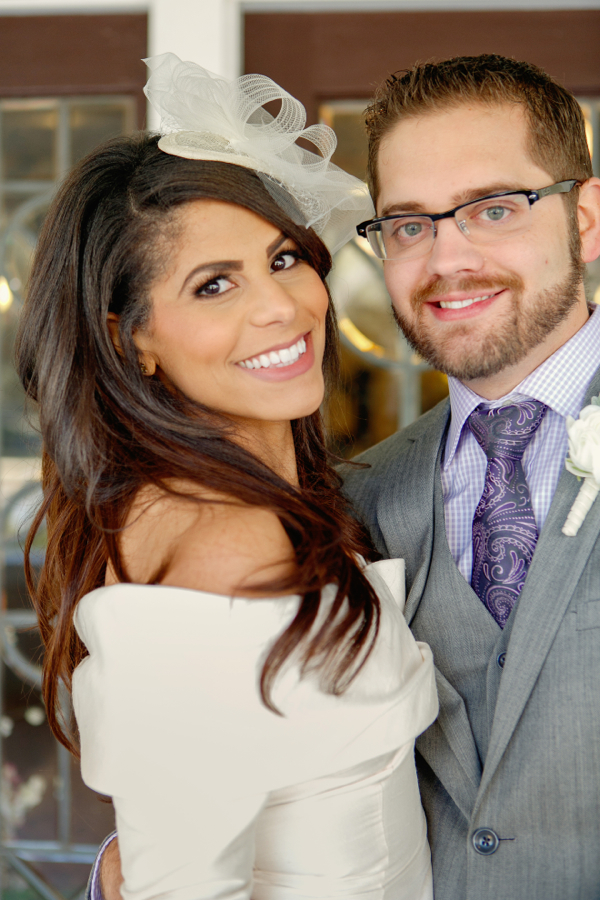 After our first look, we took pictures with the bridal party at the bed & breakfast.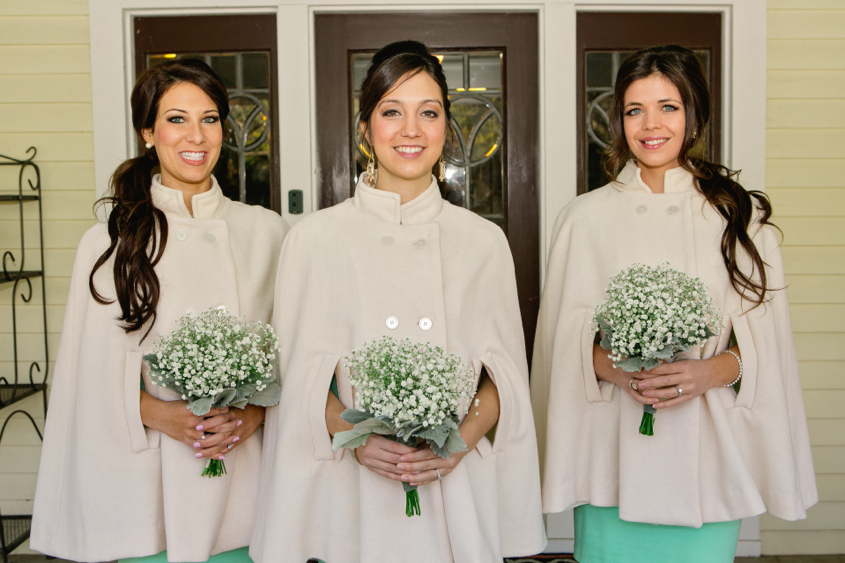 I was worried it was going to be really cold the morning of the wedding, so I asked my grandma to make capes for my bridesmaids to wear that day. I found a vintage pattern on Etsy and my mom texted me a photo of the fabric she chose for it. For some reason, I thought they were going to be camel-colored, but they were actually ivory…which I loved. They had this chic Olivia Pope thing going on! Plus, it cold enough that they really did need the extra layer.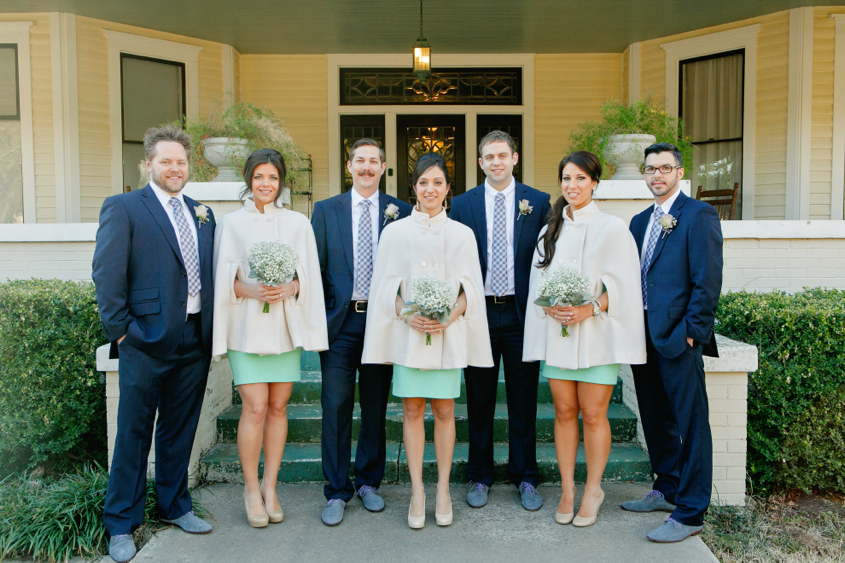 Eric's groomsmen wore navy blue suits, white shirts, and lavender plaid ties. Getting the ties ended up becoming a huge pain in the ass because Eric waited too long to buy them and then they were sold out, but my mom actually saved the day went to two Macy's and called a third and had all the ties shipped to us. The groomsmen's gray shoes were another huge ordeal. (Actually…all of the menswear for this wedding, including Eric's outfit and shoes, was a huge ordeal. I never want to shop for men's formal wear ever again.) But it all came together and I thought they looked great at the wedding.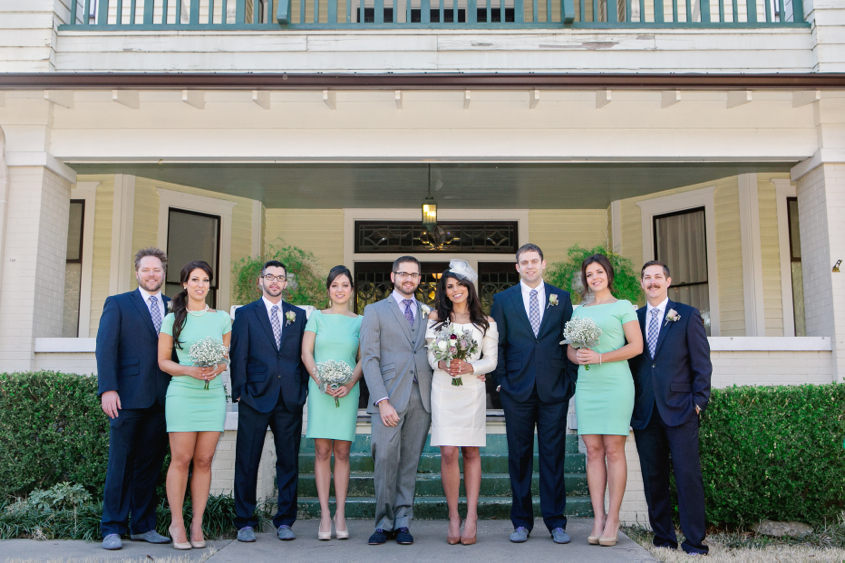 The bridesmaids dresses came from Banana Republic. When I came across them at the store last spring, I tried one on and loved it (mint green is my favorite color), so I sent a photo to the ladies for approval. They all liked it, and were able to use coupons/take advantage of Banana Republic's sales to get the dress at a good price. (I actually own the dress too, in the mint green as well as navy.) They wore the dress with their own jewelry and their own nude shoes.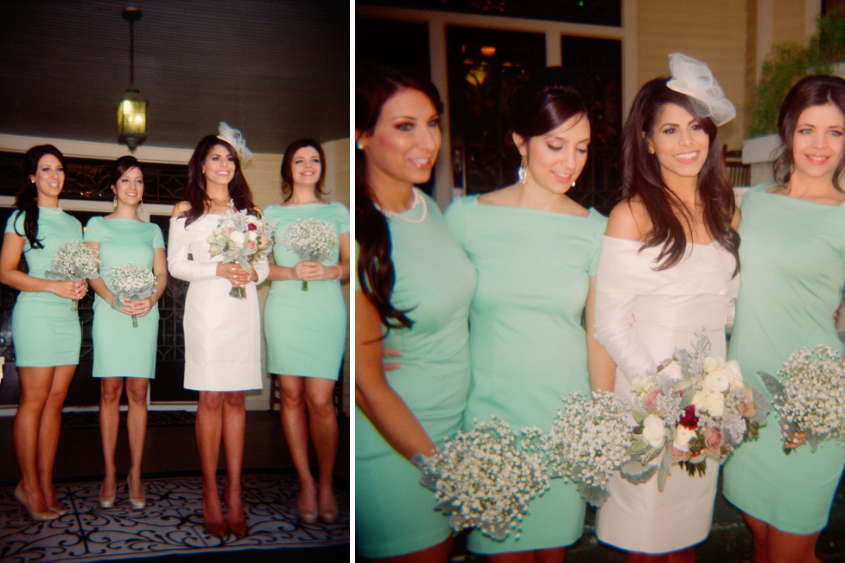 I didn't think I cared very much about wedding flowers until I came across an amazing winter wedding bouquet online last year and suddenly found myself really wanting a bridal bouquet. I spoke to a few florists, but it was clear that Melanie at Last Petal could get the job done and could work with our small budget. She suggested baby's breath bouquets for the bridesmaids, a look I started to see regularly at work last year. The white baby's breath really popped against the white dresses and ivory capes. She also suggested amnesia roses for the groomsmen, and ranunculus for Eric. At the last minute, we added pink a rose boutonniere and corsage for Jordan and Lauren, respectively. We didn't do any flowers at the courthouse or the reception.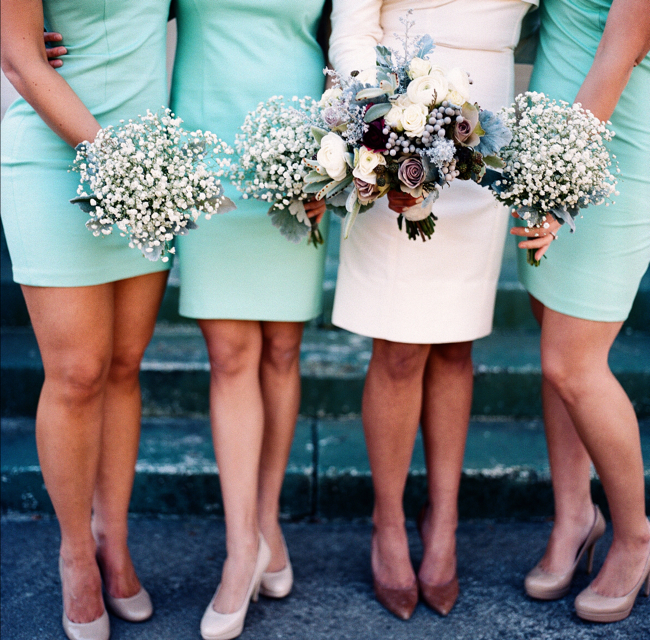 I thought all of the flowers looked great…and my bridal bouquet, which was wrapped in white faux fur, was everything I had hoped it would be.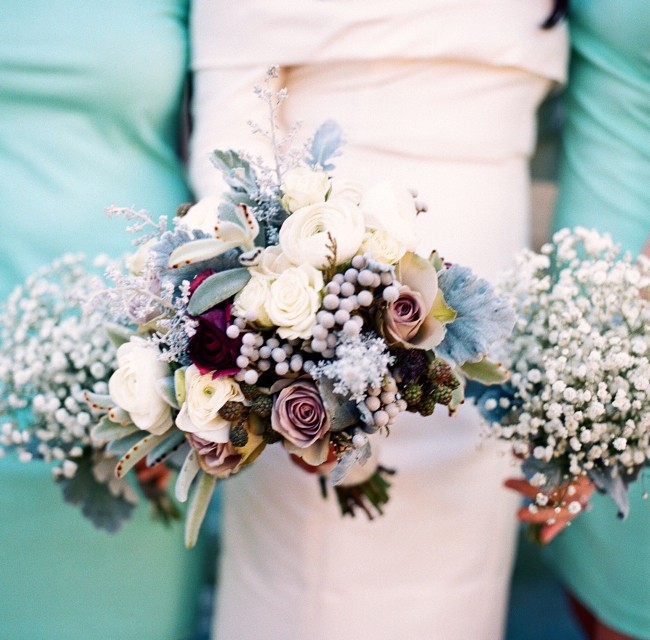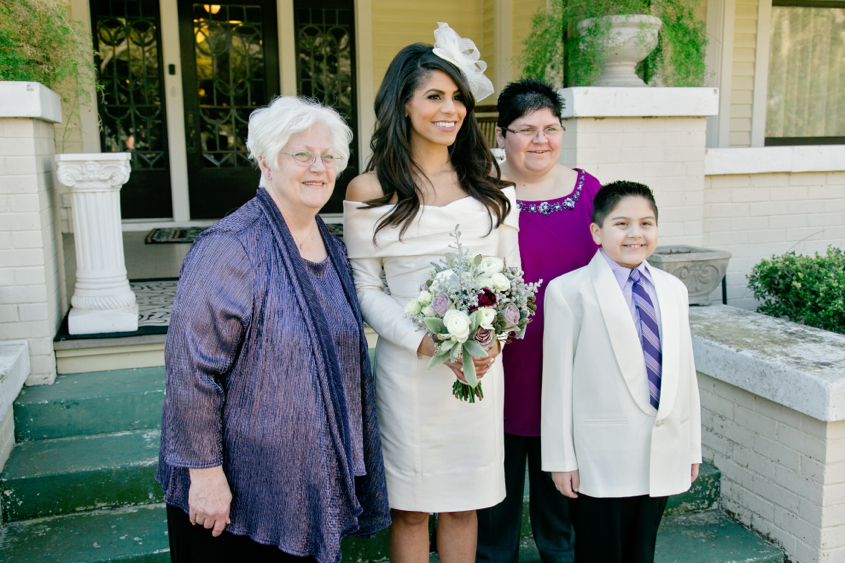 At this point in the morning, everything was going perfectly. We were on time, the weather was amazing (though a bit chilly, which was fine by me). People often describe their weddings as "surreal," but in the moment, it didn't feel particularly surreal. I felt very…grounded. Like, Here I am taking photos with my friends. Here's my family and here's Eric. These things all felt very normal and I could process them. But the external things—the crisp air, the perfect morning sunshine, the charming bed & breakfast, my great hair day—felt so beyond perfect, it did sort of feel like a dream.
That feeling intensified when I finally got to see my real bit of wedding magic: the car.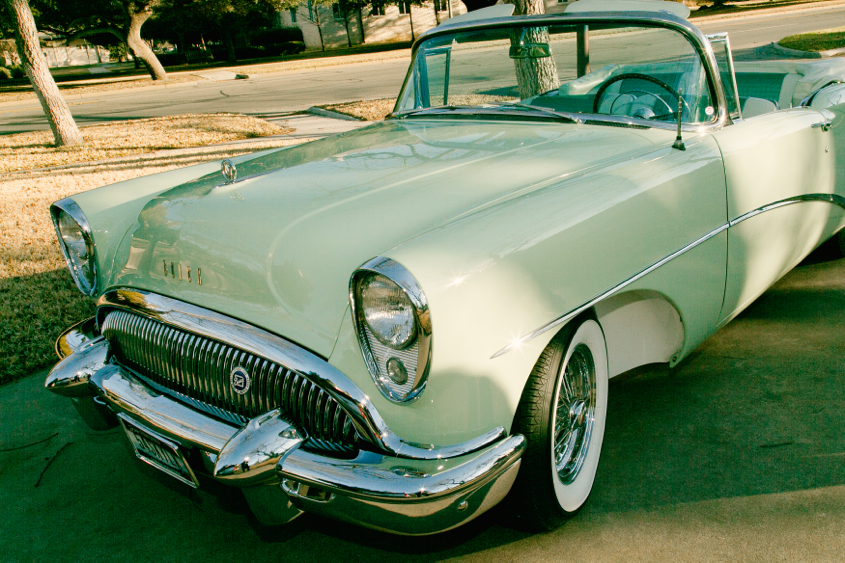 That this car came into my life at all is pretty ridiculous. One day last spring, I was messing around and looking at wedding stuff on the Internet, as I am wont to do, when I thought to myself, Wouldn't it be amazing if we could rent a vintage car for the wedding? Like…a mint green vintage car!? I did a little research on vintage car rental near Austin but came up empty-handed. A few hours later, I came upon a wedding shoot on Style Me Pretty that featured…a mint green vintage car. And…it was shot in Austin.
WHAT.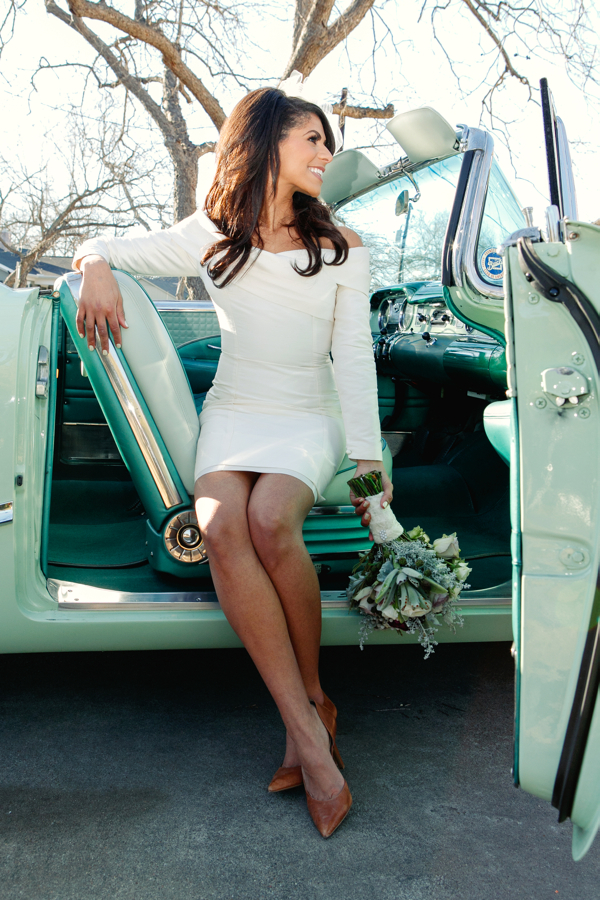 The post didn't list a car rental company, so I emailed the photographer to ask about it. She said the car belonged to a friend of hers and introduced me to him via email. Then I basically sent this complete stranger an email introducing myself and asking if, um, he'd be willing to give us a ride on our wedding day. He was very nice but told me that the car is extremely rare and valuable, so he doesn't drive it into Austin because something could happen to it in the traffic. The only reason he did that shoot, he told me, was because it was in Georgetown. I was bummed but totally understood. It was too good to be true.
Later that night, I told Eric what had happened and he said, "Did you tell him we're getting married in Georgetown?" Because while we always thought of our wedding as an Austin wedding, the ceremony was actually in the small town of Georgetown, about 30 minutes north of Austin. And no, I hadn't told him that.
So I emailed him back and explained it was totally cool if the answer was still no, but asked if he'd be willing to drive us from the bed and breakfast to the courthouse in Georgetown (about a mile drive). And…he agreed!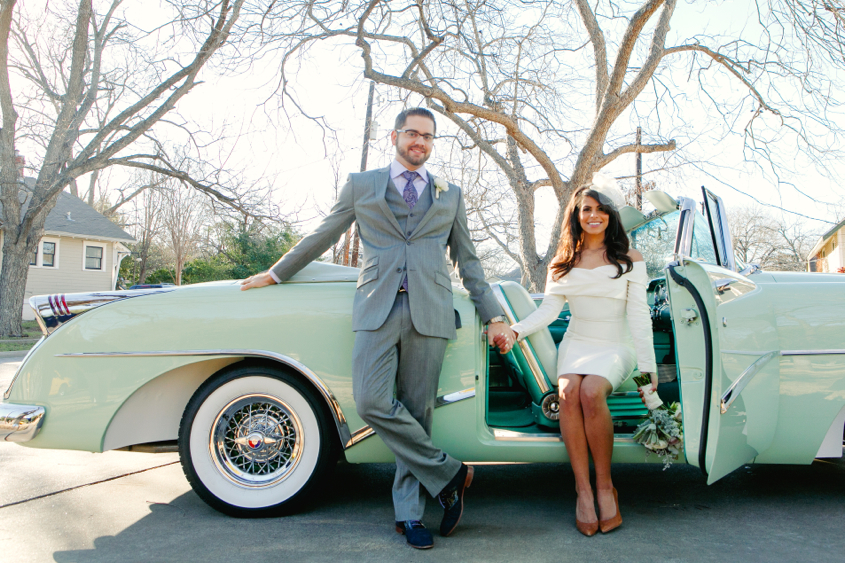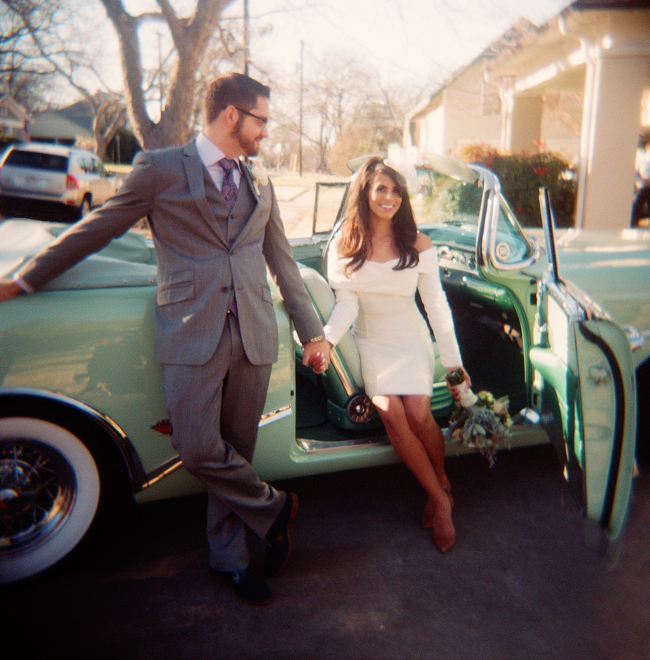 Even after he said he'd be happy to do it, the car was the one detail I honestly just didn't think was going to happen. It just seemed like such a crazy stroke of good luck that I didn't want to get my hopes up. Like, this total stranger was just going to show up on our wedding day and drive us around in his car for a little while? No way that was going to happen.
But he totally came through, and was so nice about it too! (He would only accept a donation to the local car's club scholarship fund from us.) And that car…Oh. My. Goodness. I've really never seen anything like it. It was in perfect condition; the exterior was the creamiest, most beautiful shade of green, and the interior was so fresh and immaculate and just…cool. I still cannot believe it all worked out and that we got to ride in it. It's amazing that a total stranger could be so generous.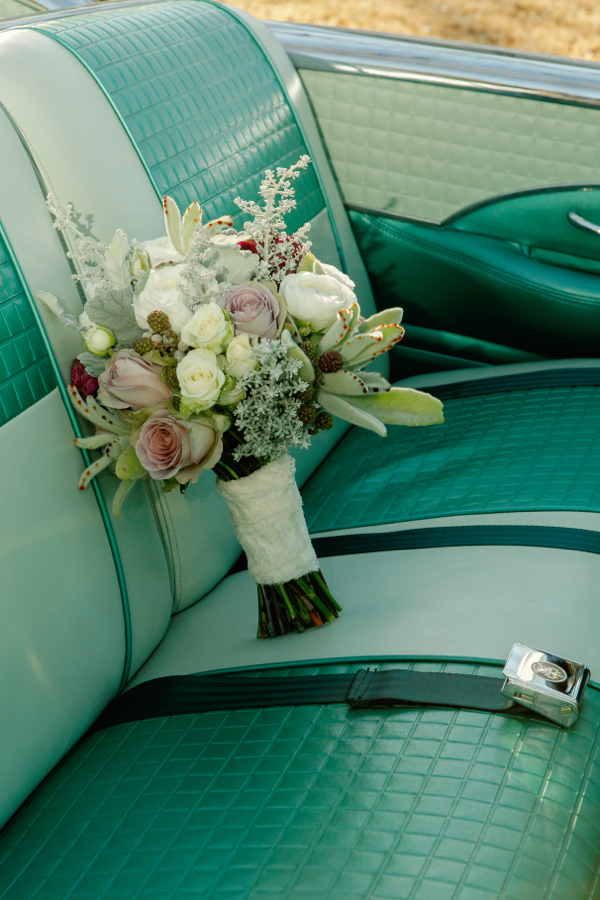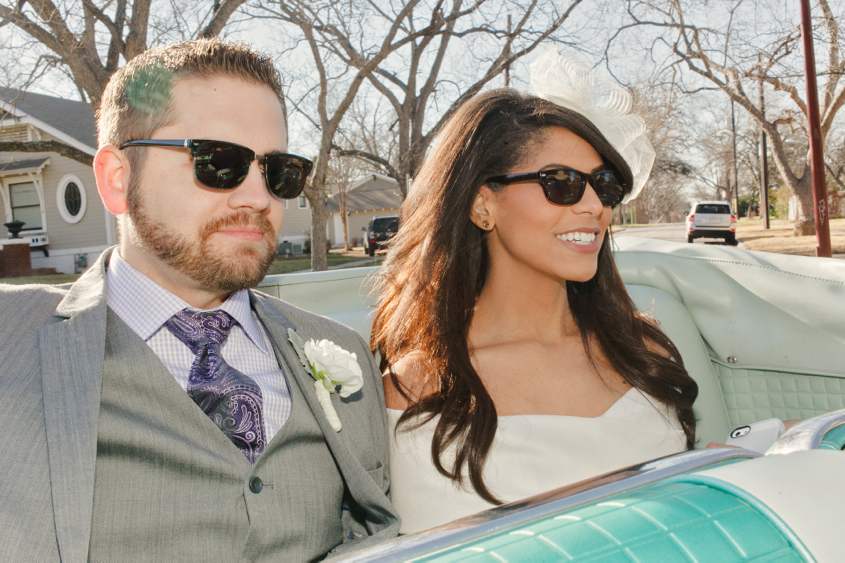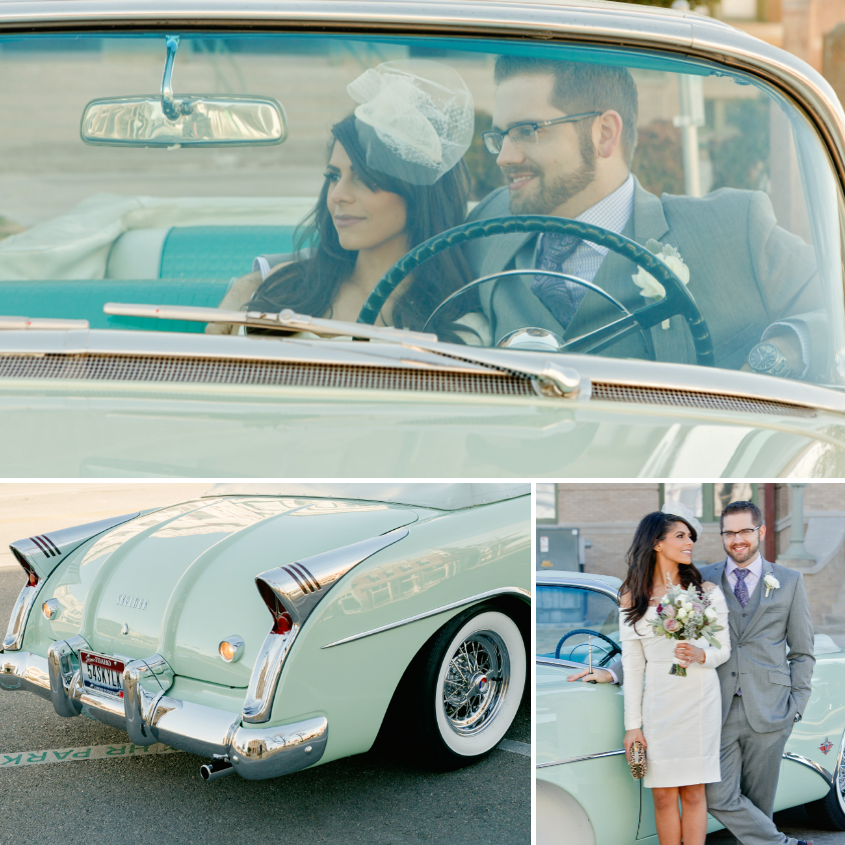 After we headed to Williamson County Courthouse in our fancy ride, we took more photos. The historic courthouse sits in a lovely town square and is surrounded on all four sides by…Main Street, USA, basically.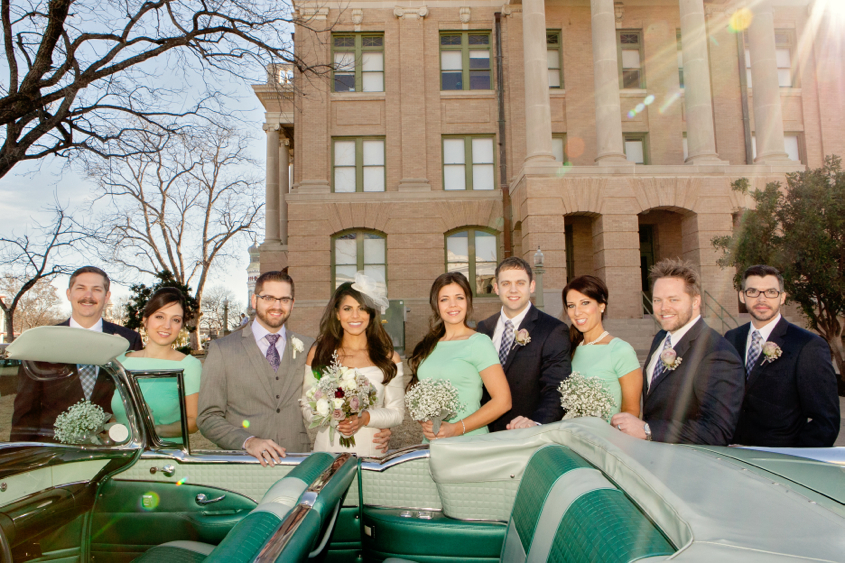 It was all so perfectly quaint and lovely, I felt like I was at Disneyland or on a movie set. It just didn't feel like real life.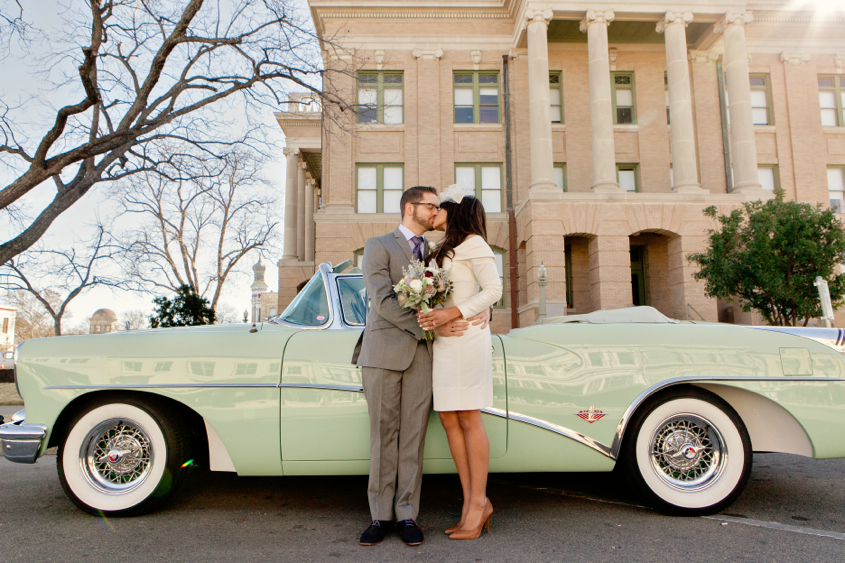 We could see our guests starting to arrive, so after we finished our pictures, we headed inside to wait for the ceremony to begin.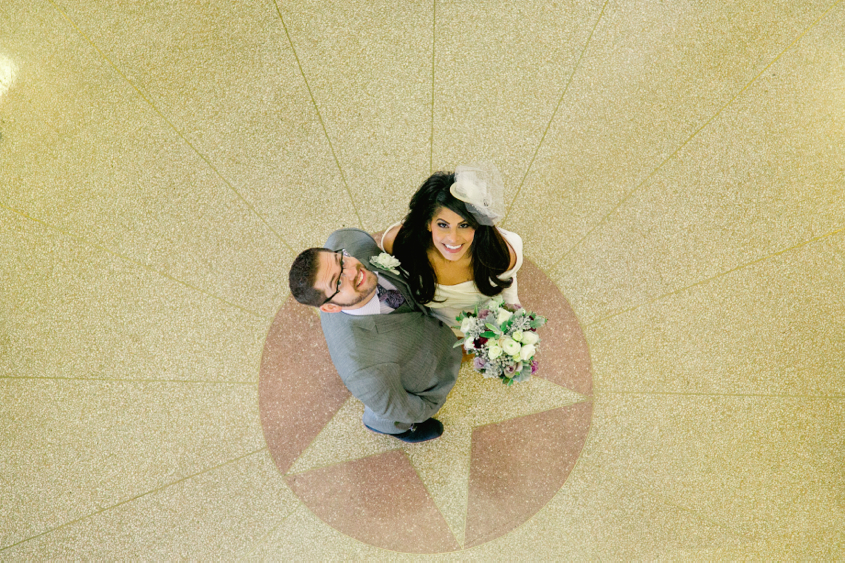 All photos by Katherine O'Brien Photography. Location: San Gabriel House Bed & Breakfast and Williamson County Courthouse. Hair: Bell Chic. Makeup: Maris Malone Calderon. Eric's suit: Bachrach. Eric's shirt: Thomas Pink. Eric's tie: Geoffrey Beene. Eric's shoes: Florsheim by Duckie Brown via Nordstrom Rack. Groomsmen's ties: Michael Kors. Groomsmen's shoes: Aldo. Florals: Last Petal. Purse: Rent the Runway. Fascinator: BHLDN. Shoes: Jessica Simpson. Dress: made by my grandmother. Bridesmaids' dresses: Banana Republic. Bridesmaids' capes: made by my grandmother.
View the the rest of the posts on our Austin courthouse wedding & brunch reception and get information on all of the vendors we used.