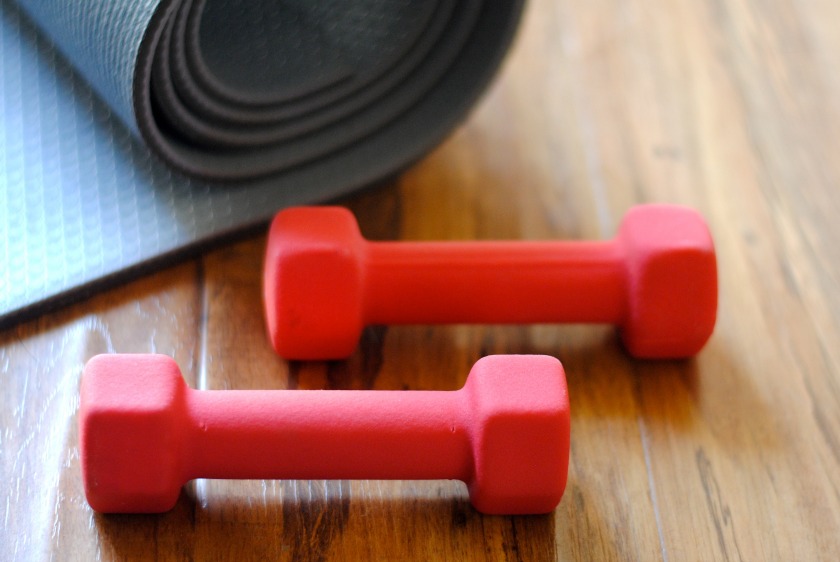 I realized this week that I hadn't updated you on my "fighting shape" workout plan…here's how the final two weeks went!
Week 5
Workout #1: 40 minutes of my Core Fusion yoga DVD + 15 additional minutes of yoga. I bought this DVD a long time ago but I only did it once because it was pretty hard and I didn't love it. But looking for some workout variety, I decided to give it another try…and ended up loving it! It genuinely made me feel energized and just good afterward. Like, happier.
Workout #2: 50 minutes Core Fusion Cardio class from YogaVibes. I knew I needed to mix things up so I decided to try a new CF Cardio class. This class was…kind of a cluster. Initially, I had a really hard time hearing the music, which made it sort of hard to both keep up and to stay motivated. Then I realized that it wasn't just that…it was that the instructor had no sense of rhythm. It clearly wasn't just me who was off…a ton of people in the video were on different beats or turned around. This is a huge bummer because I actually really liked the workout; she cut out a lot of the moves that I think are a waste of time in my preferred CF Cardio class and moved through everything a lot quicker. But…I just don't know if I can handle that total lack of rhythm again.
Workout #3: 40 minutes of Core Fusion yoga DVD. I seriously love this workout!
Week 6
Workout #1: 40 minutes of Core Fusion yoga DVD.
Workout #2: 4 mile walk with Eric and the dogs + 35-minute yoga podcast. It was Thanksgiving morning and there wasn't a whole lot else to do.
I came in short last week…whomp whomp. On the other hand, it was the final week and I initially said I was trying to get back to the point where I was motivated to work out on vacation…and I worked out for more than two hours on Thanksgiving. So. I feel like at that point the plan had worked?
What I Learned
I think I started out a little overconfident by planning to do three workouts a week…and unofficially planning to do a lot of Core Fusion for said workouts. Core Fusion Cardio is just hard, and often left my body very tired, making thrice-weekly workouts a lot more challenging than I had anticipated. A three-times-a-week workout schedule shouldn't be a big deal…but this particular three-times-a-week workout schedule was actually really hard for me. So. I won't make that goal again!
I also realized that I really, really need to be more diligent about adding variety to my workouts…by week 4 I was losing steam because I wasn't changing things up enough. Once I find a workout I like, I get the idea in my head that that's the workout that "counts"…and so then I do it over and over again until I get really bored and then avoid working out altogether. My next long-term workout goal has to have variety built right in.
December goals
Variety is the spice of life! My goal for this month is to work out three times each week (ugh, I realize as I type this that means I should be working out tonight and I just do not feel like it) and to not do the same workout twice in one week. I'd also like to get out of the house and go take some workout classes, but that might not be in the budget so I'm not going to make that an official goal. Still, I'm hoping to take advantage of some free classes around town in December.
How are your workouts these days? Any goals for this month?