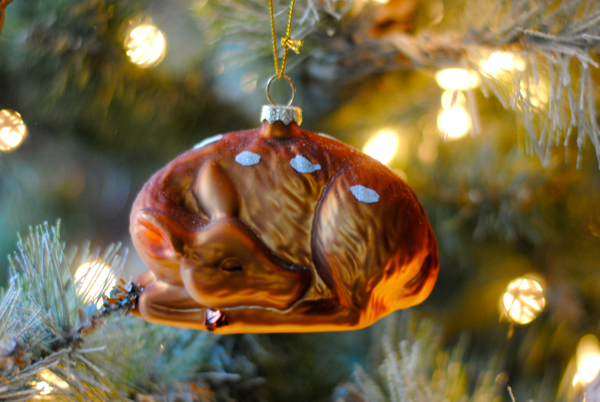 Last night I started decorating our Christmas tree. I was feeling somewhat motivated when we got home from Wichita on Sunday night, so I put the tree up but didn't decorate it. I tend to think of decorating a Christmas tree as sort of an event…something you do while wearing a cute sweater with Christmas music on in the background. It's not something you do in pieces on a weeknight like any other chore. But last night, after doing another atypical weeknight activity (cleaning my bathroom, the motivation for which I can only attribute to the new holiday mint-scented cleaning spray from Target's method brand — it's great!), I decided to start decorating the Christmas tree. I didn't feel like doing the whole thing, but I did put up the new deer ornament, which I came across at JC Penney on Saturday morning. Reindeer have been my favorite holiday decor motif for a while, so I couldn't resist this ornament. I'm also really into these sort of puffy glass ornaments this year; I've never cared that much for them before, but this year, I'm all about them! See also the 12 days of Christmas ornaments I picked up at one of the antique stores we visited on Friday.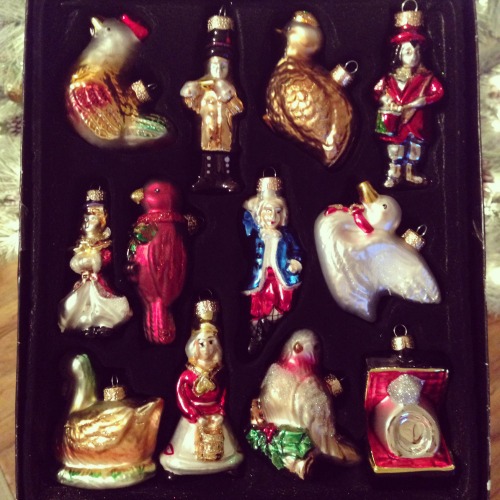 Other things that were on the table last night:
This post from Vulture about all the times Peeta messes up in Catching Fire. I didn't expect it to be so funny but I was actually in tears I was laughing so hard.
December Daily. I'm thinking of doing this this year, after reading about it on A Beautiful Mess. I'm planning to catch up on my Project Life album this month (one of my main plans for the week between Christmas and New Year's) and I was thinking I could step up my game for the month of December. I probably won't do any photo printing or scrapbooking until then, but I think aiming to take a lot of pictures in December would be great. I also downloaded the free My Wonderful Days app last night so I could take better notes on what we do each day, and thus have more to include in my Project Life album. On the other hand, the next few weeks actually might be pretty chill on weeknights, so who knows? Maybe I'll set up all my Project Life stuff and get to writing out physical notes on what I did each day more regularly!
A third little pre-lit Christmas tree that I had no idea I had! Finding it was a lovely little surprise!