So, the month of November totally got away from me and I didn't do much writing or blogging at all. But I'm back for December with regularly scheduled programming…i.e. the daily "on the table" posts I started doing in October! Just like October, I'll always be a day behind, which means today I'm sharing snippets from the holiday weekend.
As I have for the past few years, I spent Thanksgiving in Wichita with Eric's family. Here are some of the things that were on the table during our trip…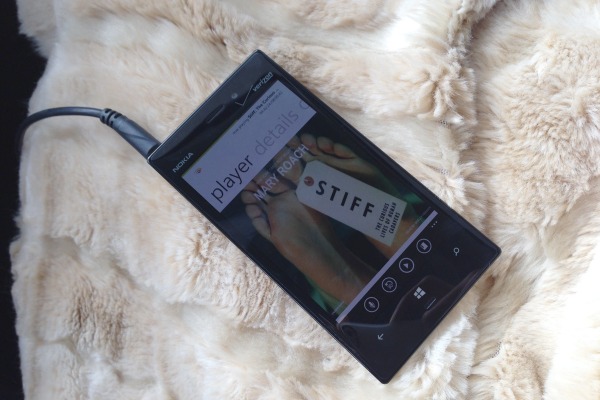 The Stiff audiobook. This is the book that really put Mary Roach on the map; I can't believe it's ten years old! I hadn't realized how long it has been since I read it; most of it feels new to me now. Also, it's way more ghastly than I remembered it. Eric and I had to take a little break after a couple particularly gruesome chapters. (Plane crashes and head transplants.) But it's laugh-out-loud funny and I'm looking forward to reading (or listening to) Gulp soon, which is the only book of hers I haven't read yet.
Catching Fire in the Director's Suite at the Warren in Old Town. This mini theater only holds 20 people and each person gets his or her own personal recliner with a tray (which is handy because you can order a full meal). The setup was legit and I loved the movie. (Much better than the first one, right?!) I also loved this NPR story on Peeta as Katniss's "movie girlfriend."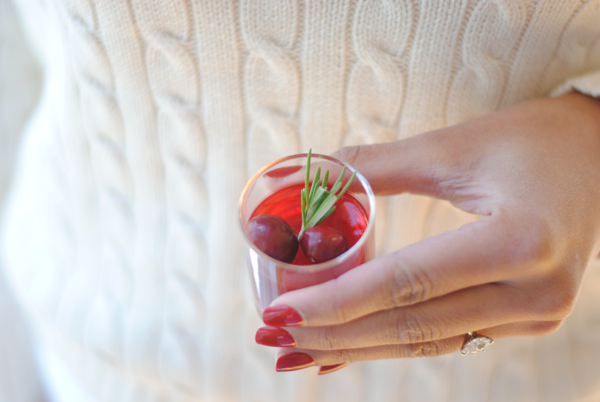 Cranberry Jell-O shots. Make these, you guys! They were so delicious!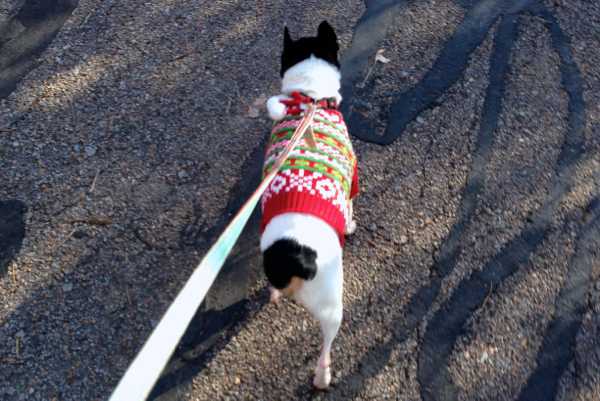 Long walks with our dogs. In newly-purchased sweaters because it was cold as hell there.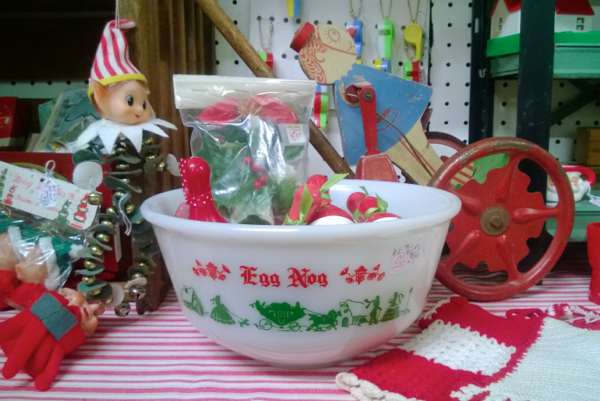 Shopping at antique stores on Black Friday. OK, I'm convinced this is the ideal way to do Black Friday shopping. You get out of the house and get to look at cool things and maybe even buy some gifts at a discount, but you don't have to deal with crowds, totally picked-over stores, or people trying to stab you. We went to a bunch of huge antique stores and spent hours browsing and hunting. It was so fun and I got a bunch of vintage Christmas ornaments!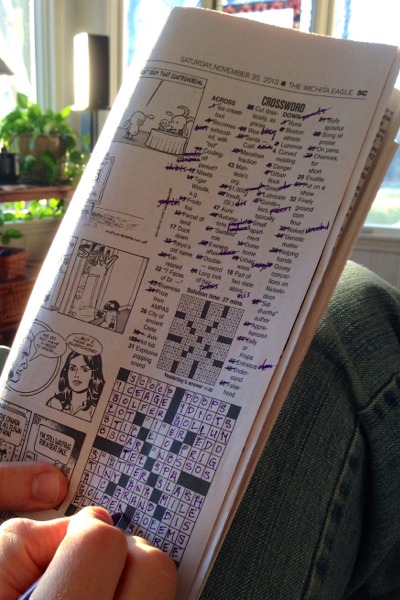 The daily crossword puzzle. Eric's parents still get the newspaper, and that meant a just-challenging-enough crossword puzzle to do each morning! We also worked on the clues for a customized crossword puzzle on our drive home; we're having it made for us via an Etsy seller as non-dancing wedding entertainment.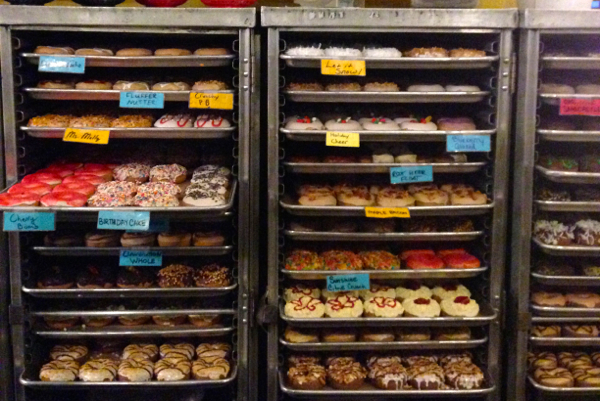 MORE DELICIOUS DONUTS! Continuing with our donut dates, Eric took me to The Donut Whole in Wichita at 6 AM on Saturday morning. It smelled so delicious (I love the smell of freshly-baked donuts!) and there were so many options to choose from. We ultimately went with buttermilk glazed, s'more, maple bacon (!!!), Girl Scout cookie, Fruity Pebbles (also awesome), and the Homer J. When we got back to his parents' house, we cut them into sixths and then each of us had a sixth from each one, sort of like we were doing a beer tasting. Then we each had a bit more from our favorite ones (the maple bacon was the clear winner), and we finished off the leftovers before our drive home yesterday.
So basically, this trip was me saying to Eric, "Take me to wherever the Wichita hipsters go!"
How was your Thanksgiving? What are you looking forward to in December?