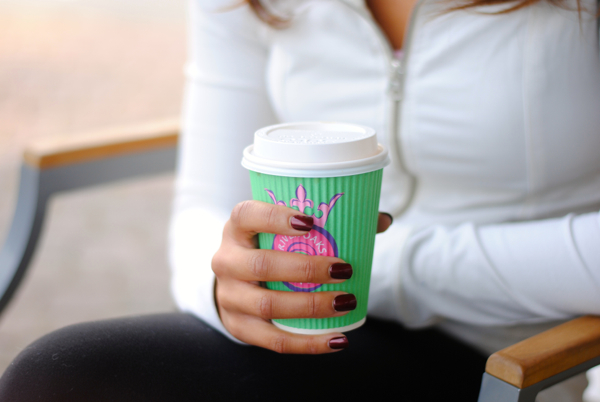 It's no secret that I've been on a donut kick as of late. I don't know why, as I'm really not a sweets-for-breakfast type of person. Actually, I'm not a sweets-for-anytime type of person; I really prefer savory treats. But lately, I just keep waking up in the mood for donuts. I think it's because, unlike a PSL, donuts are a fall treat that I can still enjoy when it's 80 degrees outside. Eric and I were making do with Dunkin', but I had a feeling we were selling ourselves short. So when I came across an article featuring the top 10 donut shops in Houston…I decided it was time to expand our horizons. Thus, a new weekly date was born! Eric and I have been checking out the different donut shops on the list each weekend.
Our first stop was River Oaks Donuts. We went on a Saturday morning before head to the farmers market, which is nearby. It's a tiny but beautiful and modern little shop with a really great menu. The staff was friendly and patient as we contemplated what to order. I ended up ordering a plain glazed donut and a coffee; Eric ordered a blueberry donut (something I had never even heard of), and we got a strawberry donut and a few donut holes to split.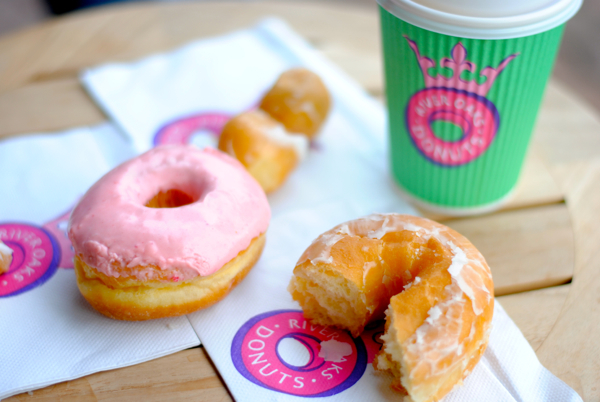 River Oaks is a really nice part of Houston, but the donut shop was really unpretentious (despite the BMWs and Lexuses going through the drive-thru). As we sat outside, we saw tons of dads bringing in adorable kids still in their PJs (there was a sign on the door that said something about kids being welcome in jammies) and leaving with big boxes of delicious donuts. Also, since everyone in River Oaks is so freaking fit, we agreed that on our next stop, we'd be sure to go in workout gear so it looked like we had just done something athletic.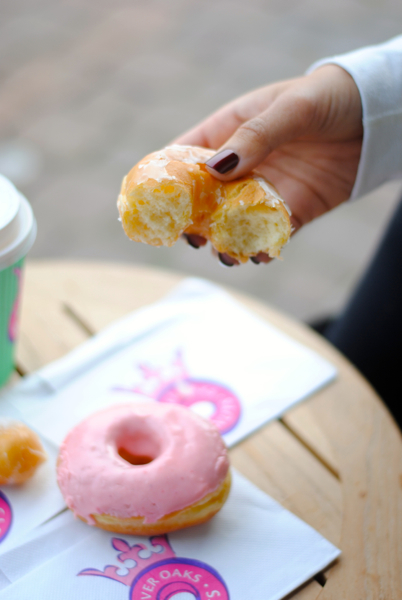 The donuts were really delicious, especially the blueberry one. I loved the location (near Central Market and really good shopping) and the pretty shop, and would definitely go back there regularly.
Last Sunday morning, we headed to the next donut store on our list: B&B Donuts. It's a totally unassuming spot in a small strip in the Montrose area of Houston, and I probably would have never thought to go there if it hadn't been recommended. I was excited about this place because I read that they served other breakfast items; I really like donuts, but I need some savory to balance them out first thing in the morning. We ordered breakfast tacos and then I remembered that the original article said their blueberry donuts were the best. Welp…after not having a blueberry donut in our entire lives, it was time for our second blueberry donut in two weeks! Eric also ordered a bear claw and milk, and I ordered a plain donut and coffee. And they threw in some extra donut holes with our order just because.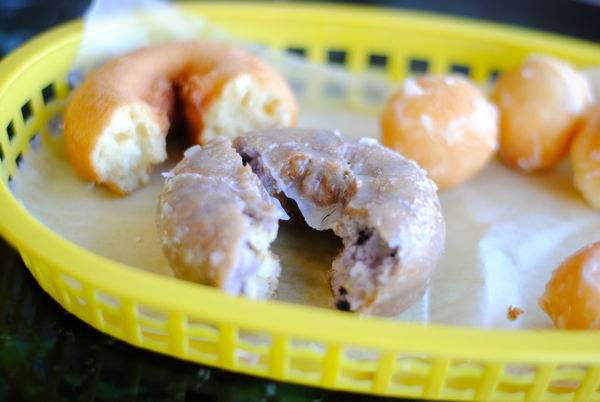 Apparently we weren't the only ones who decided to try B&B Donuts after reading about it in the Houston Press. Not long after we sat down, the restaurant started filling up with people. And I was definitely not disappointed by B&B Donuts! While the blueberry donut was really, exceptionally good, it was actually the bear claw that blew me away. It was perfectly light, flaky, and sweet, and filled just enough with a delicious apple filling.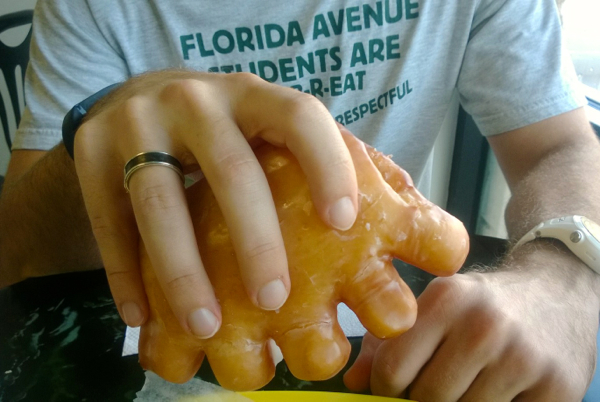 As we discussed the weekend before, Eric and I wore workout clothes this time around so we not only appeared athletic…we could actually go for a walk afterward. While this was a good idea in theory, it was not a great date. It was disgustingly hot and muggy out and we basically melted into piles of sticky donut glaze. So much for my idea of a romantic Sunday morning fall walk.
Anyway, I love non-dinner-and-a-movie-dates, so I've really been enjoying our weekly outing! We're doing our engagement photos in Austin this weekend so I'm not sure if we'll get donuts there or hit another shop in Houston at some point. In either case, I'm excited for our donut tour of Houston to continue in the coming weeks!