Yesterday I left my house at 6:15 in the morning, flew to Charlotte, grabbed lunch on my short layover, flew to NYC, took a cab to the office around 4:00, worked for a couple hours, and then took a long cab ride with all my stuff in tow to the apartment where I'm staying.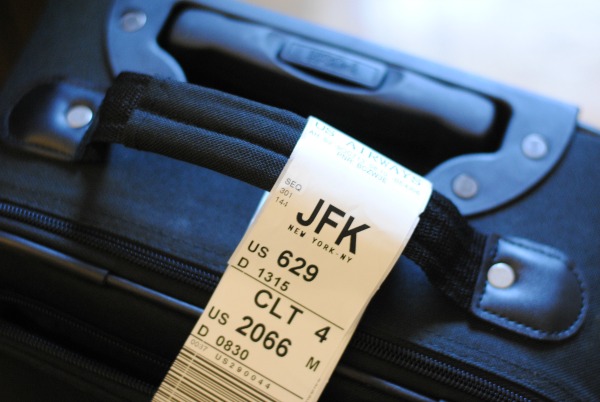 It was a long day, but it went pretty smoothly. The only hiccup came when they wouldn't let me bring my carry-on on the flight because the overhead space was full and they said it wouldn't fit under the seat. I checked and double-checked that I'd be able to get the bag back in Charlotte before my next flight; once that was confirmed, I took out my laptop, iPad, bag of liquids (I usually carry on nail polish because it always breaks in the air), bag of trail mix, and external hard drive. When I got to Charlotte, holding all that stuff awkwardly in my arms and/or stuffed into my tiny purse, I was told that the person in Houston was totally misinformed, and my carry-on would see me in New York. Carrying all that stuff around without a bag to put it in was not fun, and one of my bottles of nail polish spilled in the plastic baggie, but it was really a minor hiccup in an otherwise smooth day of travel!
While I was in the airports and in the air, I got some work done, read a magazine, and read some more of The New Jim Crow. Here's a little more reading material from this week:
'300 Sandwiches' Halloween Costume Is Only Slightly More Absurd Than The Blog
Nazi Women Were Experts on Husband Finding, Baby Having, and Murder (This is how I found myself reading a bunch of really depressing shit on Wikipedia last night.)
In NSFW news, I want to own this mug.
Since I'm staying for a week this time, my boss rented me a place from Airbnb. I'm so happy about this because it means (among other things) that I have a kitchen! Unfortunately, I haven't had time to go to the grocery store yet; I ordered delivery via Seamless and then went to bed at 9:30 because I was wiped.
I'm feeling quite rested this morning, which is a good thing…my day promises to be a packed and productive one!