As of this weekend, Eric and I have our very own half-done gallery wall! You may not know this, but a half-done gallery wall is commonly accepted as the #1 thing you need to be a young middle-class couple playing house.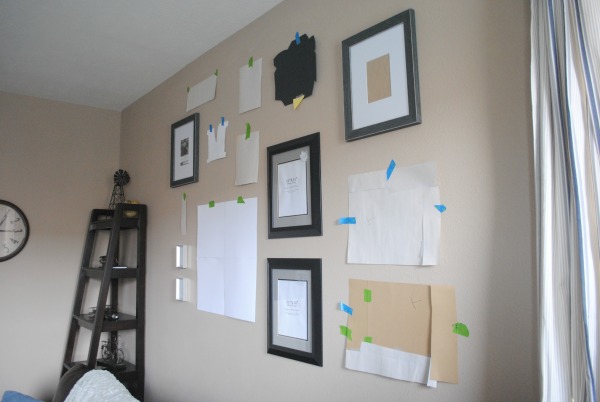 Since we moved into our house a year ago, I have never really liked our living room all that much. It was the one room in our house wherein we didn't have a clear idea of what we should do (except when I'd go to the Restoration Hardware website…then I would have a clear vision), and, since we bought the furniture three years ago for a completely different room, we didn't have much flexibility in what we could do with.
Last fall, we painted it, hung up a double curtain rod and some curtains, and bought a rug, which helped…but then we just sort of gave up. The lighting in there is pretty deplorable, and fixing that means hiring an electrician and…nope! Not dealing with that right now! We did buy a floor lamp from IKEA a few months ago…despite its cool design, it basically turned out to have the same annoying spotlight effect as a tiny but blinding desk lamp. Since going in there made me feel like I was undergoing a police interrogation, I just avoided the living room as much as possible.
Lately, though, it's been bothering me (I'm told some people actually enjoy spending time in their TV rooms?), so last week Eric and I started discussing inexpensive ways we might deal with the overwhelming blahness of it.
We started by following a hunch I had and taking down the red curtains. This turned out to be a good idea; apparently, deep red curtains don't exactly add a lot of light to a space that feels really small and is poorly lit. Who knew!? Then we considered the immortal words of Lil' Jon and went from the windows to the wall (to the wall!): we discussed what to do with the huge empty space above the couch. Usually when our living room conversations reach this point, we'll start talking about how we wanted to buy a piece of cool artwork from a local Texas artist whose work we came across a while back. Then we'll look at his art and decide it's not a good time…and, fully distracted, we'll forget about the living room for a while. Since we've been following this pattern for three years now and have no reason to believe it's going to be in our budget any time soon, I figured we might as well hang something else up in the meantime. Like blank pieces of paper!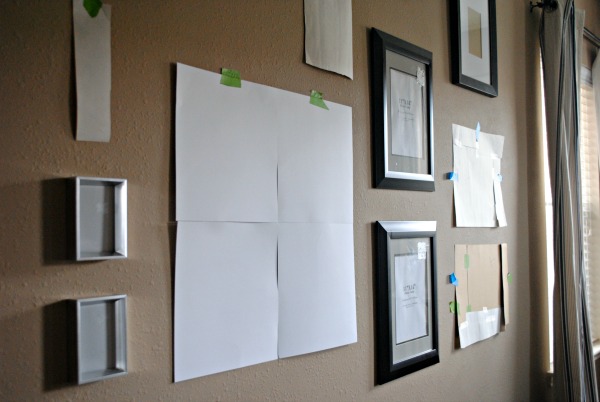 Hanging a variety of photos and knick-knacks on your wall in a way that doesn't make your house look like an Applebee's is a challenge, so I turned to the Internet for a tutorial. I ended up finding a look I really liked from Pottery Barn; the photo was on a page that contained links to bunch of gallery wall tutorials…yet none were for the gallery walls shown in the photos. So…thanks, Pottery Barn!
After studying the photo and the frames sold on the Pottery Barn website, I managed to figure out some of the main frame sizes and start guessing at the rest. Eventually, we came up with a basic map on the wall, and then we headed out to look for some picture frames. After a few hours at Garden Ridge, Home Goods, and Target, we had six frames to start with (in rather different sizes than we'd originally planned). But I'm more excited about the other new additions we found at Home Goods! First, the softest blanket, that, when combined with a cable knit blanket we bought last winter, basically makes the couch a place I want to spend all my time.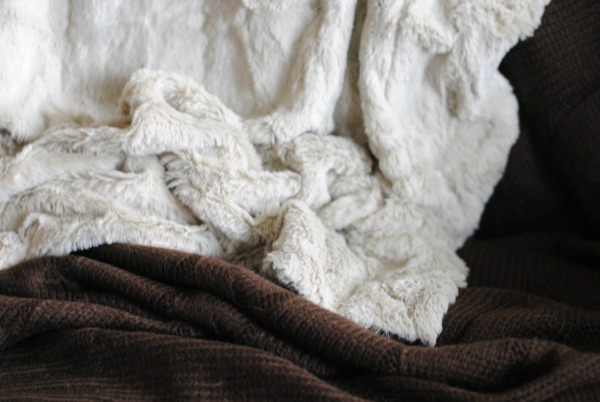 Second, this lion head, which will be hung on the wall this evening. His name is Frank and he is so fucking majestic.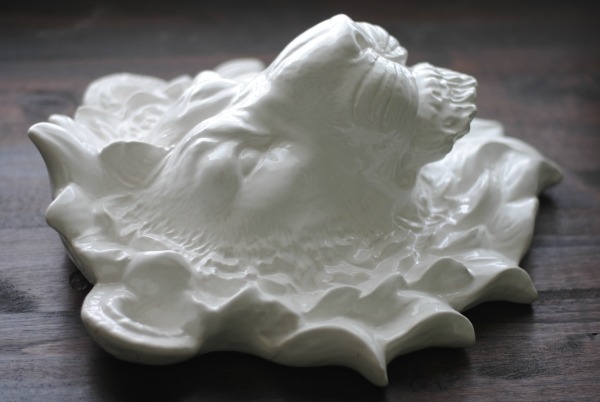 After we returned home with our wares, we made some adjustments to the layout on the wall and hung up the first round of frames. Even though there are no pictures in the frames, the layout isn't set in stone, and there are still some holes to be filled in, I'm amazed by how much better the room looks. Putting the lighter curtains front and center helped a ton, but having something on the wall — even badly hacked paper and painter's tape — went a long way toward making it feel less dungeony.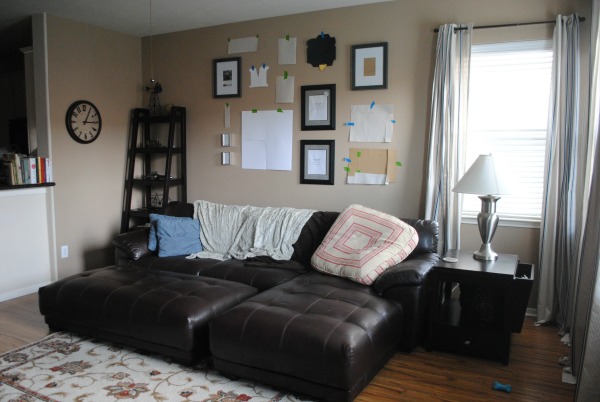 Still on the to-do list: some new throw pillows, a behind-the-sofa table, and, of course, better lighting. Oh, and putting actual photos up. And, in the great tradition of other young couples who have gone before us, it's probably going to be a while before we get around to that. I'm aiming to have the whole wall done by the end of this year.
From there, I suppose we'll going to deal with the sweat dripping down…actually, gross, never mind. Getting home decorating tips from rap songs can only take you so far.