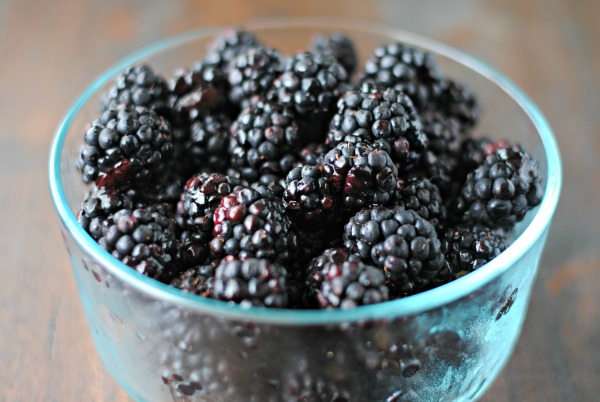 Saturday morning, Eric and I headed to the Houston farmers market and picked up blackberries from the stand where we purchased them a couple weeks ago…and then headed to a vendor whose produce we love and saw that they, too, had blackberries. And these blackberries appeared to be some sort of alien blackberries because they were huge. Freakish, really. So…we bought those blackberries too. This meant we had an abundance of blackberries for a couple of days, which I was totally OK with.
Here's what we ate for dinner last week!
Grilled steak, baked sweet potatoes, and steamed veggies
Crock-Pot pulled chicken cheesesteak (just had the meat sans buns) and fruit
Burgers, roasted Brussels sprouts, and baked Alexia French fries (x2)
Takeout from Sayad. We had been wanting to try this place for a while (it's next door to our favorite burger restaurant) and we ordered quite the feast on Friday night: hummus topped with shawarma meat, falafel, lamb kebabs, and beef kebabs. It was all so good. On Saturday night, we planned to have our leftovers but we didn't have quite enough left, so we decided to supplement it with some goodies from the Whole Foods prepared foods section. We ended up adding on deviled eggs and a Philadelphia roll, which I recognize is a really bizarre and sort of gross-sounding meal…but it worked. Maybe because we were drunk.
Our lunches were all leftovers, but Eric made meatloaf for lunch on Sunday, which I appreciated. Breakfasts were pretty typical, though I had Greek yogurt with honey, cinnamon, blueberries, sliced almonds, and shredded unsweetened coconut (DO IT, it's delicious!) a few mornings last week to mix things up. We also ate out a couple other times. (Starbucks on Friday because I was craving it, grilled steak tacos from Taco Bell on Saturday because we were at the mall and our options were limited.) All the takeout and alcohol over the weekend had me feeling pretty gross by Sunday; we are both trying to eat cleaner this week!