Last week, I received a very beautiful and formal wedding invitation in the mail. I was filling out the RSVP card on Friday and saw that there was a line to write a request for a song to be played at the reception. The first thing that popped into my head was It feels inappropriate to write 'Back That Ass Up' on such a fancy invitation.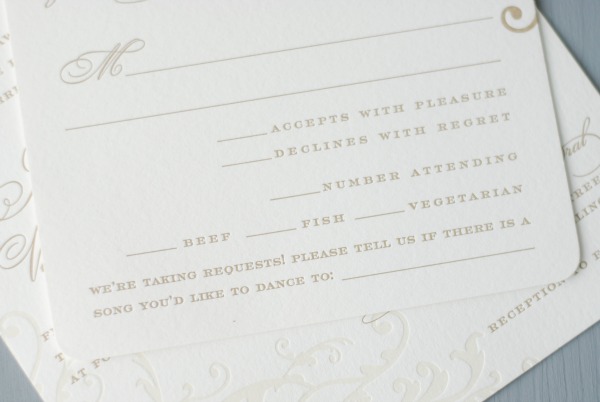 I hope everyone is having a great weekend! Mine has been pretty solid. I spent yesterday helping Eric pick out new glasses, which was quite a long ordeal but was actually really fun. (Fun fact: I was the eye wear editor when I worked at ELLE, so picking out glasses and sunglasses is totally my thang.) After our day of shopping, we came home and decided to quite drunk. It was a lovely Saturday!
As for reading material, I decided I'm going to start putting links to my non-Lover.ly freelance articles in my weekly link round-up each week. So today is the first day you have both my writing and other writing to read at your leisure.
My Shit
Half-Baked [A Practical Wedding]
It's a Nice Day for a (Half) White Wedding [A Practical Wedding]
10 Registry Items That Do Double Duty [The Knot]
Four Tips for Surviving Your First DIY Project as a Couple [The Nest]
This is Why We Can't Have Nice Things: Pre-Wedding Cleanse Edition [Wedding Party]
Do I have to invite my coworkers to my wedding? [Wedding Party]
Five Tips for Helping Your Bridal Party Bond [Sitting in a Tree]
Other Reading Material
My Imaginary Well-Dressed Toddler Daughter [Pinterest]
The Scarlet A [ELLE]
Where Did You Go for Your Bra, Mrs. Robinson? [The New York Times]
Hundreds of Pro-Choice Texans Took Over a B.S. Abortion Hearing Last Night [Jezebel]
How to Balance Multiple Jobs (Without Losing Your Mind) [The Daily Muse]
The Declining Demand for Husbands [The New York Times]
Why We Should Rethink the Eight-Hour Workday [Lifehacker]
Guest Photographers, or: Why You Should Have an Unplugged Wedding [PetaPixel]
16 Wonderful Photos Of Women Writers At Work [BuzzFeed]
I quit Twitter for a month and it completely changed my thinking about mostly everything. [Adam Brault]
Have a great rest of your weekend!