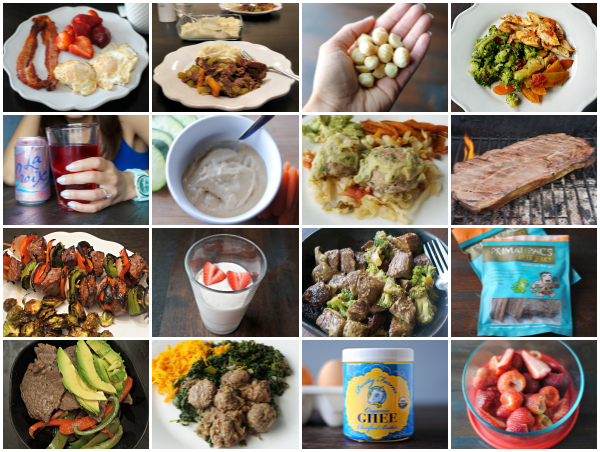 Well, week one of Eric's and my new diet is officially over! Last week went quite well until Thursday evening, when I found myself completely unexcited about the delivery meal we were planning to have for dinner. I realized that while the Eatology meals taste good, they all feel the same. Like, there is hardly any variety of texture from meal to meal. I found myself really missing crunchy and chewy foods at meal times and I just got overly bummed about it. That was when I decided it was time to start mixing things up a bit more. We went to the grocery store that night and got some apples and celery (for crunch), along with ingredients to make a couple new recipes over the weekend. That helped a ton.
Here are some of the things we ate last week (pictured above from left to right)!
1. My typical breakfast: two farm-fresh eggs fried in ghee with two slices of local, organic bacon and local strawberries. Tea with a little coconut milk on the side. Thus far, I have had this or some slight variation on it every single day since we started and I'm not sick of it yet. I feel like I should be sick of it, but it just works for me. (This morning I was feeling crazy so I topped my eggs with sliced avocado, which was a delicious addition.)
2. Sunday dinner: Crock Pot pot roast with mashed garlic cauliflower.
3. Macadamia nuts, packed with super filling healthy fat. I often have a few of these at the end of a meal if I'm still feeling hungry, or for a snack (though I find I'm snacking less and less as time goes on).
4. Chicken, broccoli, and mixed veggies from Eatology. This meal felt tiny so I took out the chicken and weighed it out of curiosity. Turns out, it was only two ounces of meat. Yeah…no. I added some leftover steak and peppers to it to make it a filling meal.
5. La Croix! I finally found a way to enjoy it: cran-raspberry La Croix + a splash of unsweetened cranberry juice. It tastes like a wine spritzer and is a nice treat once in a while.
6. Sunshine sauce. This was one of the first recipes I made after feeling sad about my lack of different textures on Thursday night and it was really good. I dipped cucumbers and celery in it, which I ate along with a hard-boiled egg for a snack on Friday afternoon. It's spicy and nutty and really great.
7. Cilantro jalapeno turkey burgers from Eatology.
8. This handsome slab of meat is from the farmers market. The pot roast recipe called for searing it before you put it in the slow cooker; we threw it on the grill.
9. Steak kebabs and Brussels sprouts. This was, hands-down, my favorite meal from last week. On Friday afternoon, we saw that HEB had grass-fed steak for stew…and we were like, "Beef stew? In April? No thanks!" Then later we were at Whole Foods and saw some amazing looking kebabs in their meat section and realized, Oh, we could totally make that with that stew meat. So…back to HEB we went! It was totally worth it though; this meal was so filling and so satisfying. We marinated the steak for a little while, cut up peppers and onions, and grilled the kebabs while roasting the Brussels sprouts.
10. On Saturday, we had a little bit of a treat at breakfast: one cup of coconut milk blended with one cup of frozen banana, strawberry, and mango. (It makes two small but delicious and filling servings.) Also, Eric loves coconut milk. Mid-week, he was just sipping on it straight from the can. Smoothies are kind of frowned upon in Whole30 but I don't feel too guilty about this.
11. Beef, broccoli, and sunshine sauce. I made this for lunch on Saturday with the beef that we didn't grill for kebabs on Friday night. It was delicious; I could probably eat this several times a week.
12. Primal Pacs…AKA really good beef jerky.
13. Thinly sliced beef with this marinade plus peppers and avocados.
14. French onion meatballs, spinach, and carrots from Eatology.
15. Ghee (clarified butter) — one of my staples on this diet.
16. Strawberries from the farmers market.
Making more food ourselves was great; I just enjoy cooking so much, and feeling like I had more control over what I was eating was nice. We also went to the grocery store almost every day from Thursday through Sunday to pick up ingredients for dinner (something I kind of love doing) and took advantage of the gorgeous weather by walking everywhere. I love when shopping for or preparing food becomes a way to stay active in itself.
I felt great all weekend and feel great today (well, so far). I definitely have more energy, and it's been consistent from day to day. Last week, I didn't have any days where I felt sluggish or blah. I'm not sure if it's the great weather, the fact that I've been trying to stick to my sleep schedule, or the Whole30 that is making me feel so good, but I can tell you that the Whole30 definitely isn't making me feel bad. Between the delicious, homemade food and the act of cooking itself, I feel really recharged and healthy and motivated  But this weekend was seriously awesome, and I will give some credit to Whole30. Eric has been in good spirits too — active, healthy, motivated. I think we were both expecting him to struggle with it, so I'm really impressed by how quickly he's taken to this new way of eating.
Week 2 plan
I'm really happy because we're going to start weaning ourselves off of the prepared meals this week! We bought a bunch of good meat and veggies at the farmers market on Saturday and Eric picked up some additional items at HEB yesterday. The plan for this week is to only have one prepared meal a day. We had ordered some extra meals for Eric last week to account for a gap in Eatology's scheduling (one "week" of their meals is actually only meals for five days so we ordered an extra ten meals to cover him on the next few weekends) so he is set for a while. He'll take those for his lunches and I'll probably have a few of his extra meals here and there, just out of convenience and to make sure we don't waste anything.
According to most accounts, it gets easier, not harder, as time goes on. I'm definitely pleased with how things are going so far and really looking forward to seeing what's in store for us for Week 2!