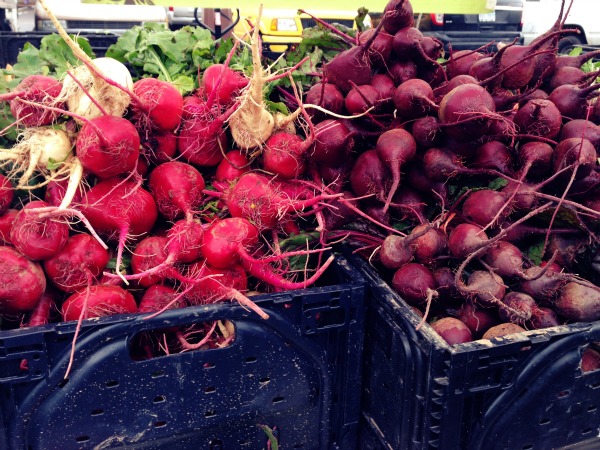 So, I have to say…our foodstuffs from last week worked out better than they have in a long time. Despite the fact that Tuesday night was a total disaster, a lot of the other recipes we made were awesome, especially the beer brats. We had them with Brussels sprouts, buttered bread, and red wine and it was just such a good dinner.
I feel like we hadn't quite gotten meal planning down to a science just yet, and weekends were a particularly neglected area. But last week, Eric made a really solid grocery list and meal plan that took us through the weekend. We didn't eat out once, which I'm pretty sure now means we haven't eaten out once since New Year's Eve! And after working on a routine for creatives, I realized that cooking on weekends is one of the things that I really need to do, so I'm glad we made more of an effort to make that happen. Knowing we had some delicious meals on the agenda was definitely a stress relief.
On Saturday, I was feeling like we should try to keep our good food thing going, so we hit the Urban Harvest farmers market in Houston again (in the pouring rain again…ugh). Due to the weather, it was a "get in and GTFO" kind of a trip, and our biggest focus was getting meat — enough to last us two weeks this time, so we could stay in bed next Saturday! But we also picked up few more items while we were there, including rosemary and garlic bread and some "wilde" honey. (The "e" totally makes it more local/organic.)
By Sunday night, I was seriously just like, "Fuck yeah! Delicious food!! GO TEAM!!!"
Here's what we're planning to make this week!
Breakfasts
We got ground breakfast sausage on Saturday, which Eric made into sausage patties lsat night. He also got some English muffins at the grocery store; I tend to go on English muffin kicks and honestly, it's been way too long since my last one. Also, sausage + English muffins is a wonderful combination. I had that for breakfast this morning topped with havarti cheese and it was great.
Lunches
Nothing special in this area; leftovers per usual!
Dinners
Grilled steak + steamed cauliflower + bread (This was pretty much an entirely farmers market meal and it was so good!)
Baked chicken meatballs (I made these last night with ground pork instead of chicken; they were good but took about 40 minutes — not 15, as the recipe claims — to cook through. Had I known that ahead of time, it would have been fine, but putting them back in the oven repeatedly sort of threw off the rest of the meal.)
Tacos
Pizza
Workouts
Last week, I got in all three of my workouts, including my class outside of my house. I'm keeping the same plan for this week, and I'm looking forward to trying a new podcast from Three Dog Yoga tonight at the suggestion of a friend who read my post yesterday!
How is your week looking?