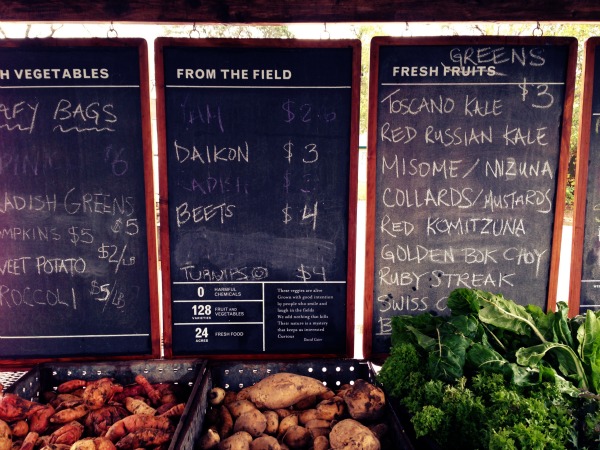 One of the overarching themes in Radical Homemakers, the book I'm currently reading, is that our society should be less reliant on corporations, particularly Big Food. This is something I've believed for a long time, but I've honestly gotten kind of lazy about it. But after reading more of the book on Friday and feeling quite fired up, I realized that while I couldn't exactly start raising chickens (I checked with our HOA — it's not allowed), I could go to the local farmers market and support those who are doing that (and more). So Saturday morning, Eric and I braved the pouring rain and headed to the Urban Harvest farmers market in Houston to get some of our groceries!
One of the things I really struggle with is meal planning when we take trips to the farmers market. When we go, we tend to buy mostly meat, as we don't know what to expect in terms of produce and struggle to sort of meal plan on the spot. I tend to look for vegetables that are fine to stand alone as a side dish rather than planning full meals there; then we can supplement whatever we get at the market with a trip to HEB. This week, I got lucky, as a bunch of recipes were just on the forefront of my mind, so I knew what kind of meat to buy, and I'm guessing we'll do better with produce next week, as we know what to expect (lots of greens) and can meal plan a bit better. That said, I would love some tips from farmers market regulars on how you handle meal planning!
Our farmers market haul
1 lb stew meat
1 lb sausage links
1 lb pork chops
1 lb ground pork
Eggs
Brussels sprouts
Spinach
Cauliflower
Rosemary and thyme bread
Breakfasts
I've been enjoying that rosemary and thyme bread for breakfast this week with fried eggs. And this weekend, we're going to make breakfast cornbread with blueberries and goat cheese!
Lunches
I decided to branch out this week and make this roasted sweet potato, spinach, and grain salad, which I came across via this winter salad round-up on TheKitchn. I'm also planning to add grilled chicken to it to make it extra filling.
Dinners
Crisp chicken marinara (we didn't make this last week as planned)
Pablano stuffed peppers (We just had this recently but I had to have it again because I had forgotten how good it was. We've been using this Organic Valley pepper jack cheese for it — and on everything else, or just as a snack — and it's so good; I highly recommend it if you come across it at the grocery store! Also, the next time I make this recipe I'm going to wear a surgical mask because I keep inhaling the seeds when I'm cutting the peppers, which sends me into a scary, painful coughing fit — the kind that makes those around you first feel concerned and then, when it hasn't ceased at all after a few minutes, say, "Seriously? Either puke, die, or move on.")
Enchilada chicken stew (I totally didn't give myself enough time to put it in the Crock Pot yesterday and came home in a bit of a panic, because all the other meat we bought at the market was still frozen. It eventually occurred to me that I could probably make it without a Crock Pot, so I adapted the recipe slightly to do just that. I just sauteed the onions and garlic first, then browned the chicken for a couple minutes — I used thighs — and then added the other ingredients + 5 cups chicken broth and let it simmer for about 30 minutes. Then I took out the chicken, shredded it, and added it back to the pot! With guacamole and more of that pepper jack cheese, it was a pretty delicious dinner!)
Beer brats with caramelized onions
Pizza
Workouts
I almost didn't stick with my plan for workouts last week but I managed to squeeze in my out-of-the-house workout on Sunday afternoon at DEFINE. My plan for workouts this week is the same: three workouts, one of which has to be a class out of the house!
I'm feeling really good about our meal plan for this week, as it includes some new recipes, and more seasonal, local groceries than it has in a while. I'm hoping we can stick with making this a part of our weekly routine, because it really is a good habit to be in.
What's your week looking like? Any good recipes, workouts, or tips for shopping at the farmers market to share?