Wondering what to snack on while you get drunk and decorate your Christmas tree?!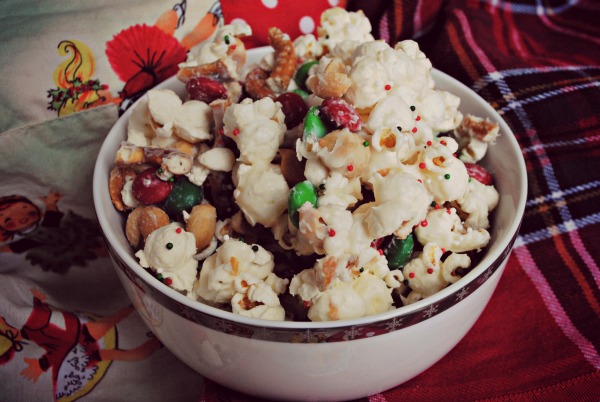 I'm going with this popcorn mixture!
I made some changes to the original recipe; here's how I did it.
Ingredients
Two bags lightly salted white popcorn
24 ounces vanilla candy melts (found at Michael's) or Baker's white chocolate squares
3 cups broken pretzel pieces
1 and 1/3 cup peanuts
20 ounces red and green M&M'S
Christmas sprinkles
Wax paper (I'm adding this to the ingredients list because I didn't see it until we had already started making this and the trip back to HEB to get it turned into an hour-long ordeal. Don't make my mistakes.)
This is how we do it
1. Dump the popcorn into a huge mixing bowl, or a few smaller ones.
2. Combine the pretzels, peanuts, and M&M'S in a smaller bowl and mix. Then add to the popcorn, distributing somewhat evenly if you are using several mixing bowls.
3. Heat the vanilla candy melts in the microwave in 30-second intervals, stirring every 30 seconds, until the candy is melted.
4. Add the melted vanilla candy to the popcorn in small batches, stirring gently with a spatula until the popcorn, pretzels, peanuts, and M&M'S are lightly coated and clumping together. Don't use all of the melted vanilla candy at this point; leave yourself a few spoonfuls for use in the next step.
5. Gently spread the popcorn mixture onto a cookie sheet (well, three cookie sheets, in my case) lined with wax paper. The peanuts and M&M'S will likely have sunk to the bottom of the bowl, so as you do this, try to re-mix everything a bit. Then drizzle the last few spoonfuls of the melted candy over the mixture and toss it again gently to get it really well-coated and well-mixed.
6. Sprinkle the sticky mixture with your holiday sprinkles.
7. Place in the fridge to cool/harden. Then break into pieces (not all of it will stick together, which is fine) and enjoy!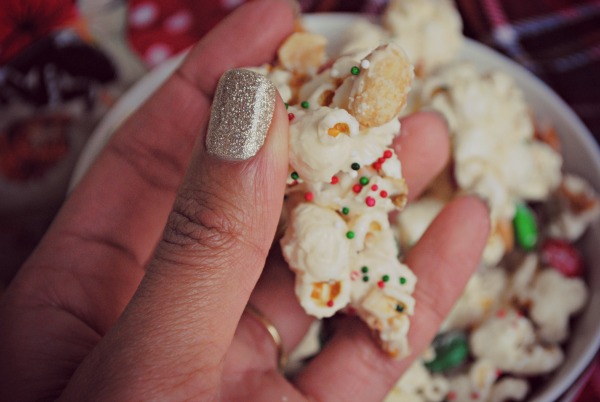 This recipe made three large Ziploc bags of the popcorn mixture. If you don't need quite as much (though trust me when I say you're going to want that much), you can cut the recipe in half. However, if you do that, I'd recommend keeping the amount of the vanilla candy about the same; you won't use all of it but I found myself getting worried at the end that we were going to run out of it.
Really festive. Really good. I wish we had a party to attend so I could show this off, but alas…we'll be enjoying this along with some spiked hot chocolate and the Holidays on Ice audiobook while we decorate this evening!