Eric and I did a ton to prepare for our Halloween party this weekend, and one of our tasks was making our Halloween costumes! I had my long family tradition of amazing costumes to honor, so the pressure was on, as this is one of the first years in which my mom hasn't made my costume. As I mentioned a couple weeks ago, our plan was that Eric would go as Bob Ross and I would go as a happy little tree. That meant we needed a lot of manly hair and a lot of fake leaves.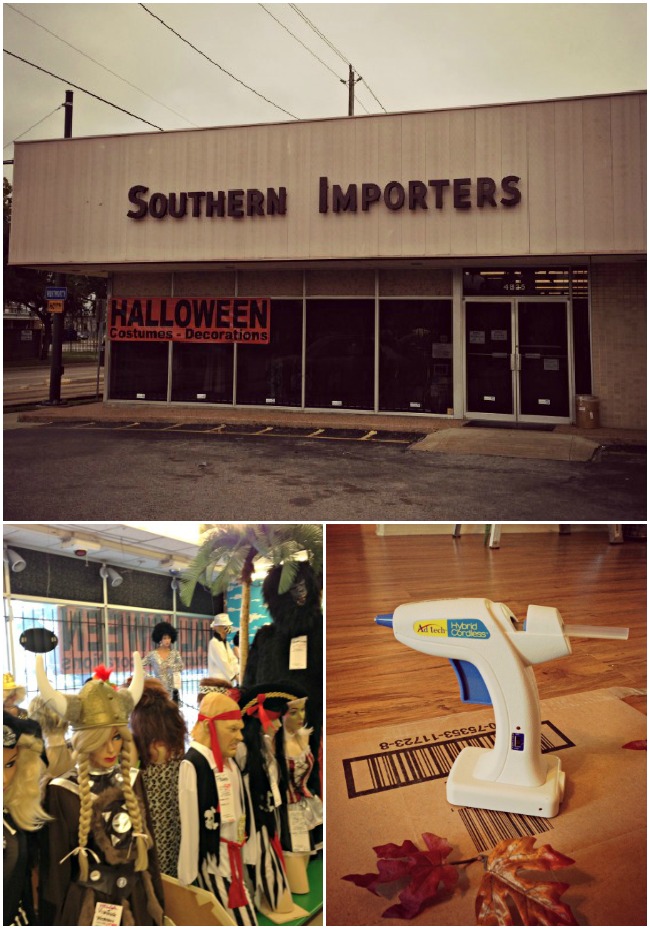 We went to Southern Importers in Houston on Friday to get supplies for Eric's costume. We found a brown clown wig relatively quickly, but even though they had a huge selection of costumes, wigs, and accessories, it took us a while to find the beards we were looking for. We wanted a nicer beard/mustache (like you would get for a stage production) and they were tucked away discreetly in the makeup counter. Eventually, though, we found the facial hair and the spirit gum to attach it. On Saturday, we picked up a light blue denim shirt at Wal-Mart to complete his look.
Meanwhile, I got a couple garlands with fall leaves and a small wreath at Michael's last week. I started my costume by snipping the tail off of my deer costume from a couple years ago so I was left with just a brown dress. On Saturday morning, I went to two stores looking for glue sticks for my glue gun, and, when I couldn't find the mini ones, I just ended up buying a new glue gun. I mean, a cordless glue gun that stands on its own?! Major upgrade. On Saturday afternoon, I deconstructed the garlands and started gluing the leaves to my dress and to the wreath. Once I finished, I remembered that the wreath was a bit too small to sit properly on my head, so I decided to re-imagine it as a fascinator. You know, what Kate Middleton would wear if Kate Middleton was dressing as a tree for Halloween. I ran to Target for a headband, glued the wreath to the headband, and called it good.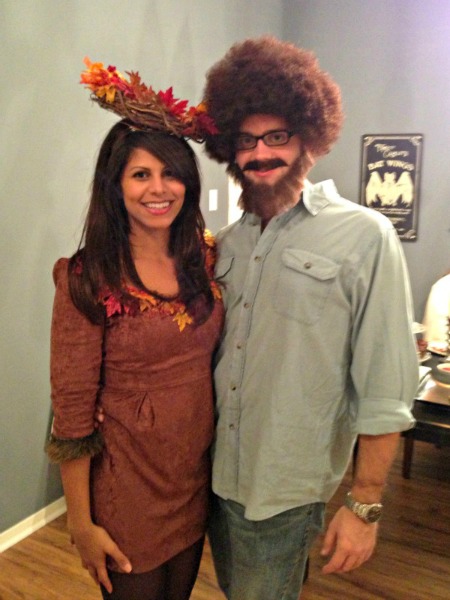 I could not stop laughing at Eric's wig…he just looked so ridiculous! And, turns out, today is what would have been Bob Ross's 70th birthday, and he's being honored with the Google doodle as well as a bunch of articles about his contributions to the world. I loved how our costumes came together, especially because they didn't take a ton of work! (And I really wish I had more opportunities to wear a fascinator because it made me feel rather glamorous.) You know who didn't love the Bob Ross costume though? Our dogs. Chuck and Indiana were not a fan of that wig.
I'll be back later with party pictures!